Intel's (NASDAQ:INTC) recent 2016 Q1 earnings report and restructuring announcement have been interpreted by most analysts as signs of further retrenchment as the PC market continues to decline. A much more profound transformation could be in store, led by former Qualcomm (QCOM) executive Murthy Renduchintala, who only joined the company last November.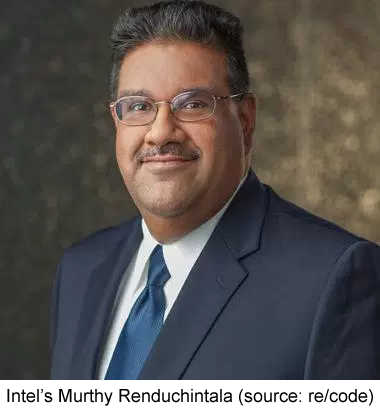 Exit the Old Guard
Murthy was formerly co-head of Qualcomm's chip division. When he was brought in to Intel, Kirk Skaugen, head of the Client Computing Group, and Doug Davis, head of the IoT Group, were made his direct reports. This insertion between CEO Brian Krzanich and the heads of major groups within Intel says a lot.
It would be easy to assume that Renduchintala, as a newly anointed member of Intel's upper management, would simply rubber stamp the status quo. He would lend some weight to Intel's mobile efforts, especially in modems, but not effect a significant change in direction.
However, that doesn't appear to have been the intention of CEO Krzanich. A few months after being put under Murthy, both Skaugen and Davis are leaving the company. These were career Intel execs. Davis had 32 years with the company. Skaugen, as the head of Intel's still very important PC processor group, could have been in line for accession to CEO.
Their departure says that Murthy isn't just toeing the Intel line, especially when it comes to mobile devices. Aicha Evans took over as head of mobile devices when Hermann Eul left last year following the absorption of the Mobile and Communications Group within the PC Client Group starting in 2015. Now it looks like Evans is out as well.
These were all people who had fervently repeated the mantra "It's best with Intel Inside", even though it became increasingly obvious through 2015 that most of the mobile device industry didn't believe it. And there's no sign that Krzanich has lost confidence in Murthy. During the conference call, Wells Fargo analyst David Wong asked if Intel would be cutting product lines or types of products. Krzanich replied that
Murthy. . . is doing a complete review of all of our products and he's going to report back to me in the near future and give me a proposal for what those look like.
Note that the transcript contained some errors in the quote above which I have corrected.
So an executive whose background is in ARM processors for mobile devices is being entrusted with reviewing the company's products. If he's honest with Krzanich, he'll lay it on the line: there's no way Intel Architecture can compete with ARM in mobile devices. Once again, it's not a matter of performance or energy efficiency, it's just cost. The cost disadvantage, which has resulted in Intel's mobile efforts coming to naught, will eventually catch up with Intel in other areas such as PCs and the data center.
Thinking the Unthinkable
The logical recommendation is for Intel to begin investing heavily in ARM processor design and development. Unthinkable? Well, Intel's already doing that to some degree, through its Altera acquisition. Altera already has a combination ARM CPU/FPGA which is being fabricated on Intel's 14 nm process. Although Intel also announced at the conference call that it is shipping samples of its first Xeon/FPGA combination chip, the Altera purchase can be seen as a hedge on Intel's bet on Intel Architecture.
That bet is looking more and more dubious. As I pointed out following the 2015 Q4 earnings report, Intel has more or less given up on smartphones and tablets. During the Q1 conference call, Intel tried to put the best possible face on this, claiming that "mobile is growing", but this is clearly contradicted in Intel's earnings data.
Intel doesn't report cell phone processor sales, because it has essentially no cell phone business. When Chris Danely of Citigroup brought up margins on memory and cell phone processors, Krzanich wouldn't even talk about cell phones. And for tablets, Intel reported a 44% y/y decline in tablet processor shipments, to a mere 4 million units.
The steep decline in tablet sales is despite the fact that contra revenue is still going on. At the conference call CFO Stacy Smith offered perhaps the most honest acknowledgment of the effect of contra revenue to date. In reference to the 19% y/y increase in ASP for processors in the Client Computing Group, Smith noted:
And then the big difference is what happened in phones and tablets. On a year-on-year basis I think I termed it in the CFO commentary, up significantly as we weaned ourselves out of some of those contra revenue programs that we talked to you about. So that actually had a fairly significant impact on the overall ASP for CCG.
The details of Intel's financial report indicate that even now, contra revenue has not been entirely abandoned, which is probably why tablet sales were non-zero. Intel made discerning the effect of contra revenue difficult by combining the PC Client Group and the Mobile and Communications Group starting in 2015.
The best evidence of the continuation of contra revenue has been the fact that the operating margin and operating cost of the Client Computing Group still hasn't returned to the levels of the predecessor PC Client Group, as shown in the charts below: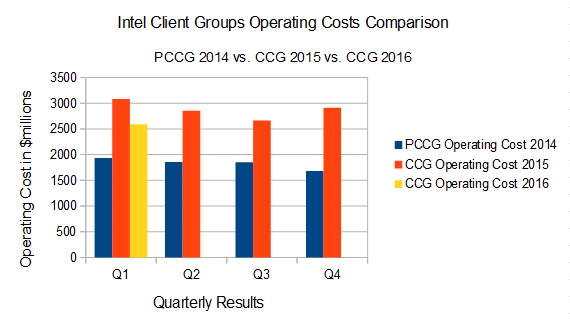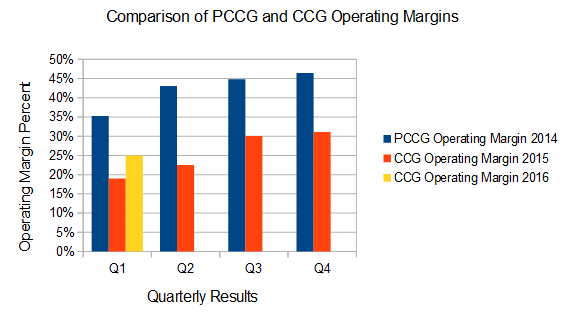 This is despite the fact that revenue for the Client Computing Group has never even equaled the PC Client Group in 2014, as the chart below shows.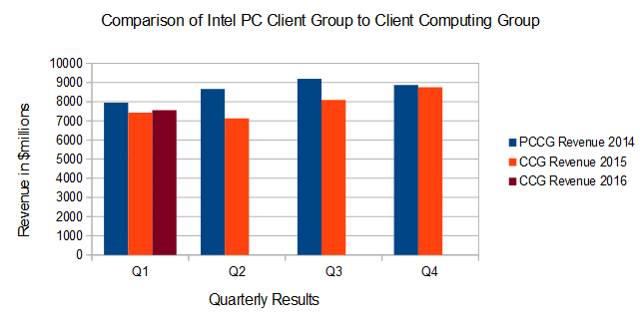 Investor Takeaway
The failure of Intel's contra revenue strategy to win significant mobile share, the absence of Intel in smartphones, point to a crying need for Intel to change course on its architecture preference. It was never reasonable to think that Intel Architecture could go on forever.
Although Intel's strategy so far has been to refocus on areas of assumed strength such as the data center and Internet of Things, even these areas are vulnerable. The same cost disadvantage that hurt Intel in mobile will eventually hurt in these other areas as well. I don't doubt that Murthy realizes these things. The question is whether Murthy will be able to get the rest of Intel to face reality.
This has been my longstanding complaint about Intel, that it is following in the footsteps of companies such as Blackberry (BBRY) in not dealing with the disruption of its industry. The hiring of Murthy and his very significant role now indicates that Intel may be willing to change course.
I can't prove it yet, but my intuition is that's exactly what Murthy is going to try to do. Kryzanich, to his credit, seems to be supporting him in this. At this point, I'm willing to take a wait and see attitude. I now rate Intel a hold.