I was unimpressed by the trading update of The Coca-Cola Company (NYSE: KO), which was released earlier today.
Frankly, I've always preferred the stock of PepsiCo (NYSE: PEP), and today's first-quarter results from KO just reinforce my view that PEP is a much better investment proposition, and one still offering a better entry point in terms of capital appreciation at current trading multiples.

(Source: KO's 1Q results)
Coca-Cola is a great brand, its underlying profitability and debt metrics make feel I want to be part of its success story, and its shares are a decent yield play. All of which, of course, supports the investment case -- but then I need some serious growth rates to consider any equity investment right now.
And in that regard, KO is between a rock and a hard place.
Top-Down
Strength in the reporting currency and organic growth prospects are a serious threat to shareholder value, and while its forward yield of 2.9% is appealing in a word where the 10-year US Treasury yield is stuck around the key area of 1.7%, its generous payout ratio indicates that unless earnings grow at a much faster pace, its shareholders may have to ask themselves why they should hold onto its stock above $40 a share.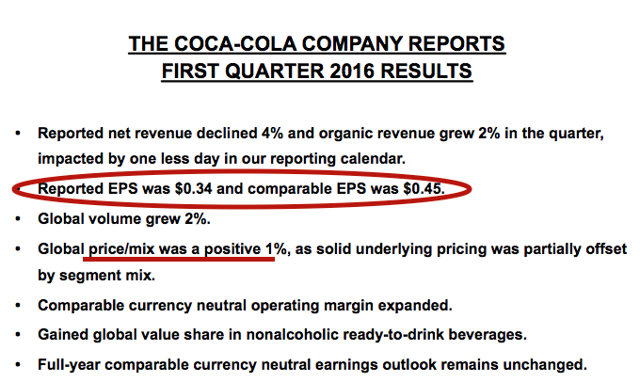 (Source: KO's 1Q results, edited by this author)
While the debate in financial circles, perhaps surprisingly, is still whether the Federal Reserve will become more accommodative in its monetary policy, the yield curve indicates that much stronger economic data Stateside would be needed for hawkish remarks to resurface in our growth-starved world.
Consumer demand is relative inelastic for KO, as its financials show, but volume/price strategies are equally important, and indicate that KO's earnings power may diminish over time.
With operations abroad representing about half of its turnover, the damage is there for everybody to be seen. And its stock, down 4.5% to $44.4 at the time of writing, could have more to fall.
Currency
It said that fluctuations in foreign currency exchange rates resulted in a "10 point headwind" on comparable operating income "and a 12 point headwind" on both comparable income before taxes and EPS in the quarter.
"Organic revenue growth of 2% in the quarter was driven by concentrate sales growth and 1 point of positive price/mix. Concentrate sales growth was negatively impacted by one less day in the quarter," it noted, adding that price/mix was driven by solid underlying pricing "partially offset by one point of segment and geographic mix."
On the one hand, brand marketing and deep penetration across the globe make its fortunes. One the other, it remains exposed to the vagaries of the global economy, although to paraphrase a senior asset manager who discussed the matter with me today, if the US dollar plunges from these levels the risk perception of certain riskier asset classes will change in a flash, favoring KO and the likes.
Investors have paid up in recent years for its attractive income stream, and many of them argue that they would likely continue to re-invest dividend payments into KO stock, regardless of the price at which it changes hands.
That is a legitimate investment strategy, but I've never liked the idea of paying over the odds for value, and even though the price to pay is the bank fee associated to my closing the trade, I would abandon ship if I felt the time was right.
KO Value
Its shares, based on consensus estimates of EPS of $1.93 for the full year, currently trade on a rich price-to-earnings forward multiple of 22.8x, which compares with 22.2x for PEP. That is calculated on its intraday low of $44.06, which is the level we last saw in early March, when volatility started to fall.
True, now we have to trust a stock market whose direction hinges on the performance of the Chinese yuan, among a few other unpredictable risk factors, so KO could be a good defensive choice.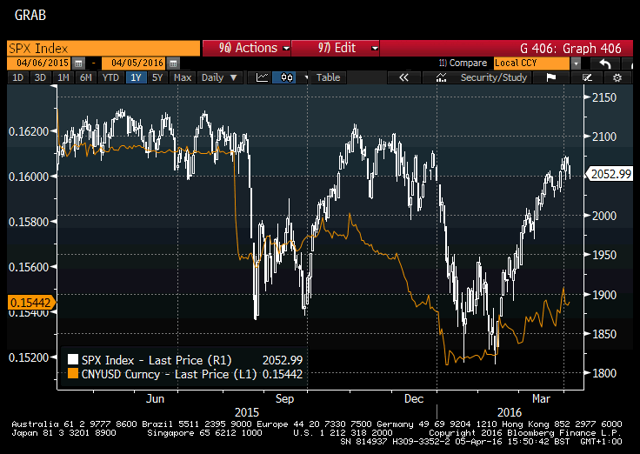 (Source: Bloomberg terminal, courtesy of Royal Bank of Canada)
Not so fast. That depends on a number of factors -- let's consider its earnings multiples following today's release and buybacks.
Non-cash items impacted its EPS to the tune of $0.11, pushing down its reported EPS to $0.34. Even if we assume that KO reports really strong EPS in the remaining quarters, based on full-year reported earnings of $1.69 its stock would trade at around 27x forward earnings. Such a valuation is closer to that of Starbucks (NASDAQ: SBUX) than that of PEP, and the former is projected to grow sales at 10% a year.
Cash flow is not an issue but in the first quarter it came in at "$604 million, negatively impacted by contributions to our US pension plans of $471 million."
I have been wondering whether KO and the performance of a few other staples could become a leading indicator for global trends in consumption, and if it turns out that way, it's possible that investors would now be buying the shares of KO at a premium to its normalized earnings trading multiple of 24x over the past three years.
Furthermore, its net share buyback plan this year is set at $2-2.5bn, and has been declining in recent years. KO is protecting its dividend, but in doing so it might run the risk of destroying value.

(Source: KO's 2015 annual results )
I also invite you to consider the price level at which KO had been buying back its own stock -- and there could be downside risk to earnings estimates stemming from its effective tax rate, which is shown below.

(Source: KO's 1Q results)
The outlook is not much better on that front, I am afraid.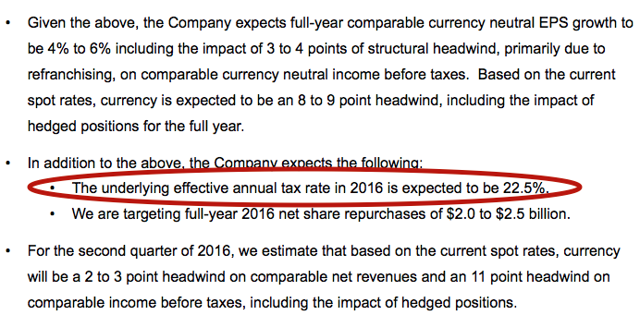 (Source: KO's 1Q results, edited by this author)
Earnings multiples do not tell the full story of such a glorious company such as Coca-Cola, but given that capital appreciation from extraordinary corporate activity and significantly higher dividends is unlikely, your paper loss today could be up to 10% into the end of the third quarter.
Then, I'd be prepared to add it to my watch list.
Disclosure: I/we have no positions in any stocks mentioned, and no plans to initiate any positions within the next 72 hours.
I wrote this article myself, and it expresses my own opinions. I am not receiving compensation for it (other than from Seeking Alpha). I have no business relationship with any company whose stock is mentioned in this article.