In the last two years, Disney's (NYSE:DIS) main TV channel ESPN was losing a lot of subscribers. Over 7 million people left the network and shifted to other broadcasters. To tackle this problem, Disney decided to launch its new initiative, goal of which is to target the younger demographics and help them choose ESPN as their main provider of video content.
In January, Disney opened up an eSport section on the ESPN website. The section is among NFL, NBA, NHL and other popular sports and can be viewed as a sign that the company is serious about its plans to attract the millennial audience into its ecosystem by targeting their favorite activities. And I believe that it has a shot at succeeding in this space.
Market Size, Opportunity, and Recent Initiatives
In its newest report, Newzoo estimates that the competitive gaming field will continue to grow at a moderate pace in the next few years. 2016 will experience an audience growth of 13.3% from the last year, and the period between 2008 and 2019 will have a CAGR of 11.2%. At the same time, revenues in the eSports industry will grow at the astonishing speed. 2016 alone will see a 42.6% bump in revenues from the last year, and the period between 2008 and 2019 will still receive a fast-paced growth of 40.7% annually: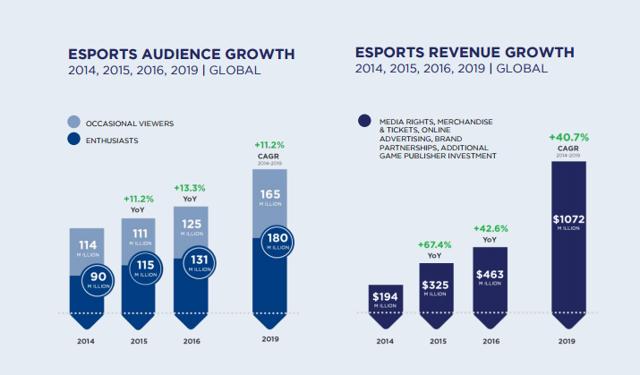 (Source: Newzoo)
Merchandising, media rights, brand partnerships and online advertising will be the biggest contributors to this industry. In my article about Activision (NASDAQ: ATVI), I explained the possibilities of how the companies that participate in this field can earn more money. In short, the market is relatively new and presents a lot of opportunities for everyone who's interested in it. The same Activision recently bought live-streaming platform MLG.tv and now can create its own eSports content, license it, organize live tournaments and make a profit out of it.
Since Disney's market cap of ~$165 billion is far larger in comparison with Activision's ~$26 billion, it has more space to maneuver in this field and use more resources to achieve its goals. In my opinion, selecting ESPN as its main platform for competitive gaming is a great choice. It fits into the channel's ecosystem, it's a sport related area and it has a lot of fans across the globe that are willing to watch their favorite activity any time of the day.
Based on the recent Disney's moves in this field, we could say that the company is slowly increasing its involvement in this space and when it'll have enough power to compete in the industry, it will start to aggressively market its eSports initiatives.
Besides having the eSports section on the website, the company long ago started to broadcast video gaming competitions on ESPN network. Also, at the beginning of last month, it struck a deal with the biggest gaming developer in the world Tencent (OTCPK:TCEHY) to offer games and commentary in Mandarin. Since both companies have their own interests in eSports field, working together on the competitive gaming project is only a matter of time.
Saying all that, we could come to a conclusion that Disney will not back down from its eSports initiatives and will continue to conquer this market. The decreasing number of ESPN subscribers and the rising millennial demographic with its own interests that are different from their parents are signaling that the great reorganization of the TV business will occur in the next couple of years. And since young, Generation Y, male-dominated demographic is the main audience of the competitive gaming world, Disney could have a real success in this field.
At the same time, Disney has enough resources to finance its endeavors in this field and make a substantial profit in this soon-to-be $2 billion industry. Thanks to the success of other business, the company has an astonishing operating margin of 25.78% and a net margin of 16.72%. Its growing net income and free cash flow could fund some parts of the eSports initiative, but it would take some time to see the profits from this space. However, Disney believes that this is a great long-term play for the shareholders of the company and will do everything it can to succeed there.
Disclosure: I/we have no positions in any stocks mentioned, and no plans to initiate any positions within the next 72 hours.
I wrote this article myself, and it expresses my own opinions. I am not receiving compensation for it (other than from Seeking Alpha). I have no business relationship with any company whose stock is mentioned in this article.
Editor's Note: This article discusses one or more securities that do not trade on a major U.S. exchange. Please be aware of the risks associated with these stocks.