A week ahead of its first quarter earnings release we see an opportunity for investors to open a position in Panera Bread (NASDAQ:PNRA). We have been invested in Panera for a couple of months now and although we have seen the share price rise around 6%, we feel there is far more left to come for investors to snap up.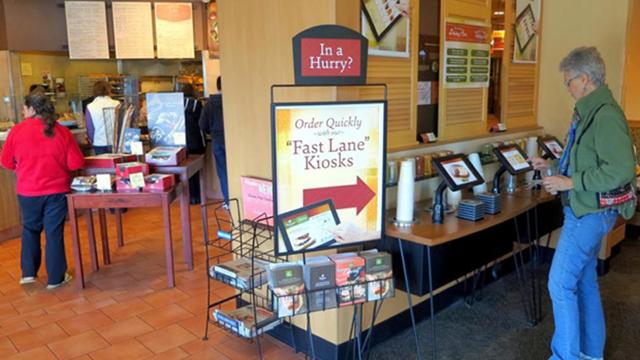 One of the key reasons we invested in Panera Bread was the development and apparent success of its Panera 2.0 initiative. In many respects Panera 2.0 is the future of food service in our view. There is of course the app which allows you to place and pay for an order in the same way the Starbucks (NASDAQ:SBUX) does through its Mobile Order and Pay app. With the Rapid Pick Up, your order will be waiting for you on a shelf for you to collect. Incredibly easy and increasingly popular. A total of 6% of company sales were made through this medium in the last fiscal year. We expect this could grow as more consumers adopt it, along with the delivery options that the company has introduced.
Next you have the Fast Lane kiosks as shown on the image above. No need to queue up, you can order through the app here. With so many ways to order queue times, even at their busiest periods, should be reasonable. This is not only a great way of keeping the customer happy, it also allows the company to get through more orders in the same amount of time.
This is great for sales and it will come as no surprise to learn that same-store sales in stores converted to Panera 2.0 are incredibly strong. Also, as we pointed out last time, the boost to sales has been proven to not be a novelty which many might expect. The stores which were converted first have actually seen further rises in comps. This quote from the earnings call nails it on its head.
"And let's now turn to the 37 cafés in their sixth quarter since conversion. Here, you can see these cafés have a cumulative comp of 16.1%. Let me be clear, that means on a two­year stack basis, these cafés have grown by an average of over 8%. That is 8% each year over the last two years. I'd like to pause on this point for just one moment because it's representative of a very important trend we're seeing. When we shared this data on the Q2 2015 conference call, there were only 13 cafés in their sixth quarter since conversion and those cafés had a cumulative two­year comp of 11.1%. The reality is that with more cafés maturing and with more cafés in the data set, we are seeing even stronger results."
The other added bonus is that the company can potentially look at reducing labor costs thanks to Panera 2.0. This is great news for the company at a time when minimum wages are increasing and putting a strain on a lot of companies' margins.
At the end of the last fiscal year there were 410 stores which had been converted to Panera 2.0, and a further 200 are expected to be converted this year. This will bring it close to being a third of its 1,972 stores.
We are not the only ones to be getting excited by Panera 2.0. This week two research firms upgraded the stock on the back of its expected success. Jefferies upgraded Panera Bread from a hold rating to a buy, whilst raising its price target to $245 from $195. Additionally, KeyBanc Capital Markets upgraded the stock to overweight with a price target of $240.
They both believe that the company's investments in its digital platform will cause same-store sales and earnings to rise of the next few years. Which is quite a refreshing change considering many in the restaurants industry are fighting hard for the slight hint of positive comps. The opportunities in catering and delivery are also being touted as opportunities that are being undervalued by the market. KeyBanc estimates the business to business catering market is worth around $20 billion, and believes Panera Bread to be one of the leaders in the market, despite only having a share of less than 1%. Significant growth here will be a great boost to the company's earnings.
Given the fact that consumers are spending more on eating out and, thanks to sustained low oil prices, look set to be able to continue this trend for a while to come, we see Panera Bread growing at a rate far higher than the industry average.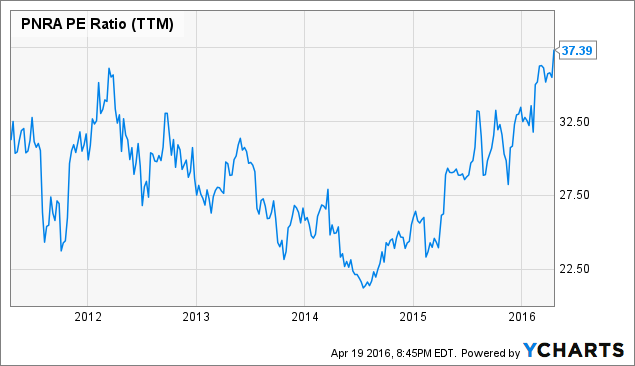 Given the positive sentiment surrounding the stock and its growth prospects we believe the market would now be willing to pay 36 times earnings for the company. Sticking with our original full year earnings forecast of $6.64 per share, gives us a price target of $239.04, which equates to a 10% return from the last trade price.
Although this is a high multiple, we feel earnings growth of 15% per annum for the next five years warrants paying a premium currently. In the future when earnings growth slows down, a gradual drop down to 30 times earnings will probably occur.
Disclosure: I am/we are long PNRA, SBUX.
I wrote this article myself, and it expresses my own opinions. I am not receiving compensation for it (other than from Seeking Alpha). I have no business relationship with any company whose stock is mentioned in this article.