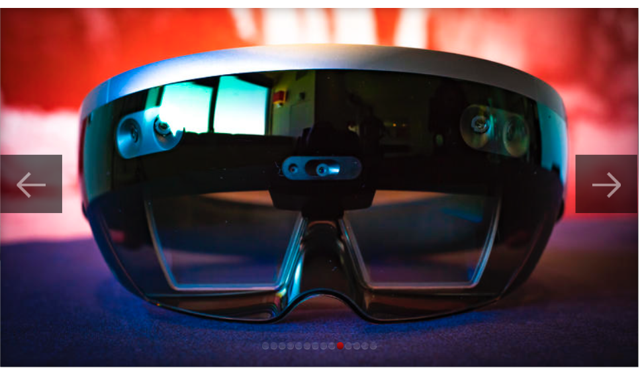 Wearables are already changing the landscape of our world, and we recognize that these have been early days for this rapidly expanding category. As Bob Dylan sang, "The times they are a changin'." Wearables technology is advancing at a rapid rate. Microsoft's (NASDAQ: MSFT) HoloLens is on the cutting edge of the wearables revolution. HoloLens is in the initial developer phase of shipping, but we do not yet have a consumer release date. Microsoft is getting closer to a consumer version of HoloLens while Facebook (NASDAQ: FB) just launched Oculus Rift recently. And several other virtual reality products are also now in the marketplace. These actions indicate that we are beginning to advance beyond the early days of wearables products with a wave of more sophisticated, innovative products. Please check the video in this link that will excite the imagination for HoloLens applications in gaming, education, mHealth, commerce, etc.
For instance, to get a sense of the early days product phase of wearables, please review this example of a Tennessee-based HVAC company's usage of smart glasses for their field techs to take photos or short videos in the field. These smart glasses are connected to the cloud so that a senior tech in the office can mentor the junior tech in the field. Many companies worldwide can benefit from this basic example of wearables that is now being rolled out into the marketplace. While this earlier generation of wearables technology is still just being rolled out, the next generation of technology with virtual reality, augmented reality, and mixed reality applications is already upon us.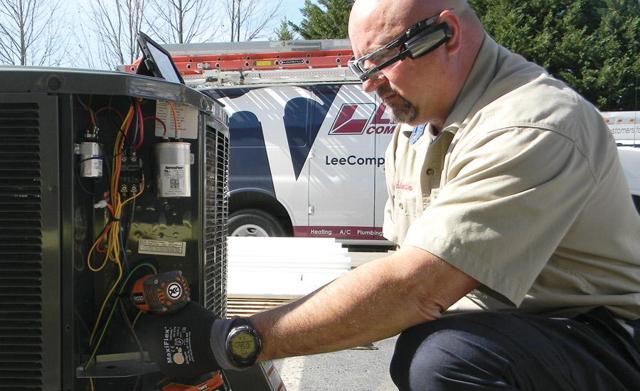 Microsoft's development of the first-ever untethered, holographic, computing device called HoloLens represents the next generation of technology in wearables. The first devices have just begun shipping to developers and commercial customers for $3,000.00.
Please compare the above example of the basic, cloud-connected smart glasses with the capabilities of the future of wearables, HoloLens. Clearly, there is a stark contrast between the more basic technology of the smart glasses being used by the HVAC techs in the example above and Microsoft's HoloLens. The technology in the smart glass example is relatively new, but the state of the art tech of the HoloLens is much more advanced. Wearables technology is advancing rapidly, and it is exciting to speculate upon how far and how fast wearables will take us into the future. Possibly, with the advent of products like HoloLens, you may conclude that we are already exiting the early days of wearables and progressing on to the next phase of evolution for this exciting category of the future.
But wait. We should not get ahead of ourselves since most of the wearables category's products are just now beginning to roll out globally en masse. Young, growth companies like Fitbit (NYSE: FIT) are leading all wearables in market penetration at this time with their ecosystem of wrist-worn devices. So it might be more accurate to say that while it is still early days in wearables, the rapidly advancing technology in this category already has one foot planted squarely in the future. It might be more fair to say that the current wave of advanced tech wearables coming to market signals the a transition away from the early days phase of the wearables category.
It is clear that new technology in wearables is coming at us like a hurricane and the future is very exciting. Wearables will bring numerous opportunities for investors to the long side of the market. And the disruptive, emerging technologies of the wearables category may also dramatically impact the business models of numerous other companies and industries. This disruption may also create opportunities on the short side of the market. For both long and short investors, wearables promises to be full of opportunities and liabilities.
Microsoft brings HoloLens along with the term, "mixed reality." From the Microsoft site: "HoloLens embraces virtual reality and augmented reality to create a new reality-mixed reality. Virtual reality immerses you in a simulated world. Augmented reality overlays digital information on top of your real world. By understanding your environment, mixed reality enables holograms to look and sound like they're part of your world."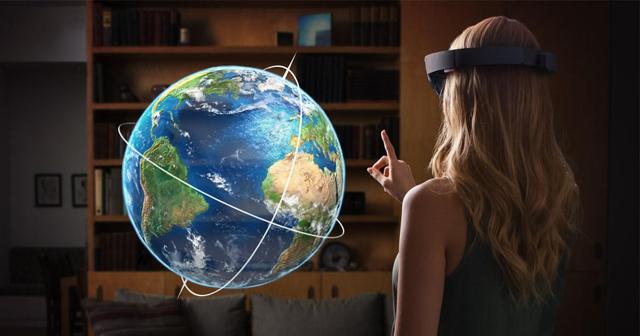 Microsoft HoloLens brings the future of wearables into the present with a growing range of applications that will be changing the landscape of business for years to come. Please also review this link to get a greater sense of Microsoft's video introducing the mixed reality of HoloLens. You will have to scroll down to about the mid-way point on the page to locate the box with the interactive play arrow button.
Investors get paid to speculate, so let's speculate here:
During the coming years, HoloLens and its future innovations, peripheral products, and new industries that will be spawned may have an impact upon Microsoft's growth, direction, and market cap that will rival the impact that Bill Gate's Windows had upon the company during its early years. HoloLens may be the platform that will enable Microsoft to experience a resurgence to become one of the top tech innovators for the next decade or more. Investors in Microsoft may benefit greatly from the emergence of HoloLens as a revolutionary technology in the years ahead. HoloLens could be one of the catalysts that causes Microsoft to break out to new highs.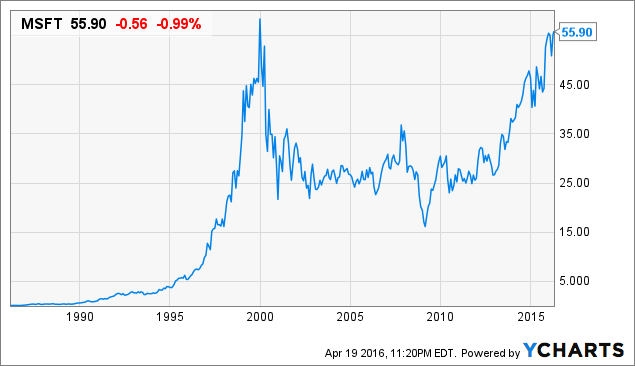 Microsoft may be surprising a number of people with the speed of technological advancement being delivered by HoloLens. Gartner has an interesting take on the "Hype Cycle for Emerging Technologies". HoloLens may cause the augmented reality category to be move forward on the curve into Gartner's Slope of Enlightenment phase where a product begins delivering on expectations. HoloLens technology seems to have moved forward at a faster pace than some had expected. Please note on Gartner's Hype Cycle below that while mixed reality is not represented, augmented reality and virtual reality are displayed as categories. HoloLens may be considered closer to AR than VR. It is interesting to note that both technologies are being brought to market at about the same time with a plateau projected to be reached in 5 to 10 years, according to Gartner. The beginning of this window of opportunity is now upon us.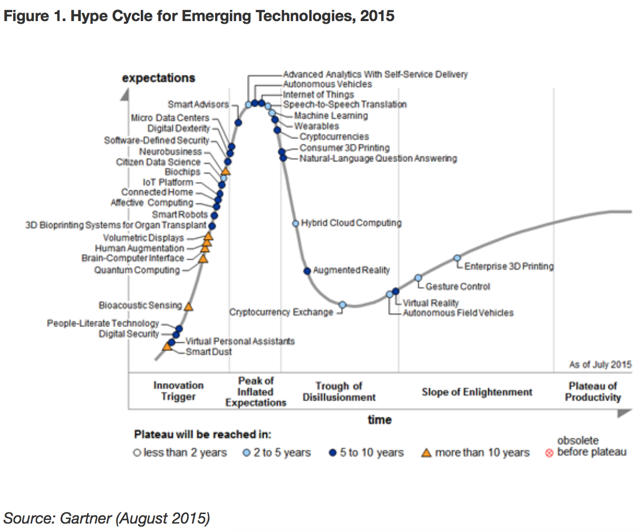 HoloLens is likely to find its initial wave of acceptance among commercial interests. The $3,000 price tag is one key reason, and the importance of the commercial applications being envisioned by corporations is the other driving force.
Early adopters may also find HoloLens a revolutionary experience for viewing sporting events, such as NFL games.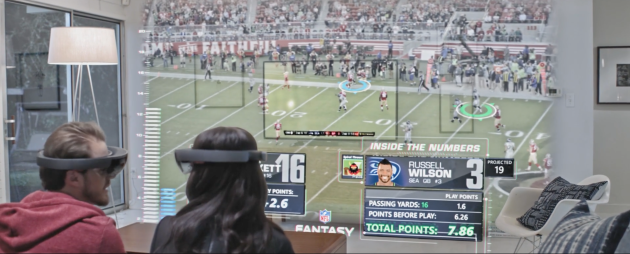 How many industries HoloLens will disrupt is a crucial question for investors to be aware of as this technology launches. Education is an obvious target for disruption as both virtual reality and HoloLens' mixed reality will become valuable tools for students to learn with the newest technologies.
Please be sure to view this important HoloLens onstage demo. If you can use HoloLens to pin a mixed reality TV panel on the wall in any location that you choose, and you can command the panel to "follow me", and travel with you wherever you move about your home or office, then this could become superior to a physical flat panel TV. This could be highly disruptive to companies like Sony (NYSE:SNE) and its supply chain for flat panel TVs. If you could do all of your computing on a wall or table with a mixed reality panel generated by HoloLens, then this could become superior to buying a desktop/laptop computer or tablet. And if all of your calls can be made on Skype with a mixed reality video panel where you can see the people on your conference or individual call using HoloLens, then this might become superior to owning a smart phone.
It would be unwise to completely discount the possibility that wearables technology could disrupt even companies as mighty as Apple (NASDAQ: AAPL). When we discuss the disruption potential of wearables devices like HoloLens, almost no industry or company is safe. Wearables is already changing the landscape of our world. We are moving out of the early days phase of wearables. This transition may take us into a future business environment changing so rapidly that it might just feel like we are moving ahead at warp seven on the USS Enterprise.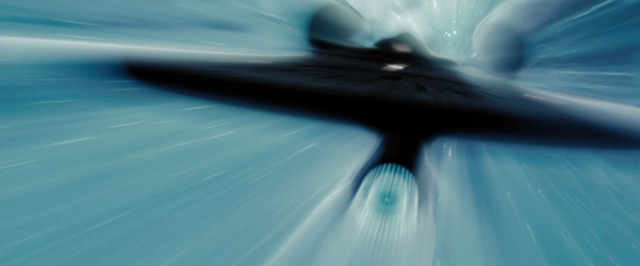 The wearables category is becoming one of the most exciting, creative, and innovative industries in business today, and the truly amazing part is that we are just now beginning to glimpse the future of wearables. Future innovations, new technologies, new industries spawned, and advancements in applications will give us wealth building opportunities on the long side of the market. But these same new technologies may be highly disruptive to any number of existing industries, thereby creating equally significant opportunities on the short side of the market.
Please follow us for continuing coverage of the emerging wearables category. We look forward to sharing discussions with you on these world-changing technologies and the impact upon investing that will occur.
Disclosure: I am/we are long FIT, AAPL.
I wrote this article myself, and it expresses my own opinions. I am not receiving compensation for it (other than from Seeking Alpha). I have no business relationship with any company whose stock is mentioned in this article.