Canaries in the equity-mine are getting wobbly
Price expectations for leveraged ETFs currently show upside price-change prospects as being limited. Limited in the price range forecasts implied by Market-Maker [MM] hedging actions to protect at-risk firm capital exposures made necessary to service big-money fund clients.
When similarly limited in prior periods, substantial price drawdowns have resulted in the following 3 months. Here is a picture of those trade-offs among 40 leveraged-long ETFs.
Figure 1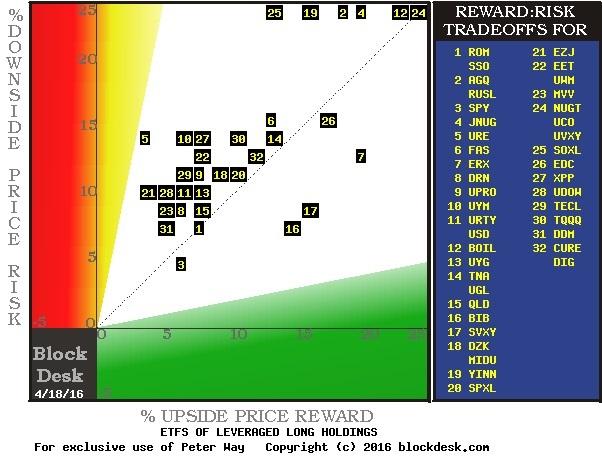 (used with permission)
In this map forecast upside prospects are measured by the green horizontal scale, and actual price drawdowns in the 3 months following similar prior forecasts are indicated by the vertical red scale.
Any pair of coordinates located above the dotted diagonal has more downside exposure potential than upside prospect. Of these 40 ETFs, 35 are up there.
These ETFs have been constructed, and hold appropriate derivative securities, to cause the ETF's price to move in approximate 2x or 3x multiples of price changes in the stock group the ETF is tracking.
Figure 2 provides security names to go along with the symbols, and useful data on each one's marketability and recent past price activity.
Figure 2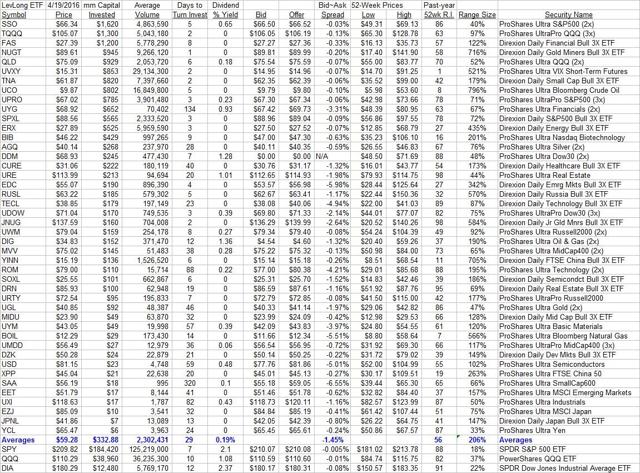 source: Yahoo Finance
The raison d'etre for these ETFs is the expansion of their price volatility. The right-most data column measures the percentage difference of each one's actual high price of the past 52 weeks from its corresponding low. While their average range size is 206%, or top price twice as high as the low, some are as large as 700%. Commodities and market volatility are the usual focus of these, although China has played a part.
We have ranked them by the size of capital attracted. Most of the larger investments have great liquidity, with the total assets committed typically turned over entirely in less than 10 market days or two weeks. These are not long-term investments, and most players using them act accordingly.
Trade spreads of these tend to be less than 1%, but the whole group's average gets raised by a few ETFs with multi-% spreads, so be cautious.
Of particular interest are the 3x leveraged ETFs of the major stock indexes, and they are separated from the jumble of Figure 1 in Figure 3. The SPDR S&P 500 ETF (NYSEARCA:SPY), SPDR Dow Jones Industrial Average ETF (NYSEARCA:DIA), iShares Russell 2000 ETF (NYSEARCA:IWM), and PowerShares QQQ ETF (NASDAQ:QQQ) have been added as unleveraged market references.
Their leveraged counterparts are the ProShares UltraPro S&P 500 ETF (NYSEARCA:UPRO), ProShares UltraPro DOW 30 ETF (NYSEARCA:UDOW), ProShares UltraPro Russell 2000 ETF (NYSEARCA:URTY), and ProShares UltraPro QQQ ETF (NASDAQ:TQQQ).
Figure 3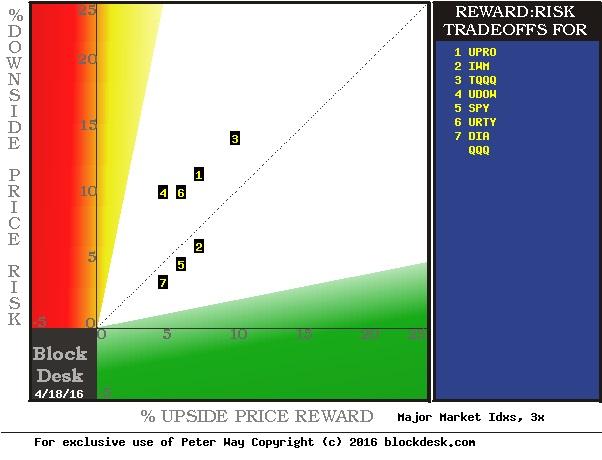 (used with permission)
It seems apparent that the larger downside proportions of the leveraged ETFs are more a function of their being driven by derivatives markets than the unleveraged ETFs are being driven by value perceptions in the equities markets. All these markets are connected by arbitrage.
But if the degree of desirability in equities is judged by how close the unleveraged subjects are to either the diagonal or the bargain-horizontal bounds, the message continues to be that the pros view equities markets as pretty fully priced.
A closer look at the evolution of MM price-range forecasts for these leveraged ETFs over both the past 6 months, daily, and across the past 2 years on a once-a-week excerpt basis, may be helpful.
CAUTION! These are not your typical technical analysis "charts" of past prices. They are pictures of forward-looking price-range forecasts, as they were made live, day by day.
The vertical range bars are segmented into upside and downside prospects by the heavy dots of their market quotes at the time of the forecast. Changing proportions at extremes of these potentials for changes in price in coming days, weeks, and months often urge attention as indicators of change in market direction.
Figure 4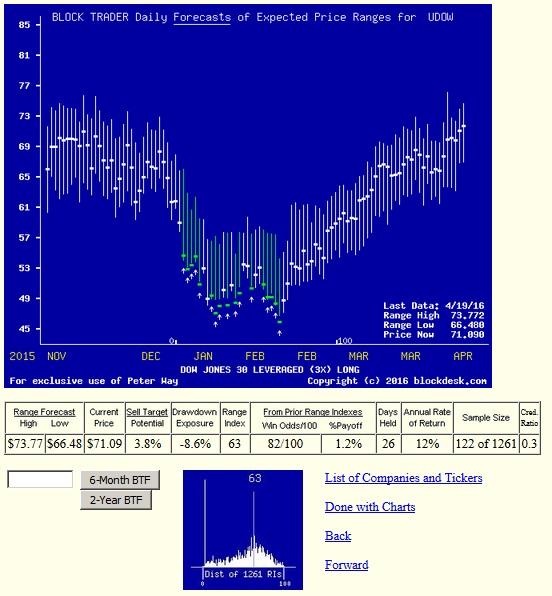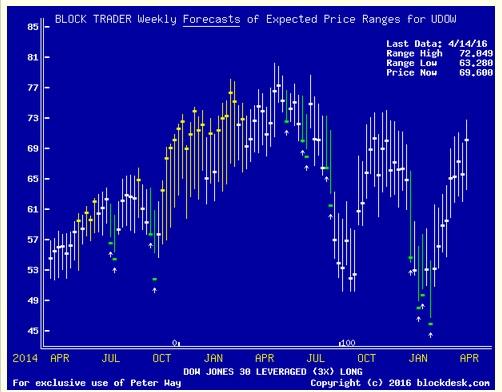 (used with permission)
Figure 5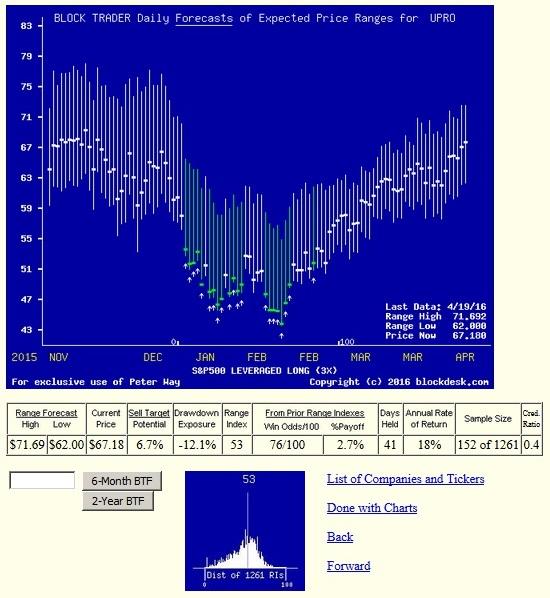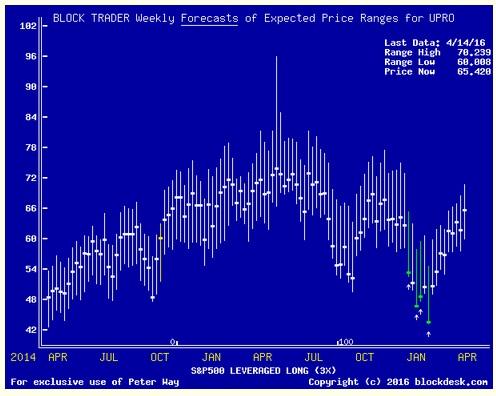 (used with permission)
Figure 6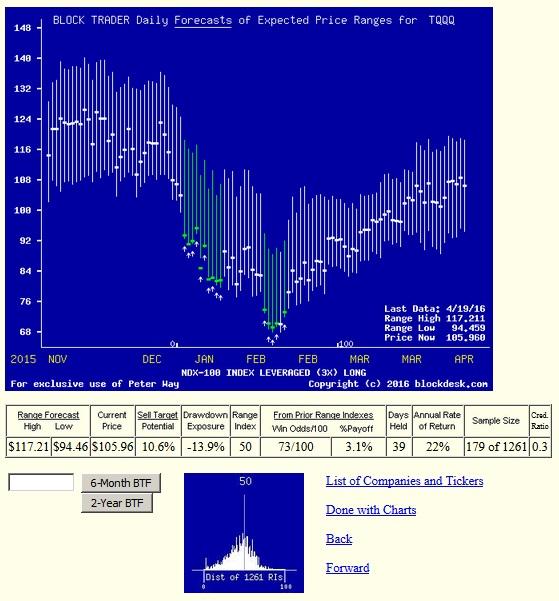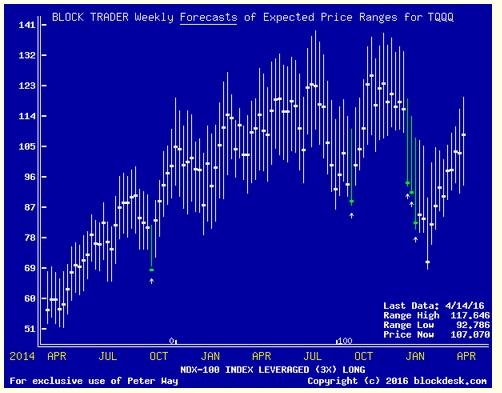 (used with permission)
Figure 7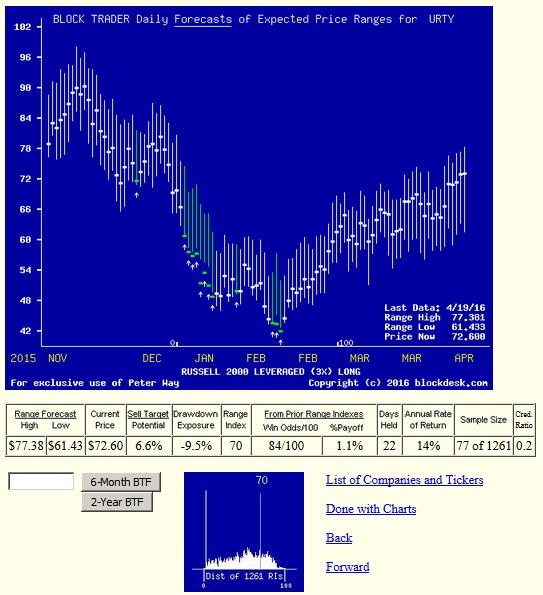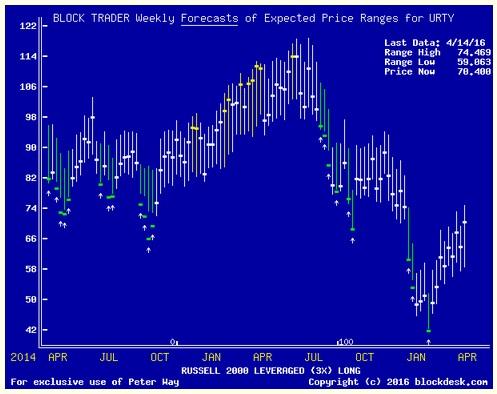 (used with permission)
Conclusion
While forecast Range Indexes for the major market indexes of SPY, DIA, and QQQ are below a mid-point of 50 and appear less threatening than their leveraged counterpart ETFs, the leveraged securities have strong demonstrated histories of signaling turns in market index direction.
Turns to the downside may take a bit longer to engage, but the warnings are present and building. At this point, UDOW and URTY make the strongest case.
The counter-argument is to be found in the even shorter-lead-time Term Structure of VIX index futures, updated live at Tradingvolatility.net.
Its shift from the present rising "contango" to flat, to a declining "backwardation", when it happens, may be the last good warning.
While ETFs structured so their prices move inversely to those in this article might appear a logical play, they tend (for technical market structure reasons) to be a trap and should be avoided. When the time comes to reallocate assets significantly, cash is a much more reliable protector.
Disclosure: I/we have no positions in any stocks mentioned, and no plans to initiate any positions within the next 72 hours.
I wrote this article myself, and it expresses my own opinions. I am not receiving compensation for it (other than from Seeking Alpha). I have no business relationship with any company whose stock is mentioned in this article.