Ford (NYSE:F) is scheduled to report earnings next week and by all accounts is poised to double last year's results and beat expectations. The company is riding a wave of global sales aided by ongoing efforts to control costs and boost growth. Current consensus estimate is EPS of $0.46 per share, double of last year's in the same quarter but down from the previous quarter. These estimates are low in my opinion. Sales in the first quarter have been very strong across the major markets with steady/growing market share.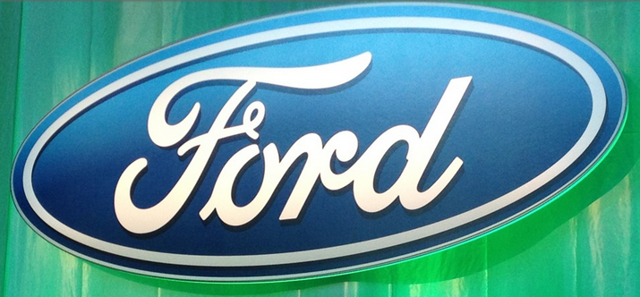 Global Sales Are Strong
US sales grew by 8% in March, down from 20% in February, to close out the quarter with an 11% increase. Sales were led by trucks and SUVs, higher margin vehicles, to give Ford its best March sales pace on record. The F-Series sold over 70K units alone, 46% more than rival GM's (NYSE:GM) Silverado models, with year-to-date sales up more than 5%. Average transaction price, another driver of earnings, rose and is up 2.6% year over year, evidence incentives are not hurting the company as bad as some have speculated. Market share has been holding steady near 16% and multi-year highs.
Ford's European sales are up 8.4% in the first quarter with a small increase in market share, up 0.3% to 8.0%. This pace is ahead of the broader European auto industry which only gained about 5% in the quarter and the strongest first quarter for Ford since 2010.
"There's a growing sense of excitement about Ford in Europe, from the new Mustang and Focus RS, to our growing SUV line-up, to our best-selling commercial vehicles," said Roelant de Waard, vice president, Marketing, Sales and Service, Ford of Europe. "We're reaching more customers, and importantly, we're winning over even more retail and business fleet customers who are increasingly choosing highly-equipped Ford vehicles."
Sales in China are also on a tear in the first quarter, up more than 14% from last year. Joint venture Changan Ford's sales are up 22% for the quarter. Sales of the Lincoln brand, while still very small in China, improved threefold according to a company press release.
Undervalued And Positive Outlook With Yield
Shares of Ford are undervalued, and I am not the only one who thinks so. The average analyst estimate is $15.44, 15% upside from current prices. Barron's recently published an article calling for 25% upside which, at the time of publication, puts the stock at $16.25. Trailing 12-month P/E is only 7.66, compared to the broader market this gives Ford roughly 100% upside potential. Forward P/E is lower, only 6.83, further implying low valuation.
Estimates for 2016 and 2017 auto sales remain strong. US sales are expected to set another record this year and hold steady into next year; sales in China are expected to grow by 15% or more this year and next with growth in Europe as well. This, along with increases in market share and ongoing cost reduction efforts, will drive profits into the coming years. Full-year 2016 EPS is estimated to grow 1-2% in 2016, low in my opinion, and another 3-5% in 2017.
The latest cost reductions include closure of operations in Japan and other regions in Asia where competition prevents profitability, streamlining operations in the EU which are estimated to save $200 million per year, and the expansion of operations in Mexico. While likely not an impact on 2016 earnings, the expansion serves two purposes; one being cost savings, the other increased production, both of which will help drive revenue and profits in future years.
The bottom line is that Ford's sales are strong and that momentum will drive revenue and profits. Estimates for the current year are low in light of high single and double-digit sales growth across its major markets and likely beaten, if not beaten soundly. The icing on the cake is the dividend, near 4.25% at current prices, that pays $0.60 annually.
Disclosure: I am/we are long F.
I wrote this article myself, and it expresses my own opinions. I am not receiving compensation for it (other than from Seeking Alpha). I have no business relationship with any company whose stock is mentioned in this article.