Coca Cola (NYSE:KO) has outperformed the S&P 500 fairly well this year given that multiples for the index are now very high, if not heading closer toward bubble territory. We think Coca Cola's outperformance is simply due to investors' flight to quality and reach for yield: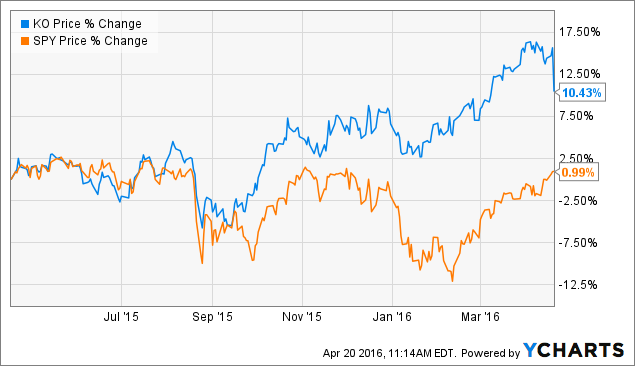 While Coca Cola arguably stands as the number one beverage distribution company in the world, its capacity for additional volume point growth has been lacking in the last few years: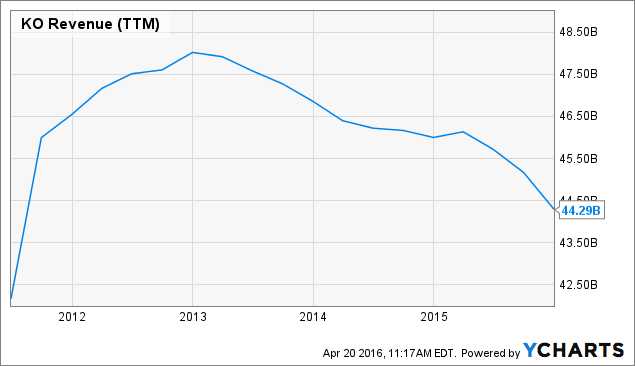 KO Revenue (NYSE:TTM) data by YCharts
If you have not been following the product mix closely, the biggest losers have been soda and energy drinks (about flat) whereas the remainders including sports drinks, juices, dairy, and otherwise have been performing fairly well (up about mid-single digits). Analysts on the Street are forecasting that they could see about 2-3% in growth overall in the next few years with pricing power coming in about the same level. Another point worth mentioning is that investors have had their eyes on working capital, specifically related to accruals, and the apparent trend has been disheartening: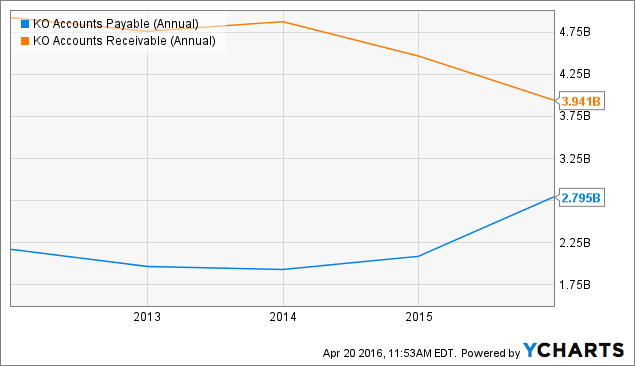 KO Accounts Payable (Annual) data by YCharts
Margins
We have witnessed some weakness in the last few years on margin, however they may normalize to previous levels as management increases marginal product prices. We should also see the windfall of lower commodity prices kicking in through gas prices and plastics, partially offset by increased competition, namely via Pepsi (NYSE:PEP) and Monster Beverage (NASDAQ:MNST). We think they should stand around an average run-rate of 28% with some minor variation thereof.
Valuation
Given the amount of debt management has issued since the beginning of 2011, we have shifted away from our traditional valuation method of price to earnings. If we include it, valuation multiples look very stretched: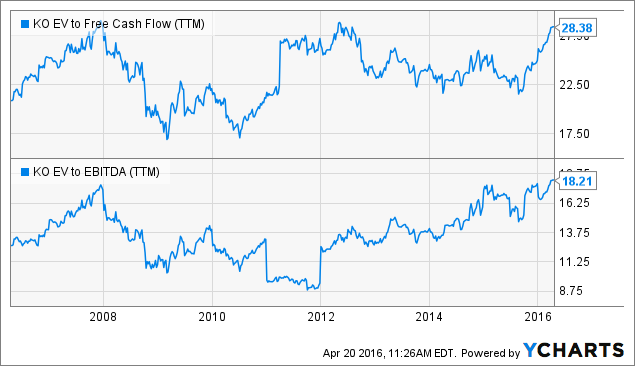 KO EV to Free Cash Flow (TTM) data by YCharts
That said, it is fairly difficult to argue that one should invest in Coke now, or add to one's position, given what we see as a small toolset for driving shareholder value.
Bottom Line
While we not at all recommending investors sell their Coca Cola positions, it would be a far-cry to suggest that buying now (i.e. dollar cost averaging) would be a smart move. Moreover, what many considered to be a "great quarter" coming out from Pepsi's Q1 earnings resulted in no reaction whatsoever. We think this behavior is representative that a majority of the upside is priced into the stock. We currently rate Coca Cola as a hold.
Disclosure: I/we have no positions in any stocks mentioned, and no plans to initiate any positions within the next 72 hours.
I wrote this article myself, and it expresses my own opinions. I am not receiving compensation for it (other than from Seeking Alpha). I have no business relationship with any company whose stock is mentioned in this article.