By New Deal Democrat
Last month, I wrote that I was very close to going on recession watch for 2017. Since then, two of the longer leading indicators have continued to be negative.
First, the Labor Market Conditions Index - an indicator with a good 40-year history - was negative for the third month in a row: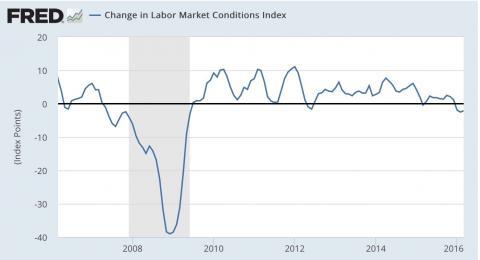 Second, real retail sales, even before adjusting for population growth, declined again: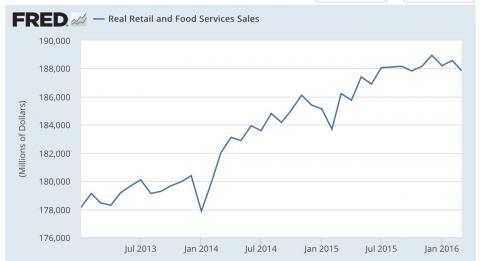 That left housing permits as the last bulwark. This morning, they just barely hung on. While the overall figure for permits was quite negative, with the worst reading since one full year ago: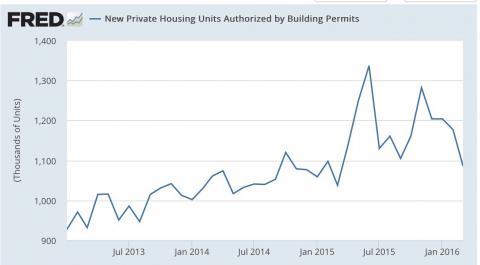 Permits for single-family homes were revised upward for February, making that a new post-recession record: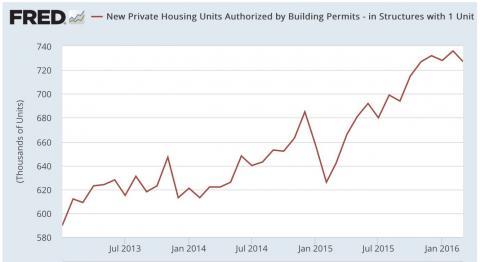 Here is the complete history for permits overall (blue, left scale) vs. single-family permits (red, right scale):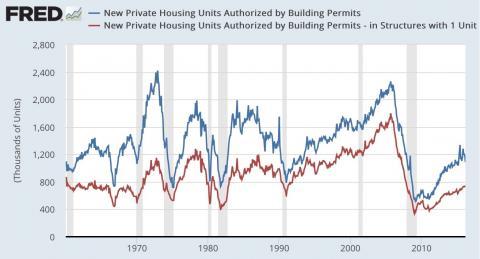 Historically, permits for single-family homes have generally peaked contemporaneously with, or just slightly before, permits as a whole.
The downdraft in March was caused by a steep and anomalous decline in multi-unit permits: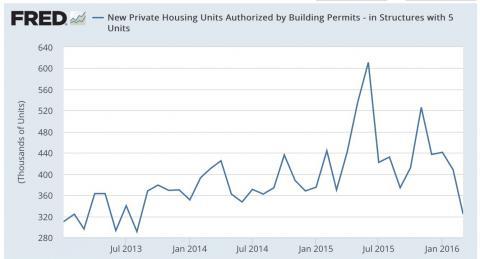 Because March of last year was also the poorest reading of the year, I do wonder if there is some unresolved hidden seasonality behind the numbers. Typically, multi-unit permits are the last to peak, as buyers frozen out by increasing prices for single-family homes turn to apartments and condos as a replacement.
That single-family permits made a new peak in February, together with the big decline in corporate bond yields albeit not to a new low: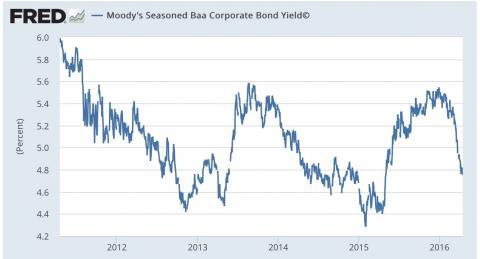 Along with very positive real money supply, it gives me just enough to not be negative through at least the first quarter of next year.
New Deal Democrat, XE.com