A big storm is brewing in the Florida insurance marketplace, creating a unique short opportunity for investors looking to profit from the confluence of political, economic, and even weather factors. Combined, these could soon wreak havoc on major private insurers Heritage Insurance Holdings Inc. (NYSE:HRTG) and HCI Group Inc. (NYSE:HCI).
HCI reports earnings May 3rd, while Heritage reports May 4th. We see downside in the near term ahead of results - and long term as our concerns, detailed below, play out.
Background
In the aftermath of the devastating Florida hurricane seasons in 2004 and 2005, state-run insurer Citizens Property Insurance Company sopped up the wreckage with 1.5 million policies on their books.
Citizens' ballooning size and large exposure to risk became hot-button political questions. Florida taxpayers began to realize the calamity that could ensue if a major hurricane hit and Citizens bore the burden. In 2013, Citizens had more than $500 billion in total risk exposure and only $6.1 billion in cash surplus.
The Take-Out Solution
Fears over Citizens' massive size and risk spurred lawmakers to create a "take-out program." This drew a flood of policies away from Citizens and into a newly invigorated private insurance marketplace. The take-out program was designed to reduce the state's exposure by encouraging private companies to assume Citizens' policies.
The take-out program has particularly impacted two private insurance companies: HCI Group Inc. and Heritage Insurance Holdings . Essentially, these firms were allowed to cherry-pick favorable policies from Citizens' portfolio. Other firms, such as Universal Insurance Holdings (NYSEMKT:UVE) and United Insurance Holdings Corp. (NASDAQ:UIHC), also participated; however, these firms are more diversified and thus less reliant on Citizens.
HCI
HCPCI, a wholly-owned subsidiary of HCI Group Inc., was created for the sole purpose of participating in Citizens' take-out program. HCI acquired all of the company's current policies in a series of separate transactions from July 2007 through October 2015. HCI's most recent annual filing (10-K) notes that "substantially all of (HCI's) premium revenue since inception has come from the policies acquired in these assumption transactions and subsequent renewals."
Heritage
Heritage also relies heavily on take-out policies from Citizens. In statements accompanying the company's latest 10-K, CEO Bruce Lucas noted that "during the quarter, our policy assumptions from Citizens Insurance were significantly higher than prior projections and totaled approximately 26,000 policies and $55 million in annualized premium."
Depopulation Coming To An End
The take-out program has benefited both HCI and HRTG. However, this era of cherry-picking is nearing an end as the total number of Citizens' policies shrinks towards a core of "high risk" policies. "High risk" encompasses properties on the coast, older residential properties, and those in "sinkhole alley" (Hernando, Pasco, Hillsborough and Pinellas counties), among others.
Management believed Citizens would be left with 300,000-400,000 policies in the depopulation model; as expected, this figure is approaching.
Earnings and Growth Results Could Be Poor for HCI, Heritage
With very few desirable policies left to "take-out," HCI and HRTG may soon be reporting results that pale in contrast to recent quarters.
If Citizens continues to depopulate at recent rates (approximately 10,000 policies per month), the number of desirable policies that remain available could be exhausted next year.
More Hurricanes Ahead For Concentrated Carriers
The arrival of hurricane season in early June may further pressure HCI and HRTG share prices as investors grow concerned over a flood of potential accidents. While Florida has enjoyed relatively mild hurricane seasons recently, many worry the state is in for another serious storm soon (and spike in insurance claims).
During the last active hurricane season, many private carriers folded. Most of that risk was transferred back to Citizens.
Both HCI and HRTG lack the national diversification of larger insurers. While HCI has plans to expand to other states, all of the companies' policies are currently in Florida. HRTG is also highly exposed to the Florida market. Only as of January 2016 has it gradually begun writing its first policies in the Carolinas. An active hurricane season in Florida - even the fear of one - could have a negative impact on HCI and HRTG.
Rate Hikes Could Push Stock Prices Down Further
During the take-out program, many policyholders were shifted from Citizens to private insurers. Those being "taken-out" received letters from their new private insurers, allowing them to "opt-out." These letters are now required to contain information about all available private insurance options instead of simply the name of the single insurer, to whom a policyholder has been shifted.
This new mandated awareness could further pressure HCI and HRTG as policyholders become more aware of opt-out provisions. Increased understanding of more private insurers could spur additional competition.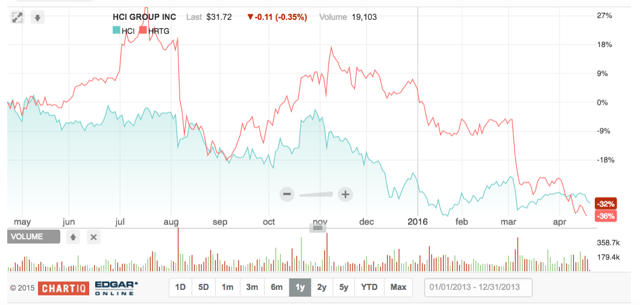 Conclusion: Two Desirable Short Positions
HCI and Heritage now face a series of challenges: increased competition amongst private insurers, a rapidly shrinking pool of desirable take-out policies, and a potential fallout from a bad hurricane season. Together these factors make both HCI and Heritage desirable short positions ahead of earnings this quarter. HCI reports May 3rd, while Heritage reports May 4th.
A risk to the short thesis would be if Citizens decides to drop more policies than anticipated. In September, the Miami Herald described how Citizens was aiming to get rid of 130,000 policies by the end of 2016. If they were to announce another subsequent large reduction goal, it would potentially be positive for HRTG and HCI. At this point, our firm has not found such an announcement.
These short opportunities could become even more attractive in the year ahead.
Disclosure: I am/we are short HCI, HRTG.
I wrote this article myself, and it expresses my own opinions. I am not receiving compensation for it (other than from Seeking Alpha). I have no business relationship with any company whose stock is mentioned in this article.