Introduction:
The Perfect Portfolio is a taxable account and the primary goal of the portfolio is to purchase Dividend Growth stocks, for income to supplement my Social Security benefit.
Being retired has its advantages, but not if you're broke. Fortunately, I sold a house that I inherited, in California, a while back and while the proceeds of that sale have been allocated to investments outside of the stock market, there is a balance that needs to be put to work.
What I Know:
We have promised to make every effort to address potential target companies ahead of time. That is, we will tell you what we want to purchase before we actually make the purchase and then once the transaction is complete, we will report the purchase via the brokerage account Trade Notifications that we get from Schwab.
I don't know of anyone else doing this, but it has been a lot of fun. It helps me to clarify my thought process and at the same time really give some thought to what I'm buying and why.
What You Should Know:
None of the stocks that I mention as targets in these articles is intended to be a recommendation or an implied endorsement that you should own these companies. Maybe you should and maybe you shouldn't. Since I don't know your particular situation, the stocks I purchase are not always stocks that you should be buying.
Besides, I'm not a financial advisor, but I did stay in a Holiday Inn Express.
Here's Our Current Situation:
As you know, if you've been following along, this year we have made 5 stock purchases. We bought Cisco Systems (NASDAQ:CSCO), JP Morgan Chase (NYSE:JPM), Emerson Electric (NYSE:EMR), International Business Machines (NYSE:IBM) and Qualcomm (NASDAQ:QCOM).
These are all new additions to our portfolio and while we are focused on new additions, there is no reason that we would not consider adding to an existing position within the portfolio.
What We Currently Own:
While the most of the companies in this portfolio are companies that we began purchasing in 2009, 2010, and 2011, I have decided to report "historic" prices, as of the close of market, 12/21/2015.
The reason for doing this goes back to the notion of transparency. While these companies have delivered impressive gains in portfolio value when viewed in light of the actual cost basis for each holding, I thought it more appropriate to bring the portfolio performance up to date with the more recent pricing decision.
In any future articles, we will address any appreciation or decline in stock prices, using that benchmark pricing of 12/31/2015 and reporting any appreciation or decline from that new starting point.
With the longer held companies in the portfolio, the intent was to make them more contemporary from a potential purchase opportunity that readers might use as a starting point for their own due diligence.
Future articles will also delete the share counts for these longer held positions as most investors, especially new ones, might be put off by the share counts for some of those older holdings.
So the more we can make this portfolio relevant, the here and the now will be the focus of our attention.
As for any new purchases? My reporting will be actual real time snapshots with purchase price, share count, dollars invested, and appreciation/depreciation of the portfolio value for the actively purchased companies.
This first table represents the current status of The Perfect Portfolio through the close of markets on 4/15/2016. It is a snap shot of where we are at with a starting point being 12/31/2015.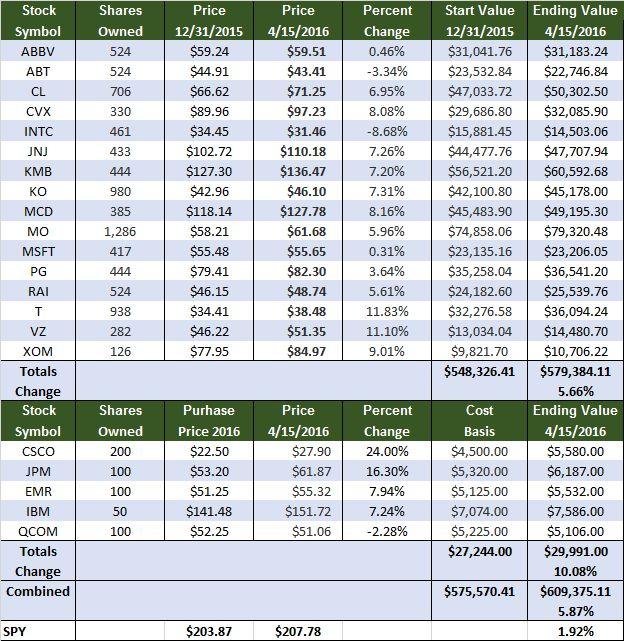 Recent Additions:
In our first article, we shared with you that we had limit orders filled for JP Morgan Chase and for Cisco Systems before we could get fully operational with this series.
In our second article in the series, we discussed seven targets for acquisition and those companies were Centerpoint Energy (NYSE:CNP), Southern Company (NYSE:SO), Pfizer (NYSE:PFE), Emerson Electric , Qualcomm , Philip Morris (NYSE:PM), and Verizon (NYSE:VZ)
As you can see in the table above, Emerson Electric and Qualcomm have been purchased.
In our third article in the series we shared our interest in International Business Machines and we have also made a purchase of shares in this company as well, bringing our total number of addition to 5 companies, so far this year.
Target List Moving Forward:
We currently have 14 stocks that would appear to be worthy additions to our portfolio. All of the companies on this list are Dividend Growth stocks and have achieved Champion, Contender, or Challenger status, with the exception of one company. That company would be Westrock (NYSE:WRK).
Here is our current target list: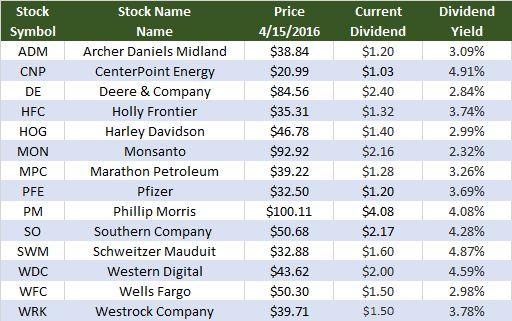 This list of stocks represents the only companies that we are considering as potential purchases. We believe that each of them would make solid additions to The Perfect Portfolio, based on the objectives of the portfolio.
Unless we identify another company and add it to this list of target purchases, the construct of this exercise does not permit buying stock in company that is not on our published "Target List." (Plain and simple.)
Summary and Conclusion:
The goal of The Perfect Portfolio is to provide dividend income to supplement my Social Security benefit.
The strategy behind this goal is known as "Dividend Growth" and that means that companies in the portfolio should be companies that increase their dividends on an annual basis.
Since this is a taxable account, the intent is to find and purchase companies that we intend to hold. This is not a trading portfolio and the commitment to stock ownership is about the longer term and not what happens next week or the week after that.
Selling a position will only be done after long and thoughtful consideration. In my opinion, an investor is better served by taking the time, initially to focus on making good stock selection first and not be focused on buying a given company merely for a quick turn around. Invest for the future and that future should be significantly longer than a week or two.
I wanted to get this target list of stocks out, even though we have been writing about other topics, as of late. While there are other companies in the market that I like and have considered for additions to The Perfect Portfolio, right now, I am not looking beyond this current list of potential candidates.
I can't say that we will have made purchases of all 14 companies by the end of this month, but I can say that we will definitely have made purchase of a few of them.
Thanks for following along!
Disclosure: I am/we are long JPM CSCO IBM EMR QCOM MSFT INTC ABT ABBV CL JNJ KMB KO MCD MO PG RAI T VZ. I wrote this article myself, and it expresses my own opinions. I am not receiving compensation for it (other than from Seeking Alpha). I have no business relationship with any company whose stock is mentioned in this article.