Oil companies have seen their earnings, and share prices, plummet as a result of the decline in oil prices over the last couple years. This has caused many of the dividend investors who own large integrated oil companies like Chevron Corp (NYSE:CVX), to question if those dividends are sustainable. I do not believe Chevron's dividend is sustainable unless the price of oil rises substantially, and my reasoning is below. I sold all of my Chevron shares recently. The company's characteristics aren't good enough to qualify it as one of my long term holdings, and my investment thesis for the company was busted.
In the 4th quarter of 2015 Chevron Corporation reported a loss of $588 million, compared to earnings of $3.47 billion in the 4th quarter of 2014. While that is a headline grabbing disparity, lets dig a little deeper. In the year between those two earning reports, the price of a barrel of West Texas Intermediate (NYSE:WTI) oil declined from the mid $50s to the mid $30s. (The price of a barrel of Brent oil collapsed in similar fashion.) That decline had a tremendous impact on the earnings from the company's upstream operations, which swung from a profit of $2.67 billion to a loss of $1.36 billion dollars over that time period. Investors concerned with the company's future dividend payouts need to keep a close eye on where the price of oil.
I am not sure that the price of oil globally is going to rise much over the next few years. Companies, and energy producing countries, around the world are pumping oil as fast as they can. Countries like Saudi Arabia, Russia, Iraq, Iran and Venezuela are under particular pressure to keep pumping oil at high levels, because these countries derive a large percentage of their GDP (both directly and indirectly) from oil production. It looks like the glut in oil production will continue, at least a little longer. Much has been said lately about global oil companies, including Chevron, cutting their capital expenditures. The thinking goes that the reduction in capital expenditures will reduce the amount of oil being produced. I am certain it will eventually, but it could take years to see a meaningful reduction in global oil production. Once a company has invested the capital in an oil well, they have little incentive to stop pumping that well until the well is depleted. It doesn't cost nearly as much to pump developed oil wells, as it does to drill new oil wells. Additionally, the law of supply and demand dictates that for the price of oil to rise either the available supply needs to decline or global demand needs to rise. Neither looks very likely at the moment. So how does Chevron intend to bridge the gap until oil prices rise again?
Chevron's management (in the most recent quarterly earning release) spoke very pointedly about cuts to operating expenses and capital expenditures, as well as asset sales. They are trying to slow the rate at which the company is burning through cash, and allay investor's fears that the dividend will be cut. The company's available cash has fallen each of the past 4 years, from about $20 billion (in 2012) to a little over $11 billion today. That doesn't sound so bad, except that the current dividend requires $8.1 billion annually. In 2015 alone Chevron's management increased the company's debt load by $10.7 billion. Some of that money did go to completing upstream projects like a new project in the Permean Basin, two deep water projects off of Africa, the Jack/St. Malo deep water project in the Gulf of Mexico, and part of the massive Gorgon LNG project in Australia, but the rest went to maintaining the dividend and current operations. The completion (or partial completion) of those projects will help by reducing the amount of new capital expenditures required by the company, but I believe Chevron's cash flow position remains precarious. Management even decided to dilute existing shareholders by issuing new shares of common stock in 2015, after years of billion dollar buybacks. Issuing new shares and taking on more corporate debt is not a good sign to me. Neither is the fact that none of Chevron's executives have not bought shares on the open market since August of 2015. I don't see this as a good sign either.
The collapse in Chevron's profitability, in the later half of 2015, has reduced the usefulness of most of the typical valuation metrics (like the prices to earnings ratio). As a result of the company's current struggles, Chevron's trailing price to earnings ratio stands at 38.44. The current dividend payout ratio stands at 175%, meaning that (if the current dividend remains intact) Chevron will pay out nearly twice as much in dividends as it earned last year. While the Gurufocus chart below shows the dividend growth over last 10 years, I believe that growth is coming to an end.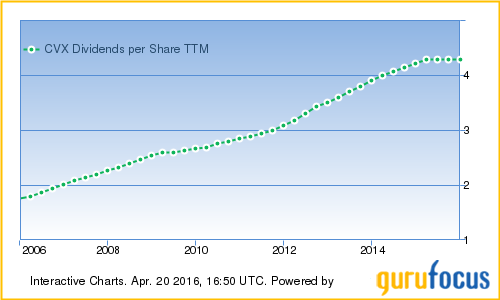 Chevron's management has also been selling assets for a few years. In addition to far flung (and seemingly insignificant) global assets, management announced in early 2016 that they would try to sell all of the company's shallow water production assets in the Gulf of Mexico. These are assets that are currently producing oil. At the same time management announced that they would target $5-$10 billion dollars in additional asset sales through 2017. Clearly the company has a big cash flow problem. I would like to leave you with three GuruFocus charts below, which clearly show the Chevron's deterioration over the past five years. Look at how debt has consistently grown (despite asset sales), while cash and cash flow have fallen substantially.

Disclosure: I have no position in CVX. This article is for informational purposes only and should not be considered a recommendation for anyone to buy, sell, or hold any equities. I am not a financial professional. The information above is provided by Yahoo Finance, GuruFocus.com, and Investor.Chevron.com.
Disclosure: I/we have no positions in any stocks mentioned, and no plans to initiate any positions within the next 72 hours.
I wrote this article myself, and it expresses my own opinions. I am not receiving compensation for it (other than from Seeking Alpha). I have no business relationship with any company whose stock is mentioned in this article.