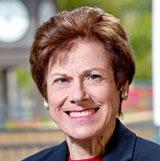 Lynn Reaser is chief economist of the Fermanian Business & Economics Institute in San Diego and past president of the National Association for Business Economics. Previously she was chief economist of Bank of America's Investment Strategies Group.
Harlan Levy: How fragile is the U.S. economy right now?
Lynn Reaser: The U.S. economy is actually on quite firm footing although there are some weak spots. Early in the year, financial markets seemed to think that the U.S. economy was much weaker and more vulnerable than it really was. That perception has now changed, while there is less pessimism about the rest of the world.
The first quarter might be very weak, with Gross Domestic Product growing by 1 percent or less, but that should be the low point of the year.
As we move ahead in 2016 growth rates are likely to be in the range of 2 percent to 2.5 percent, and for the whole year we'll see growth at about 2.2 percent, slightly above last year's 2 percent.
The U.S. economy has difficulty getting much above 2 percent, and next year it's unlikely we'll see a major breakout of that range of 2 to 2.5 percent.
HL: Do you see hourly wages and personal income rising more than a little, and if not, how can the U.S. economy do more than slow gradually into stagnation?
LR: As the unemployment rate moves below 5 percent, wages should advance more significantly, which should further boost consumer spending and keep the economy moving forward.
HL: I take it you don't expect a recession to knock out the economy?
LR: A recession appears unlikely. We did not have any major excesses. The Federal Reserve is unlikely to tighten abruptly, and, as a result, the major risk of a recession would come from an outside shock such as a terrorist attack.
HL: What do you think is the Fed's majority opinion of our economy?
LR: The majority opinion seems to be that the U.S. economy is expanding at a slow to moderate pace, but that risks from abroad persist.
HL: Do you expect another rate hike this year or is next year more likely?
LR: Another two interest rate hikes now seem reasonable, given the rise in underlying inflation, excluding food and energy, towards 2 percent. As oil prices stabilize or rise, overall inflation should also trend upward. A next rate hike would be in June with another one at the end of the year. Interest rates would still be exceptionally low.
HL: Can housing keep improving? Is it more stable? Will it continue to be a minor factor in the economy?
LR: Although homebuilding represents less than 5 percent of total GDP, it has significant ripple effects throughout the economy in terms of spending for furniture, appliances, and other goods and services. Low mortgage rates, more lending, higher employment, and pent-up demand are all boosting the sector. There are some pockets of overheating, such as in Miami and San Francisco, but generally the industry remains on a solid growth trajectory. The low level of inventory underscores the demand for more home construction.
HL: How underwhelming is job creation?
LR: Monthly gains of 200,000 are impressive and are generally widespread both through industries and across geographies. The recent increase in the labor force participation rate also suggests that potential jobseekers believe that the labor market is finally generating more promising opportunities.
HL: What are the economy's most significant headwinds and tailwinds if there are any?
LR: The dollar, even though it has weakened this year, continues to hamper exports, while oil prices continue to reduce activity in the mining sector.
In terms of tailwinds, jobs and incomes are rising, while asset values in terms of both housing and stocks are up. Consumer spending is advancing, which represents about 70 percent of the economy. Housing, spending on software and research, and government outlays are also rising.
HL: Do you expect any surprises in first-quarter corporate earnings reports?
LR: With most analysts sharply marking down their estimates, surprises could primarily be slightly to the upside, particularly in light of the dollar's recent drop.
HL: Do you expect the stock market to go into correction soon or not so soon or not at all after all these years of a bull market?
LR: The stock market could well see another correction this year given its recent significant rebound. However, equities still appear to be a better asset class than most others for investors and stocks, are likely to end 2016 with a modest gain.
HL: Does stock market volatility look as if it's abating?
LR: Stock market volatility may be easing, particularly as equity prices become less linked to oil prices. However, investors should not be lulled into tranquility. Markets will continue to see sizable swings, driven by changes in global forces and accentuated by the activities of hedge funds and traders.
HL: What sectors of the economy and the stock market do you see as healthy ?
LR: Homebuilding, consumer spending on "natural and healthy" products and services, entertainment, and software represent growing areas. The "Internet of things" also is an emerging sector, with significant amounts of upside potential.
HL: What kinds of companies are on the edge?
LR: High-cost oil drilling companies and oil shale producers face rising bankruptcies even as oil prices start to firm. Manufacturers dependent on exports or heavily impacted by imports could also fail as the dollar's strength continues to impair their competitiveness.
HL: Do you see oil prices jumping after they firm, and how do you think wealthy people will react?
LR: Oil prices are likely to move modestly higher, but gasoline and fuel prices will still be low enough to encourage purchases and more spending by the wealthy of larger cars, boats and yachts, and airplanes. Wealthy households may still opt to buy fuel-efficient vehicles because of their concern for the environment and desire to "make a statement."
HL: Is the global economy -- and all the international crises and financial manipulation, not to mention climate change -- grimly and inevitably closing in on all of us?
LR: We are at least aware of the dangers and taking some steps, even if not large enough ones, to address them. Last December's agreement on measures to address climate change in Paris was a positive step. Europe has taken measures to address tax avoidance and evasion. Countries are trying to prevent illegal activity in exchange and fixed-income markets by financial institutions and their traders.
HL: How far-reaching and significant do you expect China's slowdown to be?
LR: China appears to be adopting enough monetary and fiscal stimulus to keep real growth at around 6.5 percent. The greater risk is that long-time reform, which is sorely needed, is being deferred.
HL: Is the eurozone in trouble with the reemergence of Greece's debt crisis and the immigration problem?
LR: Immigration represents a major threat to the integrity of the European Union, as does the possibility of a vote by the U.K. this June to leave the EU. Greece faces another financing deadline in July, with the IMF and European Union still concerned that economic and financial reforms have not been implemented.
HL: How can anyone be optimistic with the acceleration of all our problems, including our dramatically polarized nation and paralyzed Congress, not to mention the potential ascendancy of negative national economic policies?
LR: Perhaps the best news is that Americans care. They have not shut down but want to see change. Meanwhile, although our economy is far from stellar, we are outperforming most other nations in the world. The job market is moving towards full employment, most households are benefiting from low inflation, home prices are higher, and stock prices are close to all-time records.
Disclosure: I/we have no positions in any stocks mentioned, and no plans to initiate any positions within the next 72 hours.
I wrote this article myself, and it expresses my own opinions. I am not receiving compensation for it (other than from Seeking Alpha). I have no business relationship with any company whose stock is mentioned in this article.