China vows to enlarge its mobile broadband network coverage to 85% of its households in the next five years, thus creating a new smartphone market of 385 million users. Apple (NASDAQ:AAPL), the only foreign brand left in China's top five vendors, will face an uphill battle in exploring this virgin market.
Mobile broadband coverage to rise from 57% to 85%
According to the 13th Five-Year Plan recently approved by China's parliament, a faster and more affordable Internet connection will become a reality. The main objective is that 85% of China's total population will be able to access mobile broadband (3G and above), up from 57% at the end of 2015. As China's population by the end of 2015 stood at 1.376 billion, the new market covers 385 million users, larger than the entire US population.
Both cellphone and broadband smartphone markets are saturated
Before examining the new market potential, let us first analyze the state of the existing cell phone markets - "over-saturation" is the key word. According to the Ministry of Industry and Information Technology (MIIT), China had 1.305 billion cell phone users by the end of 2015 - a penetration of whopping 95.5% (see Table 1). In China's most developed eastern region, the penetration is even higher at 114.6%, i.e., one person on average owns more than one cell phone.
Table 1: Mobile Phone Penetration (Unit/100 persons)

National

95.5

Eastern

114.6

- Beijing

188.3

- Shanghai

134.4

- Guangdong

140.0

Central

79.3

Western

86.3

Source: MIIT
The over-saturation of the four tier-one cities is even more staggering: Beijing is 188.3% and Shanghai 134.4% while the Guangdong Province (where the other two tier-one cities Guangzhou and Shenzhen are located) is also high at 140.2%. As eastern China is also economically most advanced, we can comfortably assume that the region's 4G market is also saturated.
Over-saturation is also true for the existing mobile broadband market. According to MIIT (see Table 2), there were 399.101 million 3G users and 386.225 million 4G users by the end of 2015, meaning a total of 785.325 million broadband smartphone users, also higher than the 784.32 million market capacity (57% broadband coverage). This explains why China's smartphone shipments were stagnant for the first time in history in 2015.
Table 2: No. of Mobile Phones In China, 2015 (In Millions)

Users

Dec. 2015

YOY

MOM

Total Mobile Phones

1,305.738 Penetration: 95.5%

19.645

2.064

Smartphones

964.472

89.25

10.892

4G

386.225

288.941

30.496

3G

399.101

-86.154

-9.242

2G

179.146

-113.537

-10.362

Functional Phones

341.266

-69.605

-8.828

Source: MIIT
According to Strategy Analytics (Table 3), China's smartphone shipments increased just 3.4% from a year ago to 437.8 million units in 2015. Fourth-quarter shipments even dropped by 4.1% to only 117.9 million units.
A deeper look at the Chinese smartphone market gives an even more somber market outlook for 2016. The number of 4G users rose by 288.941 million in 2015, way lower than the 437.8 million unit shipped. That means about 150 million units of smartphones shipped during 2015 were left in retailer inventory.
Most 4G phones were sold in new market mode last year
Last year saw 4G users increase by about 300 millions while 3G users declined only by 86.154 million. That means about 200 million non-broadband (2G and functional phone) users, mainly in the economically backward central and western China, were directly upgraded to using 4G.
Hence, more than half of 4G phone sales in 2015 were already in the new market mode, i.e. 2G or functional phone users were upgraded directly to use 4G. They are from central and western regions having little exposure to online smartphone information, hence less likely to buy online from vendors. Instead, they are more likely to get information from traditional channels (TV, printed media and outdoor billboard ads). Their purchase decisions are likely influenced by traditional opinion leaders (brand endorsers, friends and relatives, as well as in-store salespeople).
As China's smartphone sales already entered the new market mode in 2015, a look at how major vendor performed would give us a peek at who would likely take an early lead in the new market. From Table 3, the top five smartphone vendors performed well as a whole in 2015. Four of them recorded annual shipment growth rates between 50% and 60%. Only Xiaomi (BATS:XI), the overall top vendor of 2015, registered a disappointing 15.8% annual growth rate.
Table 3: China Smartphone Shipment & Market share Q4'15

Vendor Shipment (Million Units)

Q4 '14

2014

Q4 '15 (YOY)

2015 (YOY)

Xiaomi

15.7

57.8

17.5(11.5%)

67.5(15.8%)

Huawei

11.9

41.3

17.9(50.4%)

62.2(50.6%)

Apple

13.4

31.1

15.5(15.6%)

49.5(59.2%)

Vivo

9.8

24.1

11.8(20.5%)

36.7(52.2%)

Oppo

9.6

22.3

10.8(12.5%)

33.2(48.9%)

Others

62.6

247.0

44.4(-29.1%)

188.7(-23.6%)

Total

123.0

(+34.7%)

423.6

(+33.6%)

117.9

(-4.1%)

437.8

(+3.4%)

Vendor Market share (%)

Q4 '14

2014

Q4 '15

2015

Xiaomi

12.8%

13.6%

14.8%

15.4%

Huawei

9.7%

9.7%

15.2%

14.2%

Apple

10.9%

7.3%

13.1%

11.3%

Vivo

8.0%

5.7%

10.0%

8.4%

Oppo

7.8%

5.3%

9.2%

7.6%

Others

50.9%

58.3%

37.7%

43.1%

Total

100%

100%

100%

100%

Source: Strategy Analytics
Xiaomi's fourth-quarter year-on-year growth rate slowed further to 11.5%, again the lowest among the top five. Besides blaming it on market saturation, this shows the effects of Xiaomi's mainly online sales strategy may have come to an end. The brand sells 70% of its devices online in an effort to bypass costs for offline marketing and retail distribution.
Apple's growth rate also decreased from approaching 60% for the whole 2015 to under 16% in the last quarter. Market saturation aside, this shows iPhone 6S and 6S Plus, launched in September 2015, could not continue the popularity of iPhone 6 Plus launched a year ago.
Building distribution channels is key to tap the new market
Huawei is the only brand enjoying consistent popularity, recording a whopping 50% growth rate throughout 2015, thanks to success in three aspects: upgrading hardware cost effectively, promoting online-only Honor series smartphone and building offline distribution channels for other series.
Oppo and Vivo are the surprising new leaders. The sister brands from Dongguan, Guangdong, seemed to be coming from nowhere, yet managed to squeeze former leaders Samsung (OTC:SSNLF), Lenovo (OTCPK:LNVGY) (OTCPK:LNVGF) and ZTE (OTC:ZTCOY) (OTC:ZTCOF) out of the prestigious league. Their combined China market share exceeded all competitors. The twin brands adopt the same sales strategy, which is the opposite of what Xiaomi does. They shun e-commerce in favor of tight relationships with exclusive provincial distributors, mainly in low-tier cities, encouraging them to sell more phones. They also sponsor popular TV variety shows to embed the brand image into viewers' mind.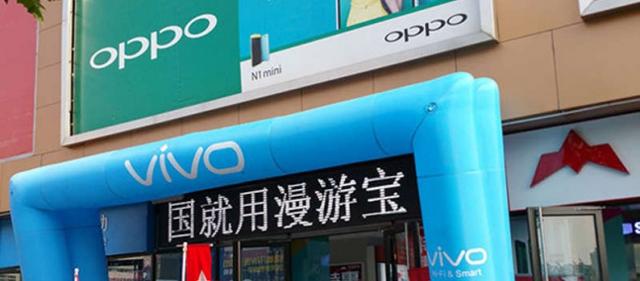 Vivo and Oppo are spin-offs from the same parent company and adopt similar marketing strategies. Many of their shops are located side-by-side (Source: Mobilescout.com).
Conclusion: iPhone sales to suffer and Apple profit margin to be squeezed in China
Despite being smaller in size and lower in revenue per user than the existing market, the new mobile broadband market to be created in the next five years is the only Chinese market with high growth potential. It will be larger than the US population!
Equally important, whichever brand has an early lead with this new market will have access to a huge market of online services, in particular, online payments. Apple started this service in China in mid-February and eagerly wants to catch up with market leaders Alipay (NYSE:BABA) and Tenpay (OTCPK:TCEHY).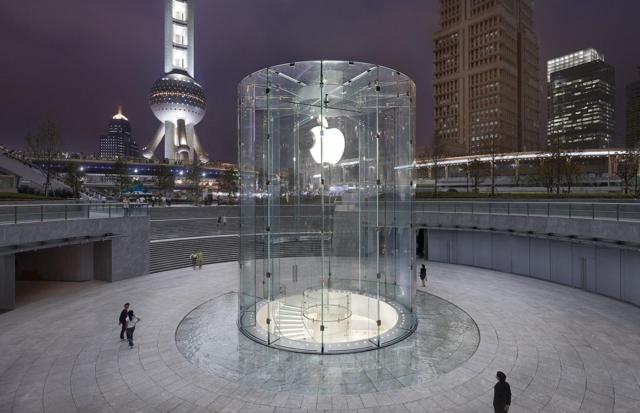 Apple can no longer depend on tier-1 cities like Shanghai. It has to explore new markets in central and western China.
In a nutshell, the new 385-million market is the one Apple cannot afford to miss. The lower-end iPhone SE recently launched already targets China's first-time users. Apple will report its second-quarter (March) results on April 25. What CEO Tim Cook says about Chinese business plans, especially on offline distribution channels, will give a hint on how he might approach the new Chinese market.
Two things are sure. First, even Apple itself has predicted worldwide iPhone shipments to be disappointing in the second quarter. With existing markets saturated and the new one taking time to build, iPhone shipments in China would be at best stagnant in the next several quarters. Second, if Apple makes heavy investments on building extensive offline distribution channels in China, its sales costs will soar and profit margins will be squeezed.
Disclosure: I/we have no positions in any stocks mentioned, and no plans to initiate any positions within the next 72 hours.
I wrote this article myself, and it expresses my own opinions. I am not receiving compensation for it (other than from Seeking Alpha). I have no business relationship with any company whose stock is mentioned in this article.