Energy Transfer Partners (NYSE:ETP) is now up 6.8% on the year. After double bottoming in Q1, investors were seriously concerned about the company's leverage in light of the deteriorating fundamental environment. Well, I'm here to say that fundamentals look like they're ready to deteriorate again. Thus, investors should exercise significant caution if looking to buy into ETP at the current level.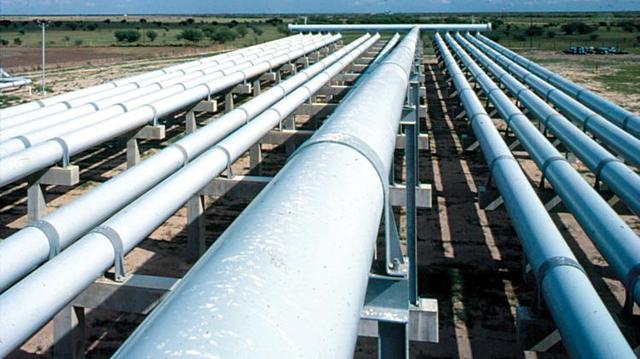 Source: Biz Journals
Much of the attractiveness of an investment in ETP has been from the improved risk-reward scenario. When the stock bottomed on February 9th, just before crude oil's bottom on February 11th, the equity was 68.6% off of its 52-week high. The risk-reward scenario, if viewed from a long-term perspective and backed by the "crude is cyclical" argument, was ideal.
Why all the talk about crude? The midstream space right now is incredibly interesting. I've seen companies that have high compositions of revenue derived from natural gas and still correlate to oil, and I've naturally seen crude and refined products transport-based companies like ETP correlate to oil.
I've noticed that ETP has a similar correlation to the WTI as does its peer Kinder Morgan (NYSE:KMI), who has a correlation coefficient of 0.4 to that crude oil gauge. ETP's is slightly higher at 0.44. This is interesting because Kinder Morgan is one of the companies that derives a high amount of its revenue from fee-based natural gas transport, yet still correlates to crude oil. Moving forward, ETP's full recovery and potential short-term declines will be synonymous with a recovery in crude.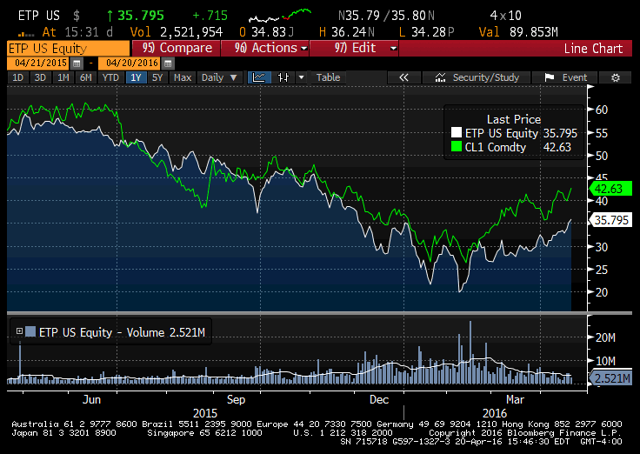 Source: Bloomberg
If investors want to ignore the short-term noise and still tack on to an attractive risk-reward scenario, then a LT investment in ETP, which yields 11.08%, is advisable. However, for those investors that are far more price-conscious and are aiming to maximizing their return with this midstream name, understand the fundamental situation that ETP may be faced with over the next year.
Fundamentals To Become Negative
Investors are now living in a post-Doha world. The fact that individuals were even able to sit down potentially creates a precedent for future cooperation, if the price of oil returns to its lows and the need for stability arises. Sure enough, Iraq this morning said that talks to cooperation on freezing, not cutting, will be revived at some point. While Iraq is key, this information would have been more important had Iran stated it. On a slightly different note, there is a potential oil meeting in May with Russia as the focal point to freeze production; however, investors are still waiting on confirmation. To summarize, don't expect a freeze in the next few months.
The post-Doha world could also be very intimidating based upon Mohammed bin Salman's comments. The fact that Saudi Arabia could scale its output to 20 million bopd by next year is frightening. Their doubling is more than the entire daily crude production in the U.S. (8.95 million bopd, according to the EIA). A far more realistic output increase would be the commented 11.5-12.5 million bopd by end of Q4 at the latest.
While these are just words, I believe it represents a shift in the fundamentals, thus warranting a different viewpoint on ETP.
Both the API and EIA are now showing record levels of crude stockpiles. It's fascinating that the corresponding price action in crude to this type of information is positive - crude is up 6% this week already. Yet, the EIA reported stockpiles were up 2.08 million barrels last week to 538.6 million barrels, a level not seen in eighty-six years. The API reported a slightly higher figure yesterday of 3.1 million barrels.
Additionally, rig counts continue to fall, down three rigs from a week ago in the U.S. However, I don't necessarily view this as bullish because if crude oil treks higher, then American E&Ps are just going to incrementally replace production that they've cut over the last 18 months as their break-even level becomes closer to the crude spot. The natural motivation would be for these producers to try and become FCF neutral. At that, crude oil production in the U.S. could easily head back above 9 million bopd.
The Kuwait strike is over and that OPEC country, the fourth-largest producer in OPEC, could surpass its March production level and hit 3 million bopd by year-end. The country produced 2.8 million bopd in March, but dropped to 1.5 million bopd during the strike. Expect global crude production reports to revert to their March averages in the coming weeks.
Conclusion
Investors that are long ETP should hold for the long term. It should surpass its 52-week high of $59 in the next 14-18 months, if American production can continue to detract and an OPEC freeze occurs. However, there are many fundamental negatives in the short term, which could cause pain to current longs. I'm not advocating for a short, despite the potential that ETP may fall. Shorting around an 11% current yield is unideal. I am advocating for caution.
Disclosure: I/we have no positions in any stocks mentioned, and no plans to initiate any positions within the next 72 hours.
I wrote this article myself, and it expresses my own opinions. I am not receiving compensation for it (other than from Seeking Alpha). I have no business relationship with any company whose stock is mentioned in this article.