Aflac (NYSE:AFL) is at a 52-week market high.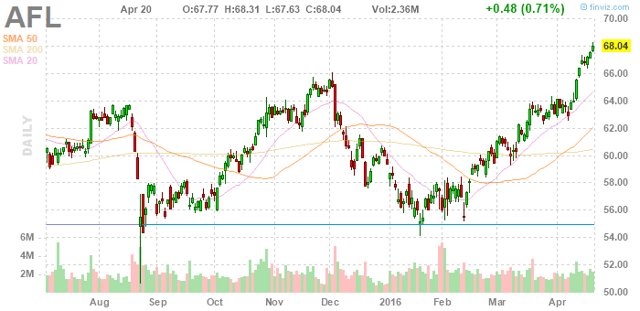 In spite of this fact, I recently said I believed Aflac was undervalued and a buy. As you can tell from some of the comments on that article, there is some disagreement. One of my favorite commenters, smurf, asked me what I thought was fair value for Aflac. I used a discounted cash flow analysis for Aflac, and will present the figures here.
Aflac has earnings-per-share of $5.85, and its growth rate over the next five years is anticipated to be 5.37%. For the next ten years, its growth rate is expected to be 9.1%. Its terminal growth rate over the next ten years is expected to be 4%.
Assuming a discount rate of approximately 11% (the average return of the stock market), I get a growth value of $53.36 and a terminal value of $35.07, which combine to give a fair value of $88.27. The current share price of $68.05 (as of April 20th, 2016) thus provides a margin of safety of 23%.
Leaving aside this, I have to disagree with smurf in judging a 52-week high as seeing the big picture with Aflac. The company has been undervalued for a long time due to the negative perceptions of the Japanese economy (though interest rates have played their part too, as noted by Ray Merola, someone who is well worth reading on the subject of Aflac even if you disagree with him). Not much needs to go right for Aflac's value to rise. But my full case was made in the previous article, and can be read there without further exegesis here.
Going forward, however, I will be using this method in all of my evaluations of other potential stocks. Though I feel I have argued my case fairly in previous work, using the discounted cash flow analysis will provide readers with a more quantitative picture of where I am coming from with my particular views on certain stock opportunities. This has been a query that has not been confined to smurf, so I hope that this will be of use to others going forward.
DISCLAIMER: I am not a financial professional and accept no responsibility for any investment decisions a reader makes. This article is presented for information purposes only.
Disclosure: I/we have no positions in any stocks mentioned, and no plans to initiate any positions within the next 72 hours.
I wrote this article myself, and it expresses my own opinions. I am not receiving compensation for it (other than from Seeking Alpha). I have no business relationship with any company whose stock is mentioned in this article.