Introduction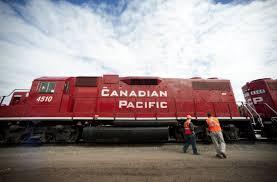 Canadian Pacific (NYSE:CP) just reported its 2016 Q1 results.
Let's dive in and see what this company has to offer, now that its crazy merger dreams are off the table, and use the data to make an educated guess about the direction of the entire rail group going forward.
First Quarter Results
Canadian Pacific reported 2016 Q1 revenues of C$1.59b versus C$1.67b in Q1 2015, a 4% decline.
Operating income was up 7%. Net income, and therefore, earnings per share were up 69% and 83% respectively. We will dive into the reason for this larger net income increase later on.
The operating ratio, a term that most railroads seem to quote, was at 58.9%. This operating ratio is really just the company's operating expenses as a percentage of revenues.
Operating Expenses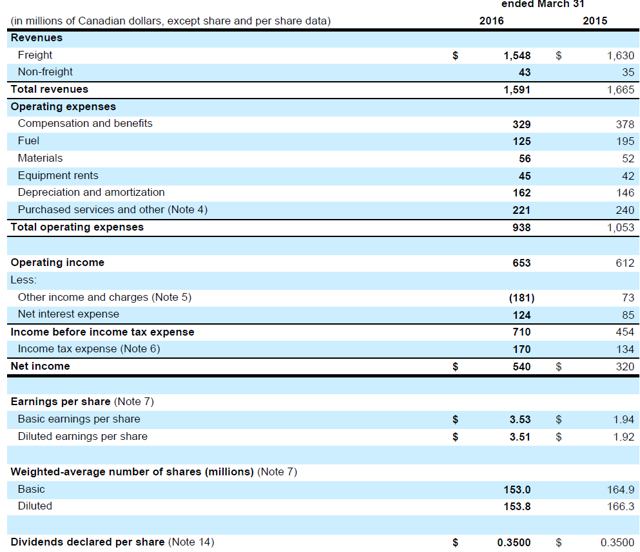 As can be seen above, the primary drivers of lower operating expenses for CP appear to be fuel and compensation and benefits.
Crude oil average somewhere in the $50s in Q1 2015 and somewhere in the low-$30s in Q1 2016.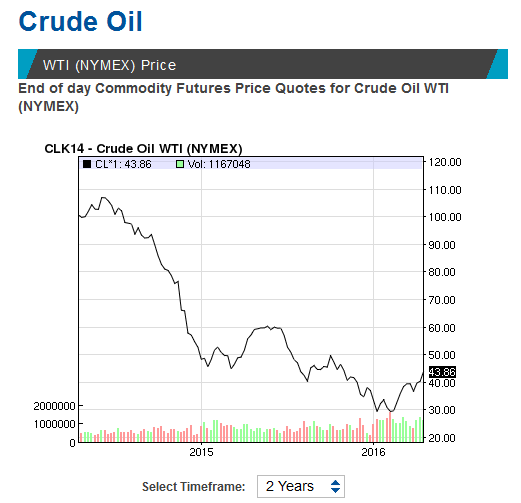 CP had 1,930 fewer employees on average versus the prior-year quarter, accounting for much of the cost savings.
Many railroads have been reducing their workforces constantly since the commodity slump began, and CP is not immune.
Revenues Continued
Some of the weakest segments for CP were Crude, Metals, Minerals and Consumer Products, U.S. Grain, and Domestic Intermodal.
U.S. Grain fell by 18%, Crude by 28%, and MMC by 16%. Surprisingly, Coal was down, but not the worst segment by far at a 9% decline.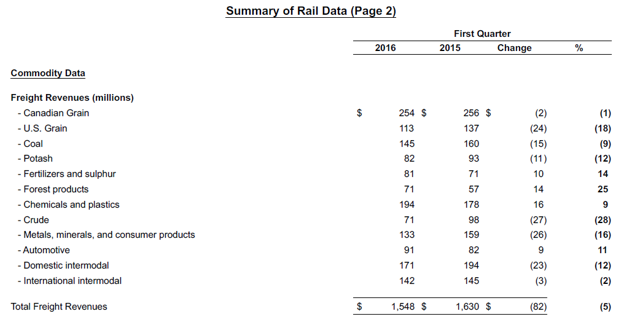 Strong segments include Automotive at an 11% increase, Chemicals & Plastics at +9%, Forest Products at +25%, and Fertilizers & Sulphur at +14%.
The problem for CP is that many of these strong segments are among its smallest and most of its major segments are the ones with year-over-year declines in revenue, thus accounting for the overall company revenue slump.
I expect long-term tailwinds in automotive to remain in place for some time to come as car sales in Canada have been on a steady rise for years and show no sign of slowing down. That alone, however, will not be enough to offset the slump in commodities.
Surprisingly, CP's coal volumes compare favorably with CSX (NASDAQ:CSX), one of the rails most exposed to coal. Just last week, CSX reported that coal volumes fell 31% year over year, and its total revenue fell 13.5%.
For comparison, CP's Canadian brethren Canadian National (NYSE:CNI) reported a 1.4% drop in revenue YoY for Q4. It has not reported yet for Q1 2016.
Grain Exposure Differentiates CP
One of the reasons I like CP in contrast to the other rails, especially the US ones, is that it has a slightly different exposure mix.
As you saw above, its biggest segment is Canadian Grain transportation, and U.S. Grain is also an important segment. These have held up well with only slight declines when compared to the other commodity segments.
While this business may be lower margin than coal for the rails in general, it is also better positioned going forward. The US and Canada produce a lot of grain and export a good portion of grain as well.
Since grains of all types do not face the full-scale global assault that coal does due to the clean energy push by developed nations, I expect demand for grain going forward to remain steady and increase a few percent a year along with the global population.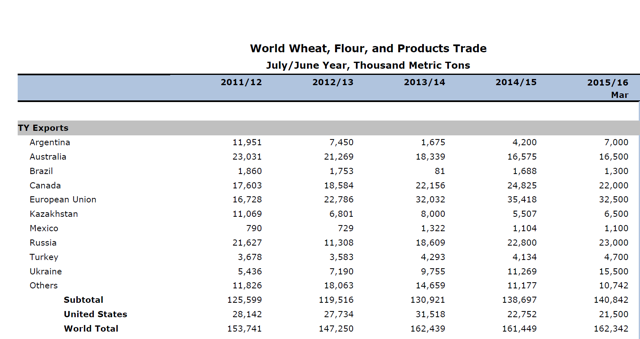 This means that, when compared to the likes of CSX, CP's largest revenue source has a much brighter and more stable future.
I am not discounting a bounce back in coal by any means, as it could likely occur due to price swings in other commodities, slow roll-out of clean energy, or political change, but I think the writing is on the wall for coal and its slow descent has begun.
Other Earnings Notes
That unusually high net income I mentioned above was primarily due to a currency exchange gain on the extinguishment of debt.
The company extinguished some debt that was denominated in US dollars and gained because of the Canadian Dollar's current position. This is a sure one-time obscurity, as currency effects constantly move wildly back and forth, and one cannot rely on this type of income to be present in any future reporting period.

Dividend Potential
CP's dividend is misleading in many ways. On my financial portal, it shows the payout ratio at a measly 16%, although that is clearly way too low as the real ratio is somewhere above 50%. In 2015 Q1, the company earned C$1.94, and paid out C$1.40 for the whole year. 2016 Q1's real income with the adjustment noted above would be in the mid-C$2 range.
The company just announced a monster 43% dividend boost with this latest quarterly release and said it would buy back 6.9 million shares but did not specify how soon or over what time frame those buybacks would occur.
It should be noted that CP's dividend has been constant since early 2012, so while that increase seems large, when viewed in the context of four years of stagnation, it seems less impressive although a ~10% dividend growth rate per year is nothing to sneeze at.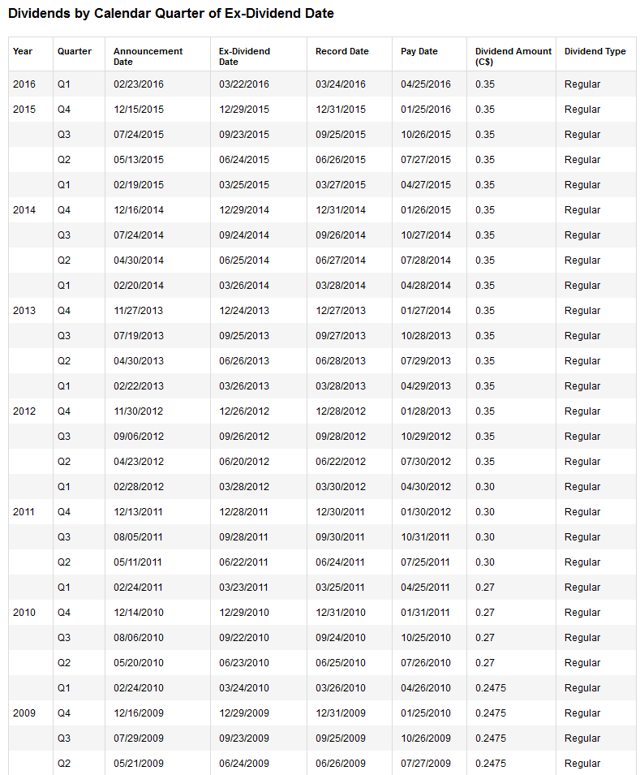 Conclusion
Overall, I really liked CP's quarter. Operating expenses fell 10.9% versus a revenue fall of 4%, which means the company gained ground.
Cost cutting is notorious for only being able to do so much in the face of falling revenue and to see that this far into the commodity cycle, CP is still able to remove that high of a percent of costs is encouraging.
Its diverse portfolio of revenue segments shows life and slumps in the areas you would expect, but it is better positioned than some rails to ride out the slump and have a constant and steady business with its above-average grain exposure.
Disclosure: I/we have no positions in any stocks mentioned, and no plans to initiate any positions within the next 72 hours.
I wrote this article myself, and it expresses my own opinions. I am not receiving compensation for it (other than from Seeking Alpha). I have no business relationship with any company whose stock is mentioned in this article.