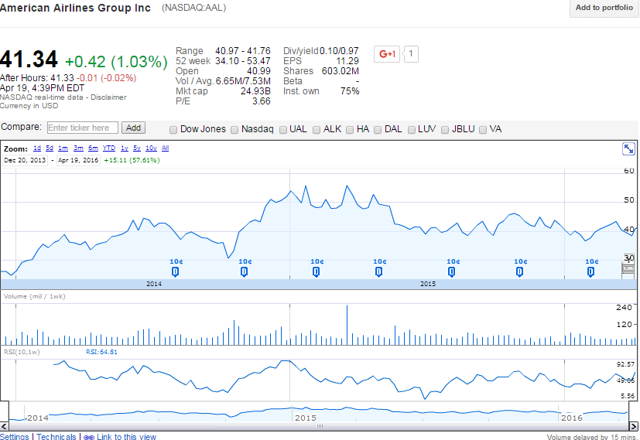 Img 1: American Airlines Stock Performance Since Merger; Source: Google Finance
American Airlines (NASDAQ:AAL) shareholders have sat in frustration as they watch the stock price stagnate and the airline trade at a mere 3.6 P/E despite a fall in jet fuel price, record earnings and continued consolidation in the airline industry. The stock soared in the initial months after the merger was completed, and then fell to $28 as much of the media speculated the potential of Ebola to disrupt world travel. After the stock rebounded, it reached new highs of over $55 before low oil even came into the picture. With oil under $100 and falling, the stock price steadily fell to within a range of roughly ~$40-45 despite record earnings and continued positive developments during this time. The stock has remained within this rough range for well over a year now.
American Airlines has taken advantage of the situation to launch extensive buybacks. CEO Doug Parker has expressed confidence in the stock, both saying it is a no-brainer for the company to buy back stock at these price levels and also becoming the first ever airline CEO to take his pay in his airline stock - a major validation. There are many issues keeping the stock price of AAL and the overall airline industry down, as many Wall Street analysts are still skeptical of the long-term viability of strong airline profits given the industry's turbulent past. One thing, however, seems to stand out above all others in potentially allowing American Airlines stock to gain 50% or more.
Debt
Debt stands out above all other as one major reason that AAL is trading at a discount compared to its peers. The company has by far the largest debt burden out of all the major U.S airlines. Its debt is currently as follows:
| | | |
| --- | --- | --- |
| Noncurrent Liabilities | 2015 | 2014 |
| Long-term debt and capital leases, net of current maturities | 18,330 | 16,043 |
| Pension and post-retirement benefits | 7,450 | 7,562 |
| Deferred gains and credits, net | 667 | 829 |
| Bankruptcy settlement obligations | 193 | 325 |
| Other liabilities | 2,535 | 3,041 |
| TOTAL | 29,175 | 27,800 |
Table 1: American Airlines Noncurrent Liabilities
When pressed, CEO Doug Parker has continually reaffirmed that it makes sense to take on additional debt when interest rates are under 4%, as he can earn a return above and beyond 4% on the debt. In theory, his point does make sense; however, the debt burden, equal to over the entire market cap of the company, has Wall Street concerned about the ability of the airline to thrive in a less ideal economic environment or one where the airline industry strays back to its ways of the past.
From 2014 to 2015, debt has increased by over $1 billion, as other airlines such as Delta (NYSE:DAL) have worked aggressively to reduce debt. Delta has reduced its long-term debt from $17 billion to $6.8 billion from 2009 to 2015, earning the airline investment-grade status. United (NYSE:UAL) is working to reduce its debt too as it seeks investment-grade status. For American Airlines, here is a look at its long-term debt and capital leases, net of current maturities by year.
| | |
| --- | --- |
| Year | Long-Term Debt |
| 2013 | 15,212 |
| 2014 | 16,043 |
| 2015 | 18,330 |
Table 2: American Airlines Long-Term Debt By Year
Wall Street has a right to be concerned about the substantial debt load that cost the company $880 million in 2015 even at low interest rates, or 19% of last year's $4.616 billion profit. While it may make sense now when you can earn a return above and beyond the current interest rate, the question is what happens when the operating environment takes a turn for the worse or the less likely chance that interest rates rise? Taking a closer look at other major airlines trading in the United States show that debt/equity and P/E is, in fact, highly related, as you can see below.

Img 2: Airline P/E Based On Debt/Equity Ratio
With the exception of Hawaiian Airlines, which is trading out of range due to current speculation, the other airlines all stay in a range of increasing P/E as debt/equity decreases. There is no point looking at past earnings, as stock prices reflect the expected future, so the P/E is based on 2017 EPS estimates. If American Airlines were able to reduce its debt around 80%, the stock - if it followed this chart - would trade at a forward P/E of over 9, leading to a stock price around 50% above the current price. Delta frequently cites that the forward P/E of high-quality industrial transports and S&P industrials is at 14.3x and 15.6x respectively. The airline has made no secret of its desire to be seen by investors as a high-quality industrial and trade as these companies do. This ambition leaves upside for the stock, as investors have been assured by management of their desire for the company to trade at less of a discount. If American Airlines took a similar stance, it would be a very positive message to investors and show substantial upside. If the airline traded at a forward P/E of 14.3 akin to an industrial transport, the stock would be trading at $91.80 based on projected 2017 earnings - over double the current price.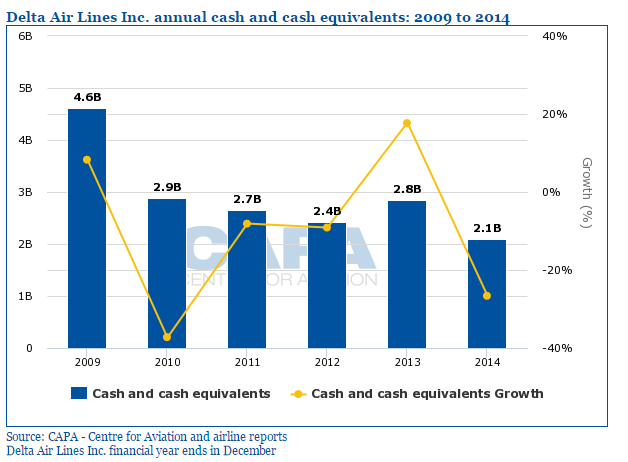 Img 3: Delta Annual Cash and Cash Equivalents
From 2009 to 2014, as Delta worked to pay its debt down, its cash and cash equivalents also decreased, allowing it to accelerate the repayment of debt. American Airlines has the luxury of having the most cash and cash equivalents of all the major U.S. airlines, with $9.985 billion or $6.254 billion in cash and short-term investments. While the total cash pile decreased in 2015 by almost $2 billion, it did not result in a net decline of American Airlines' debt. Going back to Doug Parker's comments about taking on debt with low interest rates, it in turn makes less sense to hoard so much cash in a low interest rate environment. The cash may be better used to bring the debt down and de-leverage the airline.
Doug Parker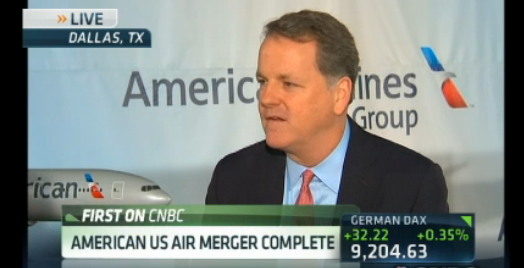 Img 3: Doug Parker, CEO, American Airlines
Doug Parker has been an excellent CEO for American Airlines since taking over and has already given the stock a large vote of confidence by taking it as his salary.
When it came to employee profit sharing, Doug Parker initially refuted the idea, saying he would rather his employees a better wage that they would have through good times and bad as opposed to profit sharing. Profit sharing has given the staff at Delta incentive to hit company goals and targets since the Delta merger, and has led to a drastic increase in customer service and many other operational metrics at the airline since its inception. While these improvements are not all due to profit sharing, it has certainly helped attain them. With no profit sharing for American Airlines employees, morale was suffering, and last month, Doug Parker admitted his idea was maybe a mistake and decided to pursue a profit sharing plan for employees.
This flexibility and ability to admit to a misjudgment was welcomed by Wall Street as a willingness to adapt. Such an attitude may need to come about when it comes to debt and taking on more versus paying existing debt down. Shareholders are not happy with the current situation, and despite record profits and a strong outlook, the airline is not seeing this reflected in its stock price.
Conclusion
While a plan to deal with the debt load at American Airlines will not change the stock price overnight, it will certainly send it in the right direction if it were to follow the precedent of other airlines that have done so, such as Delta. While the rhetoric from CEO Doug Parker about taking on additional debt if the company can make a positive return on it makes sense, additional earnings does not matter to investors if the stock price does not trade at a price to reflect these increased earnings. From talking with many investors, and as the chart above shows, what investors seem to care about is the substantial leverage American Airlines is operating with.
Investors should look for any word from American Airlines management this Friday about earnings or at any point going forward on dealing with the debt. Any indication from management that they are prepared to finally deal with it and take it on would be incredibly positive news and would make the stock a strong buy. In addition, a solid plan to deal with the debt could result in an investment-grade rating over the medium term, which would open the stock up to additional investors.
Disclosure: I am/we are long AAL.
I wrote this article myself, and it expresses my own opinions. I am not receiving compensation for it (other than from Seeking Alpha). I have no business relationship with any company whose stock is mentioned in this article.