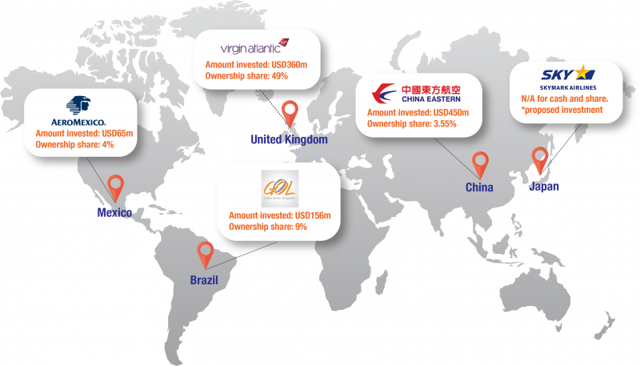 Img 1: Delta Equity Stakes Worldwide
Delta Air Lines (NYSE:DAL) has changed the nature of the airline industry by becoming much more of an aviation conglomerate, as opposed to a single airline. As I previously wrote about in my article, here, Delta owns an oil refinery, an aircraft maintenance business, and owns large stakes in multiple large international airlines. Investors seem to have welcomed this diversification as a way for Delta to vertically integrate the business when it comes to the oil refinery or to gain a foothold in markets it was previously weaker in via strategic stakes. Unfortunately, the first real negative side effect of this move may be coming to light, as one of Delta's largest equity stakes could be on the verge of bankruptcy.
GOL Brazil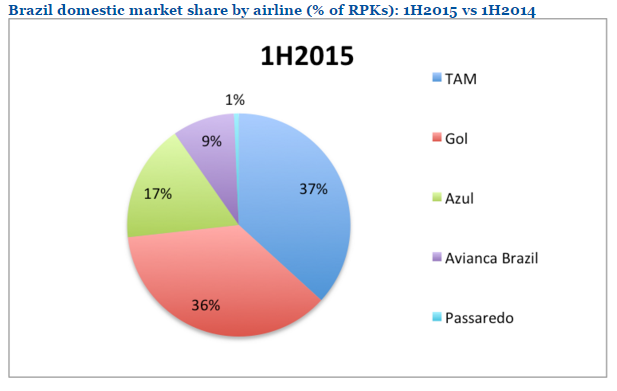 Img 2: Brazil domestic market share by airline
GOL (NYSE:GOL) is Brazil's second largest airline, slightly smaller than TAM, the largest. Delta took a 3% stake in the airline back in 2011 for $100 million to gain a much needed foothold in the Brazilian market and catch up to American Airlines (NASDAQ:AAL) and others. The partnership has been successful and Delta has increased its stake to 9.5% over time. The stake allows Delta passengers seamless access to many smaller markets in Brazil that Delta could not economically fly to itself. Meanwhile, GOL benefits from the same in the United States where it gets access to many more U.S cities.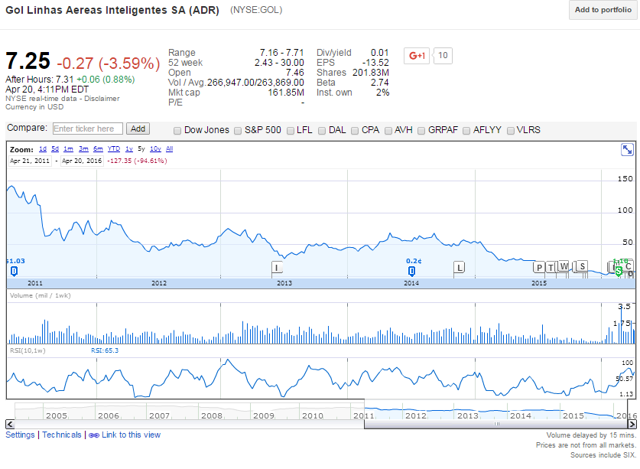 Img 3: GOL Stock Over Time
Unfortunately, with the economic downturn in Brazil, GOL has seen its finances hit hard. The airline lost $1.1 billion in 2015 despite lower oil prices and now has $2.6 billion in debt. One of the biggest things hurting the company is its expenses and exposure to U.S dollars while 86% of revenue is in a weakening Brazilian currency. As the Brazilian real has taken a tumble, the costs of aircraft leases and loans that are all in U.S dollars have skyrocketed for GOL. Despite cutting GOL's corporate family rating from B3 to Caa1 however, Moody's has expressed confidence in its current management.
Management at GOL has reportedly hired PJT Partners to evaluate their options and one at least being considered is a bankruptcy. For now this seems one of the less likely possibilities, however it is still very possible. Restructuring current loans from Delta and other parties will be a good start for the airline from which point it can re-evaluate whether or not additional actions may need to be taken. Delta has already guaranteed $300 million of the airlines debt, and GOL is renegotiating aircraft leases, cutting capacity and freezing hiring to get the company back in order.
Brazil Situation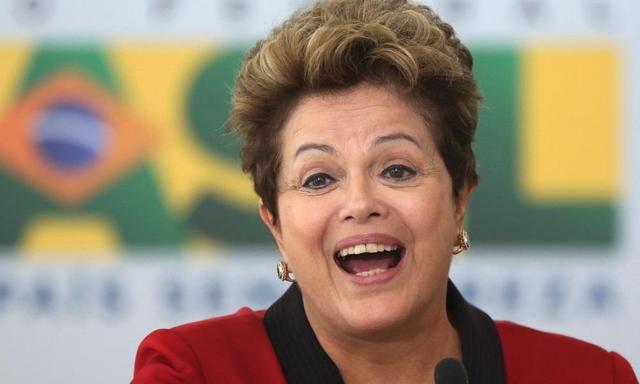 Img 4: Brazilian President Dilma Rousseff
The situation in Brazil has been dire for several years now. The economy is experiencing its worst recession in over 100 years and is expected to contract in 2016 on top of a contraction in 2015. A movement to impeach the current president, Dilma Rousseff, who has presided over much of the current mess, may prove to be a catalyst the country needs to get things moving in the right direction again. The country, and specifically the Brazilian tourism and airline industry may see a boost this summer as the summer Olympics and in turn Brazil is flashed across millions of TV screens worldwide. A pick up in tourism would be extremely positive for both GOL and the Brazilian economy.
Effect on Delta Air Lines
Delta has lost $81 million in the first quarter alone from GOL's woes, or approximately 5% of its total Q1 profit. In addition, the investment is now worth substantially less at this point compared to what Delta originally paid for it. While this is not too much of a loss relatively speaking, Delta's latest investment in AeroMexico that will see the airline pay $815 million for a 49% stake could see much larger losses for Delta, if the investment went south. Despite this, the AeroMexico investment is looking good at the moment and appreciated by $21 million during Q1, as the GOL investment along with the China Eastern investment both declined in value.
A successful resolution to the GOL situation will bode well for Delta along with its investors and GOL. A negative outcome, on the other hand, would likely wipe out Delta's equity in GOL and significantly impede Delta's access to the Brazilian market. It could also make potential future partners think twice before pivoting themselves towards Delta. China Eastern, for example, allowed Delta to take a 3.55% stake and to test the waters of a partnership, despite previously considering switching into the Oneworld alliance that would have partnered them with American Airlines. China Eastern along with many others will no doubt be watching carefully how Delta deals with its equity partners in times of crisis.
If there is anything good that comes out of this, it could be some cheap Boeing 737 aircraft that Delta will be able to pick up as GOL sheds some excess capacity to rightsize itself. Recently, the government of Brazil changed foreign ownership laws allowing foreign entities such as Delta to own as much as 49% of Brazilian airlines, up from 20% previously. One positive from this may be the ability for Delta to substantially increase its stake at a minimal cost to the airline. This could pay off big time for Delta investors in the long run, if GOL can successfully turn itself around and remain a viable operation. If GOL is able to reach its previous stock price peak in a better Brazilian economic environment, it would represent almost 20 times upside for Delta above current price levels.
If GOL makes it through the current crisis, I believe this will be a great positive for Delta. Delta will have a precedent and experience in successfully dealing with a struggling equity partner in a completely different country, where there are many different factors at play. GOL will come out of it all a much stronger entity, much less likely to experience the same kind of woes for the foreseeable future which will be a positive for GOL, Delta and Delta investors.
Conclusion
The GOL troubles and severity of them have likely been a bit of a wake-up call for Delta and its investors. While equity stakes and vertically integrating the business are appealing in many ways, they also present substantial risk at the same time. Despite the issues, incoming Delta CEO Ed Bastian said during the Q1 earnings call that increasing Delta's globalization via equity stakes will continue to be a priority. Investors should take note and be aware that when they are investing in Delta, they are investing in much more than a U.S airline and while they can reap the rewards of large potential upside in emerging market airlines, these countries tend to be much more volatile which presents substantial downside when things take a turn for a worse.
Disclosure: I/we have no positions in any stocks mentioned, and no plans to initiate any positions within the next 72 hours.
I wrote this article myself, and it expresses my own opinions. I am not receiving compensation for it (other than from Seeking Alpha). I have no business relationship with any company whose stock is mentioned in this article.