There has been a lot of doom and gloom surrounding the markets in the lead up to this earnings season. Many market commentators have been calling a market crash as inevitable, but we don't see it the same way. Coca-Cola's (NYSE:KO) earnings may not have been incredibly inspiring on Wednesday, but they were far from a catastrophe. We also don't believe they are indicative of what we will see from the Nasdaq 100 during the next few weeks.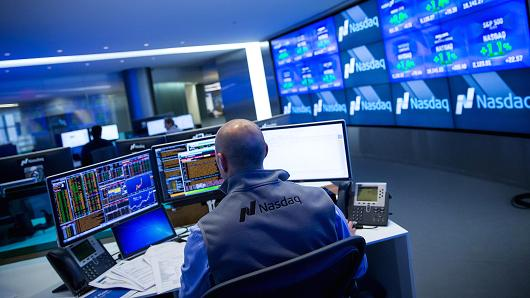 It does seem as though every other day there will be someone calling a market crash or a recession. A lot of the time, it is the same people who have been calling one for months or even years. With time on their side they will eventually get the call right, just like a broken clock tells the right time twice a day. So with all the noise in the markets, it can be hard to pluck up the courage to make an investment in the Nasdaq 100 with the PowerShares QQQ Trust ETF (NASDAQ:QQQ). But we have, and we feel quite confident in it too.
Donald Trump and Ted Cruz have both been predicting a market crash, but of course, they would say that. We imagine they wish to paint a bleak picture of the current government in the hope of winning the neutrals over. So, for us, this lacks credence. Elsewhere. Saudi Arabia has been threatening to sell off $750 billion of U.S. assets. This is a political threat which many believe to be empty. If it did happen, it could cause a certain amount of volatility, with far-reaching consequences. But it is likely to also damage its own prospects according to Stratfor energy and technology strategist Matt Bey. He has said: "It hurts them just as much as us. With everything they are facing internally they're not someone who can afford to do something like that." So again, we don't believe this will happen.
While we do have concerns over China and its financial markets, they seem to have stabilized following the chaos from the start of the year. There was of course a reasonably steep fall on the Shanghai Composite on Wednesday that dragged its index below 3000 points. But no other markets responded to it, which was a good sign in our eyes.
Finally, recession talk continues. Recent data has been interpreted as an early sign that a recession is coming. Although non-farm payrolls have been impressive, there are concerns that below the headline jobs data, there are signs that the U.S. labor market is beginning to lose momentum.
Temporary-help employment could be starting to show signs that it is topping out. The significance of this is that this type of employment peaked before the last two recessions in the United States. Additionally, a broad labor-market index that is put together by Federal Reserve economists has now fallen for three months in a row for the first time in almost seven years. It is fair to say that a recession is overdue by historic standards, but it doesn't necessarily mean there is one coming. Investors could sit on the sidelines and wait, but during this time, they could miss out on some decent returns. If investors had been put off by the intense recession talk in January/February, they would have missed out on the QQQ putting on strong returns, as you can see below.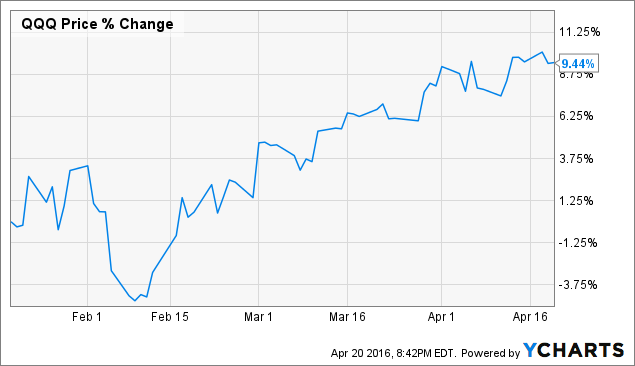 So we are not going to be put off by talk of a crash or a recession. Nor are we going to be put off by talk of a disappointing earnings season for the big ten stocks in the QQQ. As many of you will be aware, when it comes to the PowerShares QQQ Trust ETF, which mirrors the Nasdaq 100, there is a small collection of shares which will generally dictate the direction the ETF and the index take. As you might expect, Apple (NASDAQ:AAPL) is the biggest contributor with an 11.35% holding.
Shown below, are the top ten holdings in the QQQ.

Source: ETF.com
We are especially bullish on Apple, Microsoft (NASDAQ:MSFT), Amazon (NASDAQ:AMZN), Alphabet (NASDAQ:GOOG), and Facebook (NASDAQ:FB), and expect all five companies to beat the market consensus this quarter. These five companies (including both class A & C Alphabet shares) account for over 39% of the index. A beat by these five will have the power to drag up the index significantly in our opinion.
We are most excited by the prospect of an Apple beat. Apple generally divides opinion, but sentiment seems incredibly negative at the moment as though everyone is waiting for them to fail. But with Apple Pay, Apple Music, and the new iPhone reportedly being sold out, things are looking quite positive. An earnings beat from Apple could drive its share price considerably higher, and the QQQ with it.
Elsewhere, we continue to believe Alphabet and Facebook will steal market share away from traditional advertisers. The rise of ad-blocking could be a slight headwind, but not enough for us to be overly concerned. And we expect Microsoft and Amazon to continue to go from strength to strength, thanks to their incredible leadership through Satya Nadella and Jeff Bezos.
In light of this we are long with the QQQ ETF, with a price target of $120.00. We expect by the end of the year the ETF will have broken through this level, returning investors over 8.5% in the process. As far as we are concerned, this bull market still has a lot of steam left in it and we would much rather be in it than out of it.
Disclosure: I am/we are long QQQ.
I wrote this article myself, and it expresses my own opinions. I am not receiving compensation for it (other than from Seeking Alpha). I have no business relationship with any company whose stock is mentioned in this article.