If you have followed me closely, you may have noticed that I have been bullish on the auto sector after Ford (NYSE:F) and General Motors (NYSE:GM) were routed during the second half of last year - a market phenomenon that continued until the middle of February 2016, when Ford dropped close to $10 and GM dropped close to $26.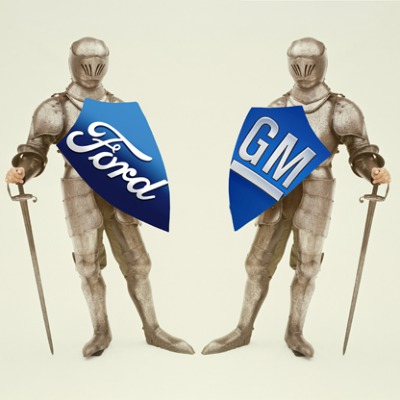 Around the same time, I advised my readers to load up on the auto sector - especially these two stocks - as I believed the stocks were unfairly being hammered. You can read that article here: Automakers Getting Run Over: Load Up On GM And Ford While The Going's Bad

Now, two months later, both GM and Ford stocks have recovered nicely from the bottoms, but are they attractive investments even now?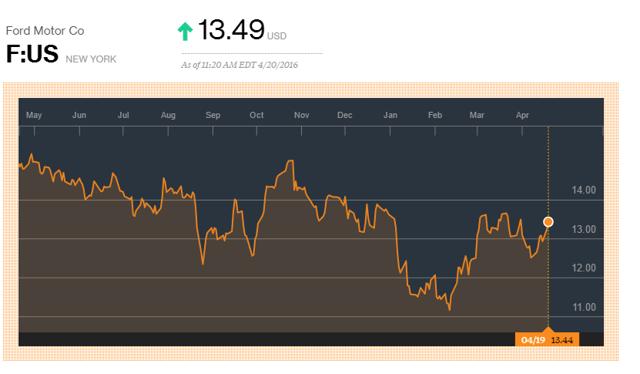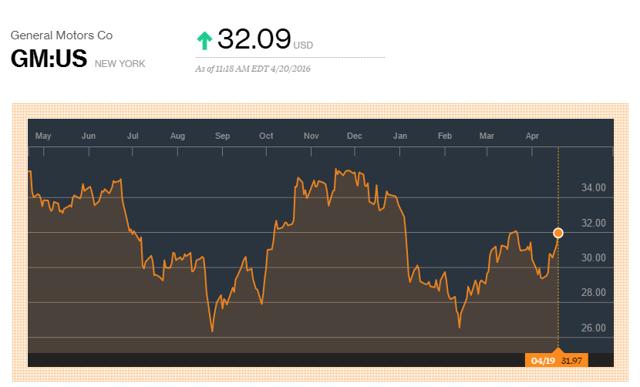 I think so. And I offer three factors that support my thesis for these two companies.
Attractive Factor 1: Dividend Yield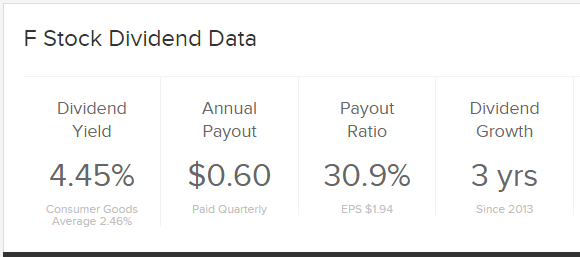 Source: Dividend.com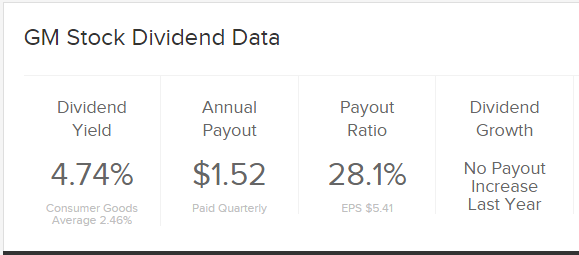 Source: Dividend.com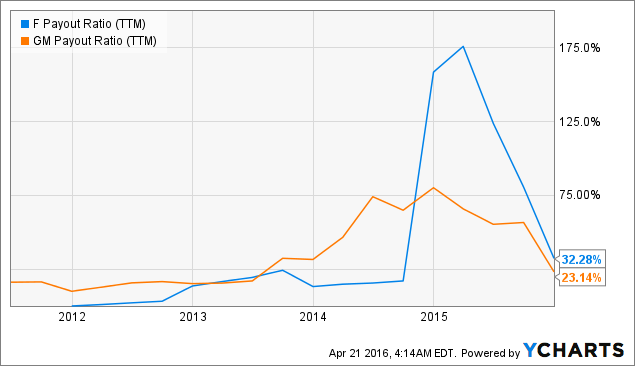 F Payout Ratio (TTM) data by YCharts
From a dividend yield perspective, Ford and GM - two of the largest automakers in the world - offer yields in excess of 4.5%. With payout ratios well below the 50% mark, they both have enough strength to keep dividends flowing steadily into shareholders' hands.
If you're a dividend growth investor, you'll probably want to see this:
Ford Dividend History - Jan. 2012 to April 2016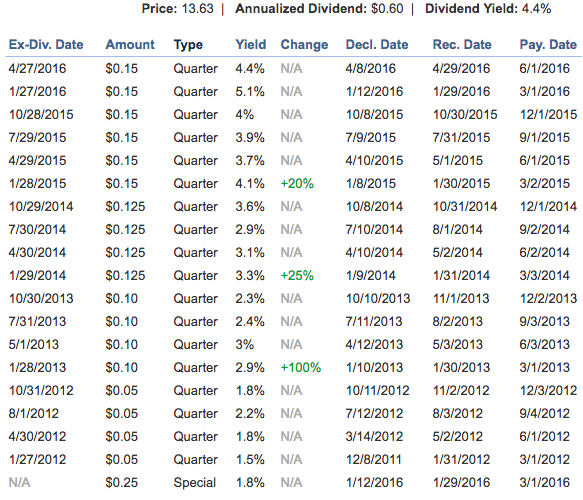 Source: Street Insider
GM Dividend History - March 2014 to June 2016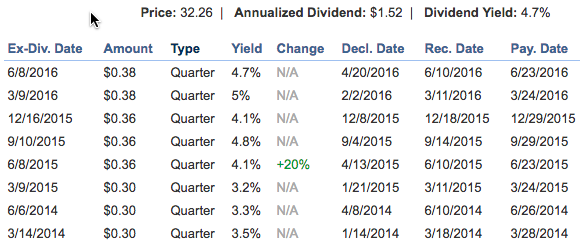 Source: Street Insider
So, even from a pure dividend play perspective, the strong cash positions of these two companies can give you a decent return on your investment over time. From a total returns perspective, the dividends plus stock price increases moving forward should give you a fair sum.
Attractive Factor 2: Overseas Sales
After turning things around in Europe last year, Ford seems to have stepped up a notch and looks set to slowly increase its profitability in at least one key market outside the United States.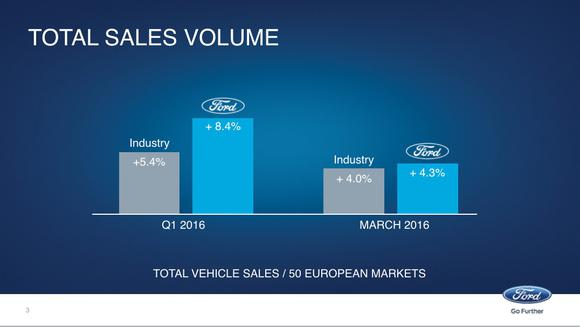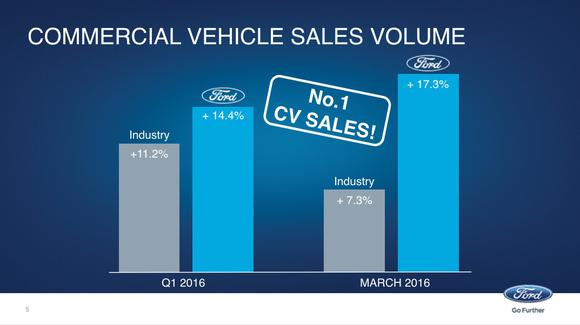 As for General Motors, it had a spectacular 2015 in China, with sales rising by 5.2%. Though its overall sales numbers have been weaker than Ford's during the first three months of the year, the company does have significant presence in China, which I believe will help the company in the long run.
Attractive Factor 3: U.S. Economy Still Chugging Along
Both GM and Ford lean heavily on their home market to keep their bottom lines safe and secure. Please read "Ford And General Motors Should Learn From Toyota" for more details.
The doomsday sentiment which existed in the market during the late second half of last year has slowly dissipated, and the U.S. economy moved just fine during the first three months of the year. And, now, with the IMF forecasting decent growth for the rest of year, the economy is strong enough for both these companies to stand their ground.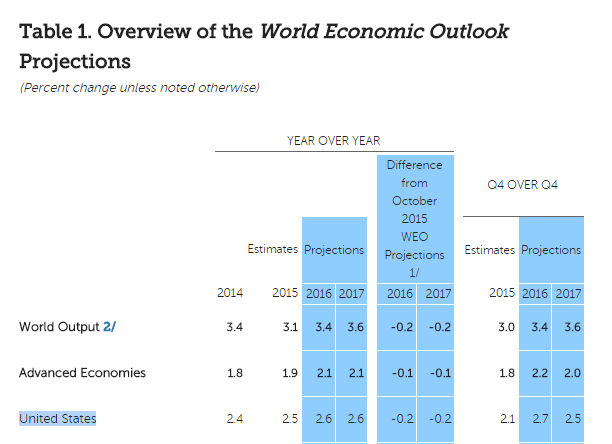 Source: IMF
Investor-speak: The Call of U.S. Auto
As we've seen, both companies pay dividends over 4%, both have started to show profitability outside the United States and, at home, both are on safe ground for the predictable future.
On the downside, there are still foreign currency headwinds playing against their international revenues. Even though the dollar is moving sideways for the moment, it's still strong enough to affect their earnings overseas.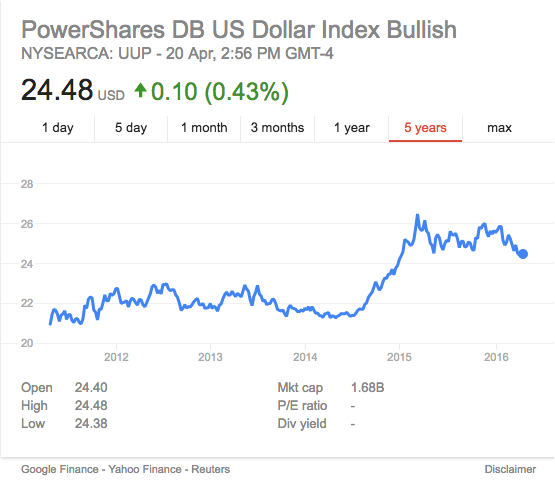 However, with downsides being limited, the opportunity to invest in both companies is still an attractive one. And I see both companies becoming more efficient in their operations as well.
I like GM for some of the strategic initiatives the company has undertaken, such as the Bolt and Maven - and, quite frankly, also for the fact that it was beaten a bit more than Ford. And I like Ford because, finally, after a long time, I can see some hope for the company's fortunes outside the United States - something that I believe, in the long term, will be key for it to stay put even if a recession strikes its heartland.
Thanks for dropping by! I hope you'll follow me as I cover some of the largest companies in major industries in the United States, and hopefully reveal some juicy investment opportunities for you along the way.
Disclosure: I/we have no positions in any stocks mentioned, and no plans to initiate any positions within the next 72 hours.
I wrote this article myself, and it expresses my own opinions. I am not receiving compensation for it (other than from Seeking Alpha). I have no business relationship with any company whose stock is mentioned in this article.