The uncertainty in the crude oil market reared its ugly head once again this week after OPEC members, Saudi Arabia and Iran, failed to reach a deal in a meeting last Sunday. This will probably have a negative impact on the recovery of crude oil prices and also hurt the performance of major oil producers such as Exxon Mobil (NYSE:XOM) as the recovery in the oil market will be delayed.
So far, 2016 has been a robust year for Exxon Mobil with shares gaining close to 10%, but this recovery was primarily driven by an improvement in oil prices, which had benefited from the probability of an OPEC deal to freeze production. Now that the production freeze is not going to happen, oil prices might start retreating as unfavorable inventory data and higher production starts flowing in.
In fact, both WTI and Brent crude oil prices have picked up about 54% and 57% from their 12-year lows of less than $28 per barrel in January 2016 to the current level of $41.50 per barrel and $43.84 per barrel, respectively. In a similar time frame, shares of Exxon Mobil have jumped close to 15%. But, the momentum of the crude oil price recovery will be challenged by the recent developments at OPEC, which might scupper the recovery in Exxon shares. Let's see why.
More oil production could be coming online
According to OilPrice.com, OPEC members such as Saudi Arabia, the UAE, and Kuwait are planning to increase their crude oil production. For instance, Saudi Arabia is expanding its Khurais oil field, which is expected to add 300,000 barrels per day in output upon completion in 2018. In fact, Saudi Arabia, in an effort to develop new oil fields, has ramped up its rig count to 67 from 58 at the end of 2014. As a result of this increased rig count, it anticipates its production from the Shaybah fields to increase by 250,000 barrels per day in a couple of months.
The following chart shows the increase in Saudi Arabia's rig count despite the oil downturn, and the discussion above indicates that the Kingdom might flood the market with more oil.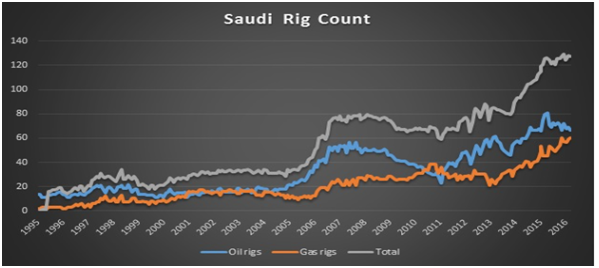 Source: OilPrice.com
On the other hand, Kuwait anticipates boosting its production from 3 million barrels a day to 3.165 million barrels a day, while the UAE plans to raise its production from the current level of 3 million barrels a day to 3.5 million barrels by 2017. In fact, in order to increase its oil and gas production, Kuwait has recently offered contracts to offshore rigs so that it can drill in the Persian Gulf, where it is eyeing six offshore projects.
Meanwhile, Iran is also fighting for market share in the OPEC, and this was one of the key reasons why the consortium couldn't reach a deal to freeze production. More specifically, Iran will continue to pump out more oil until the country gets its production levels and exports back to levels before sanctions were imposed on it.
What this means for Exxon Mobil?
Due to the reasons stated above, it is likely that crude oil prices will remain range-bound below $55 until the end of the decade. In such a situation, Exxon Mobil will have to fall back on the downstream business in a bid to bolster its margin profile. However, this looks unlikely in the near term as crack spreads have declined this year. This is shown below:
Regional Crack Spreads/barrel

Average

West Coast 5-3-2

NW Europe 2-1-1

Singapore 2-1-1

Q1 15

$21.99

$12.76

$14.02

Q2 15

$28.07

$15.87

$15.42

Q3 15

$28.76

$16.49

$14.38

Q4 15

$22.58

$10.88

$14.38

QTD 16

$17.53

$7.81

$11.17
Source: Howard Weil
As observed in the table above, the crack spreads have fallen across different areas. For instance, the West Coast crack spreads have dropped by $4.46 to $17.53 per barrel so far this year from the first quarter of 2015 and by about $5.05 per barrel from the fourth quarter of 2015. Likewise, the crack spreads have significantly collapsed in NW Europe and Singapore by 39% and 20%, respectively, year over year.
Due to these lower crack spreads, Exxon Mobil will see weakness in its refining margins when it releases its results later this month. For example, the crack spread during the fourth quarter had dropped 22% to $22.58 per barrel from $28.76 per barrel in the third quarter of 2015 in the West Coast. Likewise, the crack spread fell about 34% sequentially in NW Europe in the final quarter of 2015. As a result of these declines in the crack spread, Exxon Mobil's refining margin for the fourth quarter declined by $860 million sequentially, lowering its downstream earnings by $682 million, as shown in the chart below.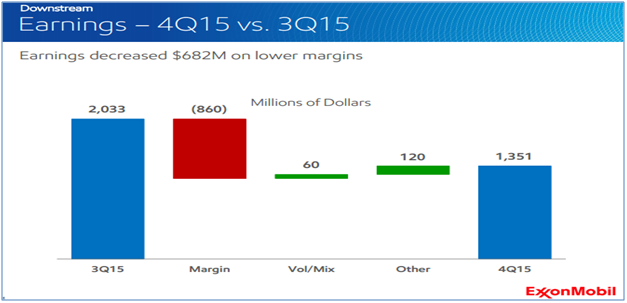 Source: Exxon Mobil
Therefore, the additional decline in the crack spreads this year will hurt Exxon's downstream earnings in the first quarter of 2016. But, the recent development in crude oil prices could bring down feedstock costs once again, which had risen due to the improvement in crude oil prices and this could once again bring back the strength in the refining segment.
However, in the short run, the refining segment will continue to remain under pressure. According to Scotia Howard Weil, the NYMEX 3-2-1 average refining margin on a 12-month strip basis will decline to as low as to $10.00 per barrel in 2016 before rising to a little above to $13 per barrel by the end of the year. The following chart shows the gradual recovery expected in refining margins as the year progresses:

Source: Howard Weil
Conclusion
As the refining crack starts recovering, Exxon Mobil will start seeing an improvement in its refining margins. The recovery in refining spreads will also be driven by potential weakness in oil prices as the year progresses in light of the recent developments. Therefore, Exxon Mobil should be able to mitigate the weakness in the upstream segment due to lower oil prices due to better refining spreads and robust margins in the downstream segment.
Disclosure: I/we have no positions in any stocks mentioned, and no plans to initiate any positions within the next 72 hours.
I wrote this article myself, and it expresses my own opinions. I am not receiving compensation for it (other than from Seeking Alpha). I have no business relationship with any company whose stock is mentioned in this article.