I started writing on Seeking Alpha about four months ago and, since then, I've built up a decent bank of about 100 articles covering a diverse range of industries from automobiles to technology to retail to logistics and more. I have received my fair share of criticism, but I've also received some tremendous support and appreciation from not only the SA community of readers as well as contributors, but also directly from a few of the large companies I write about.
Recently, I've been asked several times about my investment portfolio and why I haven't invested yet in the companies I like to write about.
Here's the truth: I currently do not invest in U.S. securities because, living in India, I need a significant (for me) amount of money to even begin. My Seeking Alpha earnings support my family, but part of that will be going into building up the corpus fund that I need to begin my investment journey.
In the course of getting to the starting point of that journey, I've been studying the investment strategies of many of the contributors and commenters here on SA, and I've settled on one that I am confident will make me money in the long run.
To be clear, I'm not getting into the investment game for a quickie - an in and out experience; when I invest, I intend to hold until there's a very strong reason for me not to continue holding. I want to watch my stock children see their children see their children bear children and so on, until I am the head of a massive clan of investment descendants.
I am now 40 years old, so I give myself a minimum of 20 years for this project, by which time I expect to have several similar projects running simultaneously. A portion of the monies earned will be used for several interesting initiatives I have in mind (I will, of course, share them with you as they happen), but the bulk of it will be reinvested over and over again.
I invite you to follow me here on SA, and on this real-life journey that will unfold over the next two decades.
Strategy Outline
Since I started writing on SA, I've been trying to find a few solid companies that can keep my portfolio nest warm. The articles I've written so far are the result of that search. If you look closely, nearly all my articles are based on long ideas, and my lowest recommendation for any company I've covered has been a HOLD.
I know my strengths and I know my weaknesses. I am confident that I can find the "right businesses" to invest in, but I have zero confidence in my ability to find the "right time" to invest - the vagaries of Mr. Market hold no appeal for me.
Therefore, I needed a strategy that will lend itself to my needs. And my final preferred choice is to use a hybrid between dividend reinvestment and dollar-cost averaging, and then modify it to suit my investment needs.
The First Steps
Aside from saving up the money to begin this project, the other first step is to find the companies that I want my money with for the long term.
As my search for these companies progressed, I fell in love with the idea of investing in specific segment, and in companies that have established their lead in those segments. Most importantly, I look for companies that have wide moats to thwart disruption from newer players, newer technologies and paradigm-shifting phenomena.
In a word, I want companies that have "stayability", a term I picked up from one of my regular readers - JDDurango - so thanks for that, JD!
To that end I have identified a few segments and companies, and you'll see that I've already written extensively on most of them - with plans to add a few more. You'll notice that many of them are duopolies while others are merely dominant players in their segment, which is something I factor in my picking process.
Other factors include having a strong moat around the business, excellent leadership, stability through recessionary periods, profitability, top line and bottom line growth, and the ability to thwart disruptive introductions into the equation.
My Main List
Microsoft (NASDAQ:MSFT) and IBM (NYSE:IBM) for their Cloud strength (AWS has Amazon's (NASDAQ:AMZN) poor profitability as baggage, which I'm not sure I want)
Costco (NASDAQ:COST) in retail
General Motors (NYSE:GM) and Ford (NYSE:F) in the automobile segment (beaten down stocks offering attractive valuations)
Anheuser-Busch InBev (NYSE:BUD) and Ambev S.A. (NYSE:ABEV) in beverages (still on the fence on these until the dust from the SABMiller (OTCPK:SBMRY) acquisition settles)
And possibly a few more to be added over the next few months
I also have a few companies on my watchlist, but each of these companies is in a unique situation, or where I need to see some strong management action and/or tangible results for me to include them in my list, or priced a little too high for me at the moment.
My Watchlist
Wal-Mart (NYSE:WMT) (great opportunity but moves too slow and is uncertain of where it's going from here)
Chipotle (NYSE:CMG) (no dividends but an exemplary company) and Cracker Barrel Old Country Store (NASDAQ:CBRL)
Hypergrowth, High-risk Stocks (Disruptors that pay no dividends, yet great companies once their valuations become more realistic)
So, now I am faced with the question of how much I need to start investing. As I mentioned, I don't want to deal with the problem of when to invest and how to invest, so there's no question of investing in bulk.
My plan is to invest approximately the same amount every month over a long period of time. To get that done, I need to figure out how much I need to save before I can sort of automate the whole process.
So I took 15 companies from my main list and did a quick calculation, and this is what I came up with.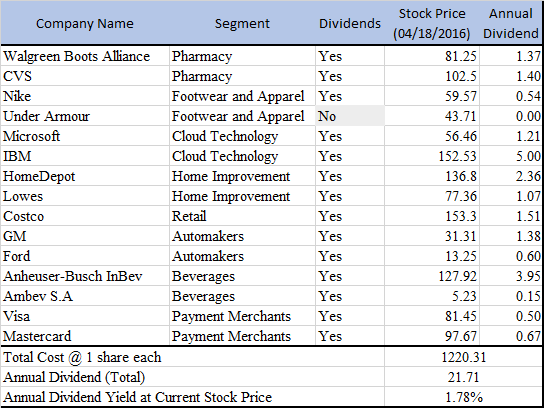 So, if I choose to buy one share in each of these companies every month, I will need a little more than $1200 a month for investing at the current prices.
But there's a problem with this method: if I do it this way, my portfolio will gradually lean towards the most expensive stocks - not really a position I want to be in. The way I've found around this is to invest an equal amount every month in each of the 15 companies listed in the table above - using the highest-priced stock for that month as my reference point. In this case, $153 is my reference point because both IBM and Costco are currently around that level.
So, if that's my reference point, then I will need $153 times 15 for my first month's investment. That comes to about $2300. That's what I need every month, but I need a bigger reserve than that to make sure that my money doesn't run out quickly. Therefore, I will need at least a three-month buffer to make sure I can sustain this investment plan. In order to keep it flexible, however, I can choose not to invest in a particular month; however, that's only a backup if I run short during any month, and I would much prefer letting this run on autopilot.
So according to my calculations, I need an initial pot of about $7000 to start this project, and that's what I'm working on at the moment.
The SHudeep Investment Plan (The SHIP)
Now for the investment plan itself. Since I'm using the highest priced stock as my reference point, this is what my position will look like at the end of the first month.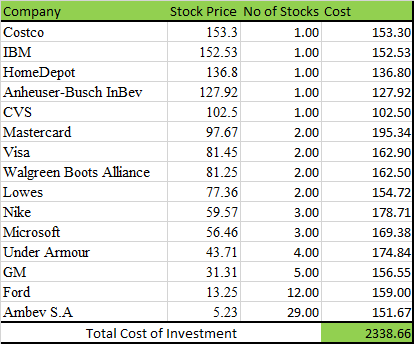 For the first month, the value of each holding should be as close to $153 as possible. I have used the total number of shares as the rounding off criterion, obviously, because you can't buy a fraction of a share. You will see a definite pattern that averages out to your target. In the above case, the $2338 for 15 companies averages out to about $156. Close enough.
In the second month, if my most expensive stock is $160, then I use that as my target purchase amount for each company's shares.
An important thing to note here is that for the second month, the average held value of each company's stocks should be a cumulative of the highest-price stocks for the first two months. So, at the end of the second month, the money I have in each company should be as close to $153+$160 as possible - $313...and so on for each month.
Once "The SHIP" is in motion, all I need to do is repeat the exercise every month while adjusting a few holdings up or down depending on the price they are trading at. At all times, I need to make that the overall weight distribution remains as close to the cumulative highest-stock price as possible - otherwise, there's a chance that The SHIP will list towards some stocks over others. Some months, you may see your highest-priced stocks go up significantly. That means you'll be buying less of those and more of the stock that haven't increased as much. If it goes the other way, you'll be buying less overall.
Either way, it's a balanced approach that takes several market factors into consideration, including rough seas (volatility), headwinds (foreign currency factors) and so on. However, my selection criteria for these stocks should/will have taken care of many of these concerns.
When I have additional funds at my disposal, I can choose to invest a multiple of the highest-priced stock in each of the companies in my list. I can also choose to "inject" new companies into this portfolio whenever I wish. All I need to do is ensure that I match my investment amount in that stock with the highest priced stock for that month. And, finally, if I decide to pull out of a particular company or companies, I can do that without capsizing The SHIP - as long as I keep following the plan religiously.
So this is my plan, and I should be able to put The SHIP into motion in the next few months - as soon as I hit that savings target of $7000. I could start earlier, but I may temporarily run out of fuel to run The SHIP continuously, and that's something I'd rather not have happen. Alternatively, I could start with a smaller group of companies, but I would want my first SHIP to carry at least 15 passengers.
A Call to Collaborate
I would love to hear from you veteran investors on how I can improve on this, how I can automate it with software tools, how I can get the best transaction rates, how I can better hedge my risks and so on. By the time I'm ready to set sail, I believe this will be a concerted effort orchestrated by the best minds from the Seeking Alpha community.
Please follow me, bookmark this article for the next 20 years, and comment with your best advice. I'm all ears.
Disclosure: I/we have no positions in any stocks mentioned, and no plans to initiate any positions within the next 72 hours.
I wrote this article myself, and it expresses my own opinions. I am not receiving compensation for it (other than from Seeking Alpha). I have no business relationship with any company whose stock is mentioned in this article.
Editor's Note: This article discusses one or more securities that do not trade on a major U.S. exchange. Please be aware of the risks associated with these stocks.