The Vanguard Short-Term Bond ETF (NYSEARCA:BSV) is a great fund for investors waiting for lower prices on the broad market indexes before going into stock. It also creates a very solid option for investors that have a shorter time horizon and want to earn some money without tying their cash up in a certificate of deposit. The fund is fairly stable in price while providing a small dividend to shareholders.
Expense Ratio
The expense ratio is only .10%. It is in my nature to be cheap and this falls under my definition of reasonable expenses for a fund. The peer average is a fairly disgusting .75%. The market can always use competition to drive down prices and Vanguard has been in some aggressive competition on expense ratios.
When brokerages compete to offer lower expense ratios shareholders win.
Style Box
The following box explains the fund in a nutshell. I like this method because it gives a rough idea of what to expect in a single photo.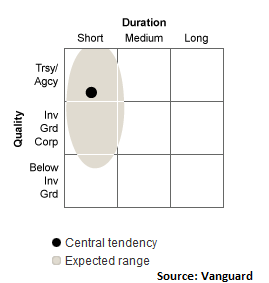 The fund aims for a solid mix of treasuries and high quality corporate issuances. The combination allows BSV to have a materially higher yield than they could hope to accomplish through only holding treasury securities. For an investor that wants to get their short term bond exposure in a single ETF, this is about as great as it gets. There is absolutely no exposure to long term rates, but for the investor that seeks stability the short duration reduces the volatility.
Sources of Return
When rates are falling the ETF can produce returns through both interest income and the capital appreciation on bonds.
Maturity
The next chart shows the maturities: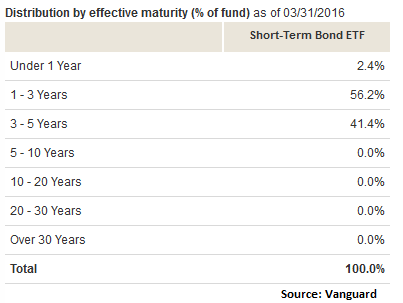 This is a fairly solid representation of short term bonds again. The fund avoids holding the ultra-short term bonds that offer the lowest yields. Staying over one year is giving the fund access to materially better yields.
Credit
The following chart goes deeper into the credit profile: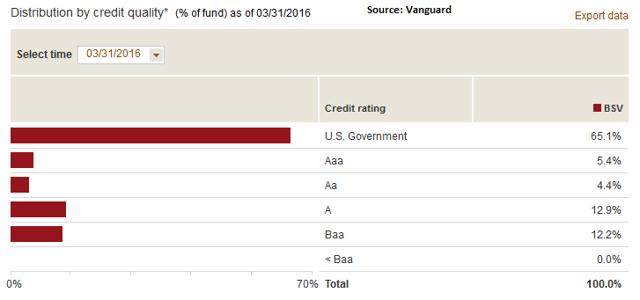 Credit quality is very solid, but a small inclusion of lower rate bonds is pushing the yield materially higher. This is a great design for a stable bond fund. A pure Treasury ETF would usually demonstrate a substantial negative correlation with equities. The lower grade corporate issues reduce the negative correlation that would otherwise exist, but for an investor that wants better yields and doesn't intend to rebalance frequently this is a great allocation strategy.
Sectors
The next chart breaks down the allocations by sectors: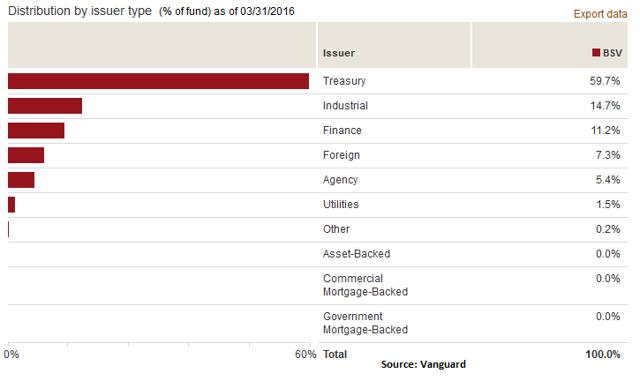 The fund is combining exposure to a few different sectors which should provide some diversification among the credit exposures. The fund even uses foreign issuer exposure as another way to grab a little bit of extra yield. This is something that bond funds usually leave out of the portfolio. Since the risk profile on these foreign bonds should be different it improves the yield without amplifying the exposure to a single risk source.
Anything They Could Add
The one area that I wouldn't mind seeing BSV expand is taking on a small amount of CMBS exposure. The commercial mortgage-backed securities offer yields that are materially better than those on treasuries. The difference in yield between the two can decrease over time as the final maturity nears, but at 5 years there would still be the potential for BSV to grab a little extra yield through very high credit quality CMBS positions. Since new CMBS will generally have longer durations, this would involve buying AAA CMBS that were partially through their life cycle. There are mortgage REITs that can provide these securities because they prefer to hold the longer securities where the spread is larger.
Conclusion
This a solid ETF and a great choice for an investor that wants to keep their risk profile fairly low. The returns won't be exceptional but the lack of volatility is a fairly nice factor with the broad equity indexes only a couple percentage points off their record highs and going into a summer where weak prices on oil will continue to pressure earnings for the S&P 500 due to the inclusion of oil companies. When earnings are declining across the sector, I view the security favorably. Yields aren't high, but the index was created with a very intelligent allocation strategy. Since Vanguard follows the index closely, it results in an excellent portfolio.
Disclosure: I/we have no positions in any stocks mentioned, and no plans to initiate any positions within the next 72 hours.
I wrote this article myself, and it expresses my own opinions. I am not receiving compensation for it (other than from Seeking Alpha). I have no business relationship with any company whose stock is mentioned in this article.
Additional disclosure: Information in this article represents the opinion of the analyst. All statements are represented as opinions, rather than facts, and should not be construed as advice to buy or sell a security. This article is prepared solely for publication on Seeking Alpha and any reproduction of it on other sites is unauthorized. Ratings of "outperform" and "underperform" reflect the analyst's estimation of a divergence between the market value for a security and the price that would be appropriate given the potential for risks and returns relative to other securities. The analyst does not know your particular objectives for returns or constraints upon investing. All investors are encouraged to do their own research before making any investment decision. Information is regularly obtained from Yahoo Finance, Google Finance, and SEC Database. If Yahoo, Google, or the SEC database contained faulty or old information it could be incorporated into my analysis.