Elevator Pitch
Silver has entered a bull market while the gold/silver ratio is at decade highs. The silver miners will benefit from this and I already wrote an article on this new trend here. One of the silver miners that will benefit the most from this run up in silver prices is Endeavour Silver (NYSE:EXK) as its all-in sustaining costs (AISC) are located exactly at that price of $15/ounce. Furthermore, recent pilot testing of a new technology at one of their biggest mines El Cubo, can significantly bring down overall costs by the end of this year.
Company Description
Endeavour Silver is a mid-tier precious metals mining company that owns three high grade, underground, silver-gold mines in Mexico. Since 2004 the company has grown from no production to 11.4 million ounces of silver equivalent production in 2015.
Thesis & Catalyst For Endeavour Silver Corp.

Endeavour Silver has seen headwinds since 2012 when it bought the El Cubo mine from Aurico Gold for $250 million. At that time the mine had an all-in sustaining cost of $40/ounce while the silver price was at $30/ounce. The company had hoped the silver price would bounce back, but it didn't. Instead it crashed to $15/ounce. Investors weren't happy and the stock plunged 50% the next year.

However, Endeavour Silver had managed to get the AISC down from $40/ounce to $18/ounce by implementing lay-offs and refurbishments of the plant. Still, it wasn't enough to get below the $15/ounce silver price. So the company announced in its latest earnings call that they would put the mine on care and maintenance.
When we look at the balance sheet below, we can note the following. Mineral properties, plant and equipment declined from $182.7 million to $47.3 million. This included a $134.0 million impairment of the El Cubo and Bolañitos mines due to the mines being (partially) shut down. Production was forecasted to go lower in 2016 and things were not looking well.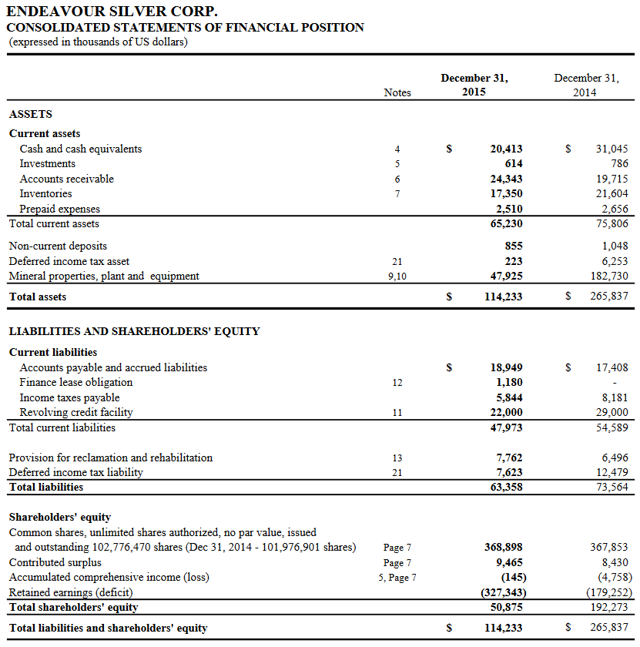 Just one month after the earnings call something spectacular happened. What nobody thought was possible, did happen. The silver price started to rise from below $15/ounce to $17/ounce, lagging gold's rise towards $1300/ounce. Gold and silver were reacting to a weakening U.S. dollar and I expect the U.S. dollar to keep on weakening when taking into account the latest deficit numbers. So what we are seeing now is that the silver price is starting to move to the AISC ($18/ounce) of the El Cubo mine, which increases the chance that we might not see El Cubo going into care and maintenance. Endeavour Silver doubled its price per share in just a few weeks.
In the last two days though, we have been seeing unexpected high volume in the shares of the company. This might be due to the recent announcement of the company on their pilot test.
This is what the news release stated: "For example, we are encouraged by the initial test results to significantly improve ore grade at El Cubo by reducing waste going into the plant using an optical sorting technology. A pilot test using this technology on El Cubo ore will be completed in the second quarter. We will reconsider investing in exploration and development at El Cubo and Bolañitos once we know operating costs can be lowered further and/or metal prices are materially higher. Until then, we think it is better to produce less metal at a profit than more metal at a loss."
Just a few days ago, Bradford Cooke released the initial lab results on this new technology. This technology is based on an existing technology used in diamond mining called ore sorting, an optical scanning technology to remove the waste on the ore stream on the conveyor belt going into the plant. The company has completed the initial lab works and the results were spectacular. They are getting a very high rate of rejection of the waste particles on the conveyor belt. The next phase is that they will do a pilot test in the test lab in Kentucky. They already shipped 2 tonnes of El Cubo ore and will take a look at the test in May 2016. If the test runs well, the technology will be implemented on the El Cubo site this year. At the plant, this will reject the majority of the waste and will have two effects. The grade of the ore stream will be increased, which will bring costs down. It will also increase the capacity of the plant, because you are bringing less waste into the plant.
The AISC is expected to go from $18/ounce to $12-15/ounce. This is major news as this means that El Cubo will become profitable and will not need to shut down. The stock shot up 20% on that news (April 19th, 2016).
Valuation
Endeavour Silver is trading at a price to book value of 7.7, due to the impairment from El Cubo last year, but knowing that El Cubo is not likely to shut down with all of this good news, we shouldn't really pay much attention to book value.
What is much more important is production. The following chart shows that the company has been increasing production consistently. Most notable is the increase from 7 million ounces (2012) to 12 million ounces (2013) due to the purchase of El Cubo. The stock on the other hand has fallen from $8/share to $3.7/share. So you are getting much more production at a lower share price. Investors should know that this means that leverage is much higher at this moment due to the higher production numbers. If the silver price goes up to $30/ounce, you are going to see fireworks. Especially when the test results later in May 2016 are positive. We need to keep an eye on this possible near term catalyst.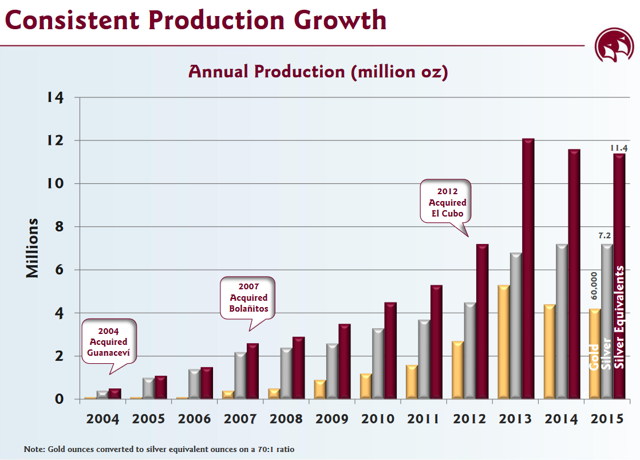 Revenue & EPS Outlook
The company hasn't earned money in the last few years due to the fact that its AISC was higher than the price of silver. But it did manage to stay status quo on production and it cut losses significantly. I believe Endeavour Silver has just started to make money again when the silver price went up to $17/ounce while the AISC (according to its latest earnings release) hit a bottom of $15.62. The company is now trying to increase its margins and it is doing that by lowering production at El Cubo. But as I said, the recent news could mean that El Cubo might stay open and could even increase production due to the newly installed technology later this year. Earnings are expected to be positive in the next quarters.
Investors should also not lose sight on the grass roots high grade silver discovery in Mexico at Terronera. This fourth mine is expected to be the core operating mine (with the lowest cost) for the next two to three years. Infill drilling of the existing resource area at Terronera began in Q1 and is scheduled to be completed this month, at which time the exploration group will turn their attention to aggressive step-out drilling along the Terronera vein and other highly prospective subparallel veins. Further engineering work will also get under way in Q2 as part of the Terrronera pre-feasibility study.
All in all, Endeavour Silver might finally be in the perfect storm to endeavor through the upcoming silver wave and get propelled higher.
Disclosure: I am/we are long EXK.
I wrote this article myself, and it expresses my own opinions. I am not receiving compensation for it (other than from Seeking Alpha). I have no business relationship with any company whose stock is mentioned in this article.