I was long beverage behemoth Coca-Cola (NYSE:KO) for a long time as the company's steady dividend increases and reasonable valuation (back in the $30s) enticed me. However, since KO made its first foray into the mid-$40s a couple of years ago I have been bearish on the company's valuation and fundamentals. The principal reasons are big ones; overvaluation and the idea that KO's dividends are nowhere near as safe as they used to be. These sizable issues have caused me to stay clear of KO and in the run-up to the Q1 earnings report, shares hit an almost unbelievable $47. The report caused the stock to trade back down to $44 but is this the base for a new, longer term rally? Or is there more downside left from here?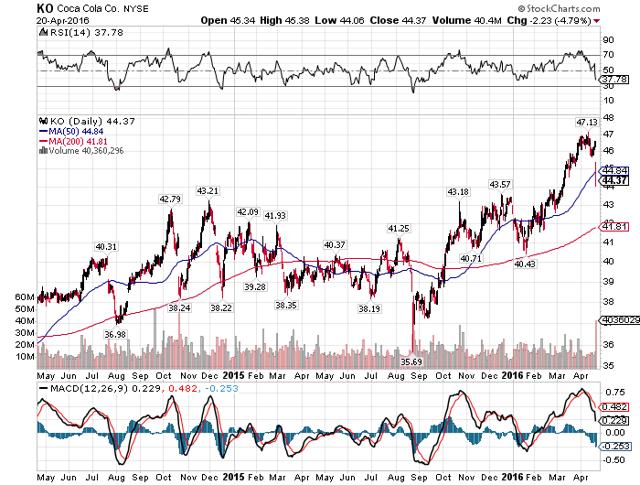 KO has long struggled with revenue gains as its volume has been weak as long as I can remember. KO has continuously posted flat or slightly positive volume numbers for years now as it struggles with consumer tastes switching from carbonated beverages to other categories. While KO's volume isn't falling, it is still very weak and for the price one has to pay for KO at this point, that is unacceptable.
Global organic revenue was up 2% but total revenue was down by 4%, something else we've become accustomed to seeing from KO. Volume was up 2% in what amounts to blistering growth for the beverage giant as it cannot seem to get out of its own way. Price and mix also contributed to the organic revenue gain as KO has been seeing strong pricing for some time. That hasn't changed but its volume also remains weak and with pricing power petering out, KO needs volume gains. Still beverages flew higher during the quarter and that's great but the story hasn't changed; KO's main category continues to struggle.
With KO getting so much of its business from outside the US, it is certainly beholden to the whims of the currency markets. For years this was a tailwind for KO's earnings as the dollar was systematically weakened after the financial crisis but in recent quarters, dollar strength has shellacked KO's revenue base. In Q1 it was 5% of the top line and given KO's struggles in growing the business, that is an insurmountable headwind. There is no scenario where KO can outgrow a 5% revenue headwind and it seems the struggles with the dollar are going to be around in 2016 as well. This is an enormous headwind for KO's growth and while investors haven't seemed to care about this yet, the Fed's chatter regarding raising rates will only make this worse for KO.
Back in March I made the claim that KO's dividend increases were at risk considering the myriad fundamental weaknesses in the business and the fact that KO's only selling point to shareholders is the payout. Nothing about that outlook has changed and indeed, every time KO raises its dividend it gets closer and closer to a point where it cannot afford it. Lower revenue and profits (and cash generation) combined with higher and higher payouts is a terrible combination and once again, investors don't seem to care. Sure, KO can borrow to pay the dividend for a while but at some point, fundamental improvement is needed and there is as little evidence of that as possible at this point.
Despite the beating shares took off of the earnings report the stock is still trading for 22.8 times this year's earnings. That is simply an unbelievable number to me considering all of the issues KO has and the simple fact that its revenue and earnings growth are going to be solidly negative this year. In fact, I wouldn't be surprised to see a repeat of that next year as the dollar is going to strengthen further when the Fed raises rates again. When that will happen and how many times it will occur are still up in the air but with other major central banks still embarking upon QE, the dollar is going to hammer KO's results for the foreseeable future. Why would anyone pay almost 23 times earnings for a stock like that?
KO's recent rally was too far, too fast and it still has some downside to go. The only saving grace right now is that the 200DMA is rapidly rising and should provide some support as the stock meets it. What happens then will be crucial but on a fundamental basis, KO is way overvalued (still). KO's value is in the mid-$30s somewhere and while I'm not naïve enough to think we'll see that in the near future, if the Fed raises in June and the dollar shoots higher, KO could easily get whacked as it is so reliant upon a weak dollar for its revenue generation. In short, there is really nothing to like here and Q1 didn't change a thing.
Disclosure: I am/we are short KO.
I wrote this article myself, and it expresses my own opinions. I am not receiving compensation for it (other than from Seeking Alpha). I have no business relationship with any company whose stock is mentioned in this article.