Biospecifics Technologies Corp. (NASDAQ:BSTC) is a microcap stock that trades on the NASDAQ. The company is in the biopharmaceutical sector and currently derives revenue from its product known as XIAFLEX in the United States, Canada and Australia, and under the name of XIAPEX in Europe. The product XIAFLEX/XIAPEX is an injectable collagenase used in the treatment of many different ailments. I'm not an MD and I'm not going to go into the specifics of the treatment, but it primarily treats conditions relating to fibromatosis. In English, fibromatosis refers to benign but aggressive soft tissue tumors that inhibit the movement of a joint, and are commonly reoccurring. XIAFLEX/XIAPEX is the only treatment approved by the FDA to treat Dupuytren's contracture, a fibromatoma located in the hand which inhibits movement of the fingers. "Dupuytren's Disease seems to be fairly wide-spead in Europe, the U.S., and Canada. A recent survey in Belgium found that nearly 1/3 of the population over 50 show signs of Dupuytren's" according to the International Dupuytren Society.XIAFLEX/XIAPEX is sold in a joint venture with Endo International. Endo distributes the product and is executing an expanded sales campaign for XIAFLEX/XIAPEX beginning with Endo's 2016 Q1 earnings release.
There are a variety of factors that contribute to my long thesis for BSTC. Their balance sheet is excellent. As per 2015's 10-K filing the company has about $33.5 million in cash and short term investments (current assets) and $838,525 in current liabilities. That's eight hundred thirty eight thousand five hundred and twenty five dollars, these numbers are not in thousands or millions. The company has zero debt. BSTC's market cap at the time of this writing is $261.25 million, making 12.8% of its market cap represented by the company's own cash and short term investments. In 2015 BSTC generated just over $22 million in revenue and had income before tax of about $14.5 million, indicating a very healthy operating business which generated $1.32 in earnings per diluted share. BSTC is projected to have earnings north of $2 per share for 2016 and priced at a forward P/E of 15.97 at the time of this writing. BSTC's excellent financials and operating condition, coupled with their tiny market cap make this company a high probability growth/acquisition candidate. The market cap, free cash flow, and growth of this company make it an attractive target for private equity and smaller biotech/pharma companies looking for acquisitions. BSTC's relatively large cash hoard and high operating cash flow allows the company to continue to invest in R&D for new products and potentially acquire the rights to other products in the future in order to increase their revenues and diversify the business away from just the XIAFLEX/XIAPEX product. XIAFLEX/XIAPEX itself will likely continue to experience sales growth as it is only currently approved for treating fibromatomas located in the hands, while these growths occur other places in the body such as the shoulders. This will open up the product to new markets without requiring much, if any, new R&D spending.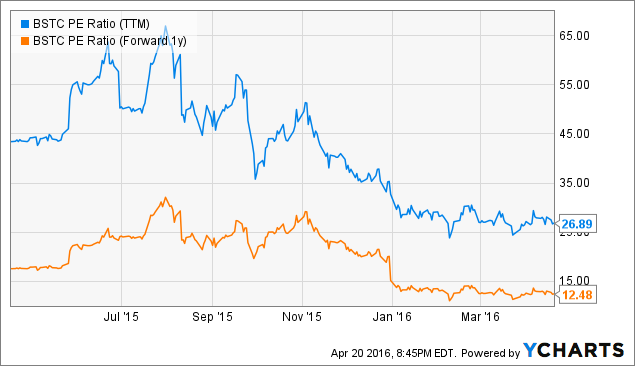 BSTC PE Ratio (NYSE:TTM) data by YCharts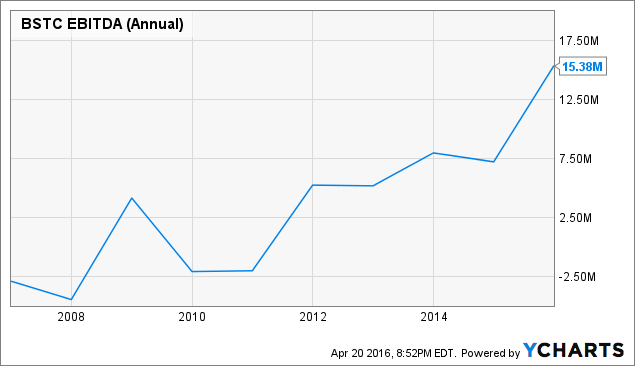 BSTC EBITDA (Annual) data by YCharts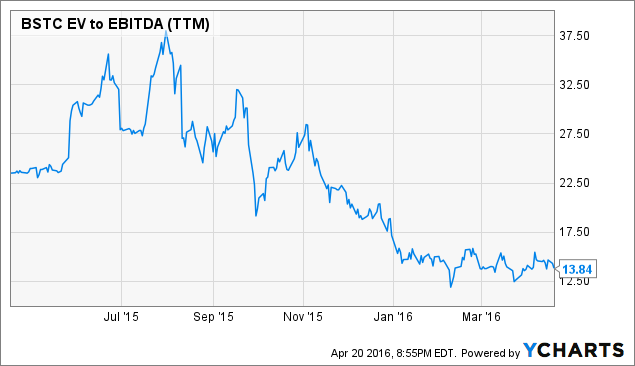 BSTC EV to EBITDA (TTM) data by YCharts
The bear case for the stock would be that sales of XIAFLEX/XIAPEX slow or decrease, the company becomes engaged in costly litigation, or the company fails to develop or aqcuire new products to bring to market. It is my view that in order for BSTC to get from the position they are currently in and to move towards a negative scenario is highly unlikely due to the strength of their business operation and management. If the company grows its earnings to $2 per diluted share in fiscal 2016 the stock will likely appreciate and by virtue cause the company to receive more attention from the media and the sell side, which will add liquidity and hopefully positive research on the stock. Given the limited budgets investment banks are allocating towards research post financial crisis, many analysts simply do not cover stocks that they believe will depreciate, preferring to cover only stocks that they have a positive outlook on. These are factors that will likely cause the stock to appreciate by their very nature, as there is almost always a premium paid for simple liquidity and the stock appearing on more investors' radar. Due to the stock's low market cap it is out of reach of many institutional investors, if the stock appreciates this too will change, and will hopefully gain the attention of fund managers who have a similar outlook. I see the stock as having a very long and growing runway, and being on the cusp of entering into the virtuous cycle of leaving micro cap territory and entering into the focus of more and larger fund managers, analysts, and hopefully investment bankers.
No investment is without risk, but I believe that BSTC at its current valuation is a high probability appreciation story.
Disclosure: I am/we are long BSTC.
I wrote this article myself, and it expresses my own opinions. I am not receiving compensation for it (other than from Seeking Alpha). I have no business relationship with any company whose stock is mentioned in this article.