The title may sound a bit like an oxymoron, but allow me to explain. Since the last time I talked about how ConocoPhillips (NYSE: COP) is no longer safe, the shares have risen by 40%, from $34 to $47. While it did not appreciate as much as Chesapeake (NYSE:CHK), an E&P player that I was more bullish on, the stock was nevertheless one of the star performers among its peers. Of course, you shouldn't be too surprised, as oil has climbed almost 50%, from the $30/bbl range to $44/bbl. The rally is completely justified based on oil price movements alone.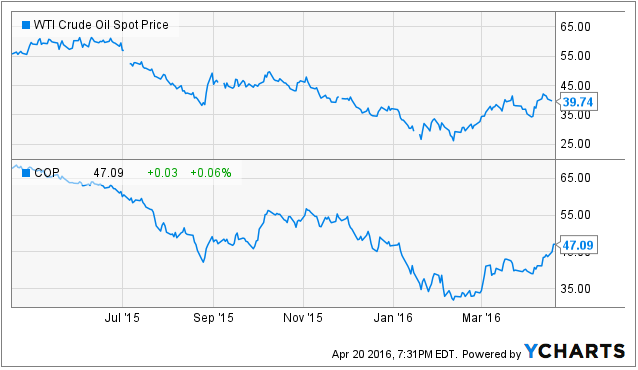 In the above graph, we can see that the last time the stock touched $47, oil was in fact trading a lot lower (mid-$30s).
Well, The Traveling Investor, shouldn't the rally change your opinion about the company? The answer is "No." As I mentioned in the previous article, ConocoPhillips is highly speculative. The fact that price has risen has nothing to do with the company's fundamental risk. Nevertheless, I must admit that the recent rally is reflective of improving fundamentals, because higher energy prices directly translate to higher cash flow, at least in the short term.
A Repeat Of 2015 Is Not Good Enough
Looking just at oil, the current spot price is just a bit under 2015's average sales price of $46.61/bbl. So right away we can establish the fact that if the rally fades, 2016's results will not be an improvement over 2015's. It also means that we can use 2015's results as a guideline for what we can expect in 2016 given the current commodity environment. In 2015, the company posted an operating loss of $7.2 billion, or $5 billion without the $2.2 billion impairment expense. Obviously, not what most investors look for in a company. From a cash flow perspective, things do get rosier if we only look at the operating cash flow, which totaled $7.6 billion in 2015. However, if we factor in $10.1 billion of capex, suddenly even the cash flow doesn't look that great anymore, as that would put 2015's free cash flow at -$2.5 billion.
Betting On The Future
Fortunately, management is taking steps to reduce costs and capex. After accounting for $1 billion of cost savings and $3.7 billion of capex reduction, the company could potentially save $4.7 billion, which would be enough to push free cash flow back into positive territory. Of course, this hinges on a successful restructuring of existing operations and, more importantly, the absence of another bear commodity market.
If I tell you that a company is having trouble generating free cash flow from year to year and may continue to do so in the near future, would you be excited? I hope not. So why are investors so excited about ConocoPhillips? I believe investors are once again being overoptimistic about the commodity market. Oil can trend up or down in the short term. While energy commodities have surged over the past two months, there is no guarantee that prices will continue to rise in the future.
The macro fundamentals don't look pretty either. I'm sure most of you have heard about the failed talks in Doha, but did you also know that Russia is preparing to push production to a new high? If you have been following the energy industry closely, you'll also know that most producers have either ramped up or maintained production, and neither action led to decreased supply. Last week, crude oil stock rose by another 2.1 MMbbl to 1,233 MMbbl, or 4.6% higher than a year ago.
Conclusion
Given the above, I find it difficult to make an argument for investing in ConocoPhillips other than the fact that is a good vehicle for speculating on the commodity market - a sentiment that mirrors my feelings back in February. Share price is often disconnected from a company's fundamentals in the short term, and I believe investors would do well to re-examine their rationale for holding ConocoPhillips.
Note: I spend a great deal of time researching every company in the V20 Portfolio (+40% in 2015). If you are looking for some ideas that could complement your own portfolio, you can click the "Follow" button and be updated with my latest insights. Premium subscribers will get full access to the V20 Portfolio. Follow my latest weekly update here.
Disclosure: I/we have no positions in any stocks mentioned, and no plans to initiate any positions within the next 72 hours.
I wrote this article myself, and it expresses my own opinions. I am not receiving compensation for it (other than from Seeking Alpha). I have no business relationship with any company whose stock is mentioned in this article.