Allergan (NYSE:AGN) stock has been crushed since its deal to merge with Pfizer (NYSE:PFE) was effectively scuttled by the Treasury Department a couple of weeks ago. Arbs bailed out of the stock, and took it down from a high of almost $300 per share to its current price of around $220 per share. At current levels, Allergan looks oversold. What's left is a big cap, growth pharma with a huge drug pipeline that should provide 10% plus organic growth over the next few years.
On a valuation basis, it trades at only 15x 2016 EPS versus its peers at 18.7x. Proforma for its generic business sale to Teva (NYSE:TEVA), Allergan will be virtually debt free. This feels like a stock that can easily trade to 16-18x 2018 earnings in a couple of years, implying potential upside to $360 per share, or 60% higher than today. The downside appears reasonable. Even with an earnings miss, AGN unlikely trades below 13x 2016 earnings of $14, which implies down 17%.
Summary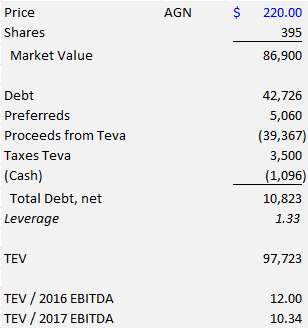 Business
The current Allergan is the result of a rollup of several pharma names. While I typically avoid these strategies, in this case, the current AGN is essentially the combination of Forest Labs and the old Allergan. Watson Pharmaceuticals, which bought Activis in October 2012, was the original entity here and primarily sold generic drugs. Combined into Activis, it became the third largest generic pharmaceutical business in the world. Mylan (NASDAQ:MYL) was rumored to have made a run at Activis in 2013, offering $120 a share for the company, or $15BB.
In October 2013, Activis changed gears and purchased Warner Chilcott, a branded pharmaceutical company, for $9.2BB. Warner was incorporated in Ireland, and this merger propelled Activis to the forefront of women's health assets (the company already had a branded women's health business from Watson), as well as enabling them to move their headquarters to a low tax jurisdiction. The deal appeared to be a steal at only 6.8x EBITDA (according to the 8-K here).
In February 2014, Activis merged with Forest Labs, a branded pharma company run by Brent Saunders. They paid $28BB in cash and stock, and picked up important branded drugs such as Namenda, Bystolic and Linzess, as well as a solid pipeline program.
Last year, Allergan announced the sale of its generics business to Teva for $33.75bb in cash, plus $5.6BB in TEVA stock. Management expects this transaction to net Allergan $35BB after taxes, and will result in a near debt free balance sheet. Regulatory approval is still pending in the US, but the deal has been approved in Europe. It appears to have little regulatory pushback, and should close by June this year.
On a go forward basis, Allergan without its generic business will be roughly a $100BB TEV company with a solid pipeline of drugs. Below is a big picture view of their 7 primary therapeutic areas: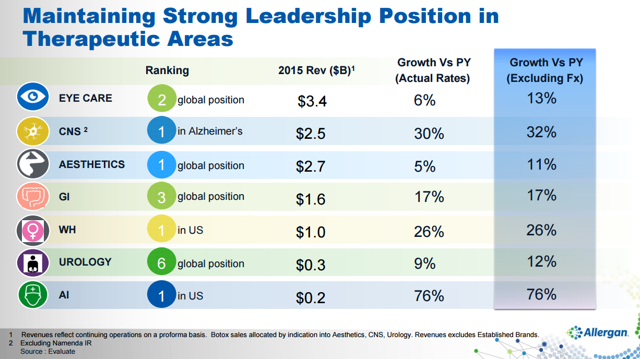 Their biggest drugs in fact are growing by double-digit percentages, including names like Botox, Restasis (dry eye medicine), and Namenda XR (Alzheimer's treatment):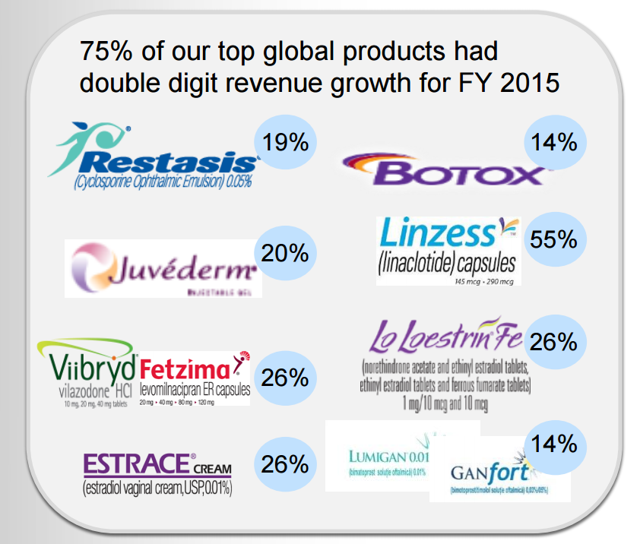 Below is a quick look at their major drugs, illustrating the diversity of their portfolio. It is noteworthy that some of their growing products, particularly in their Aesthetics category, continue to grow at impressive rates despite lacking patent protection. Breast implant surgeries are forecast to grow by 5.9% per year for example. Botox has grown sales from $1.1BB in 2011 to $1.9BB today, primarily as the company continues to benefit from branding and finding new uses and applications.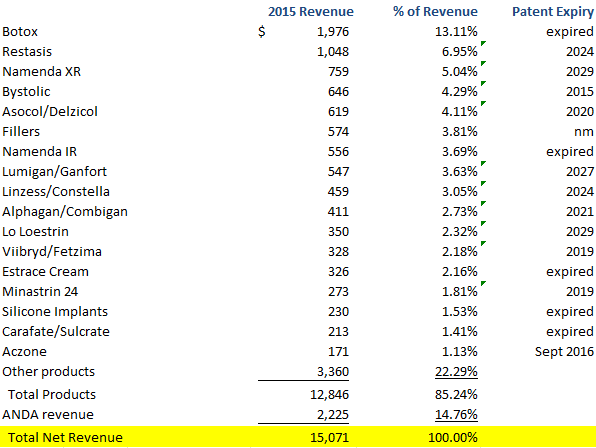 The patent picture looks also manageable.
Pipeline
The list of their pipeline is doubly impressive, with some 70 drugs in development in their 7 therapeutic areas. Management states that they intend to launch 20 new drugs by 2020. Below is a list of 10 of them, with some $7BB to $13BB of additional annual revenue from the following expected new drugs: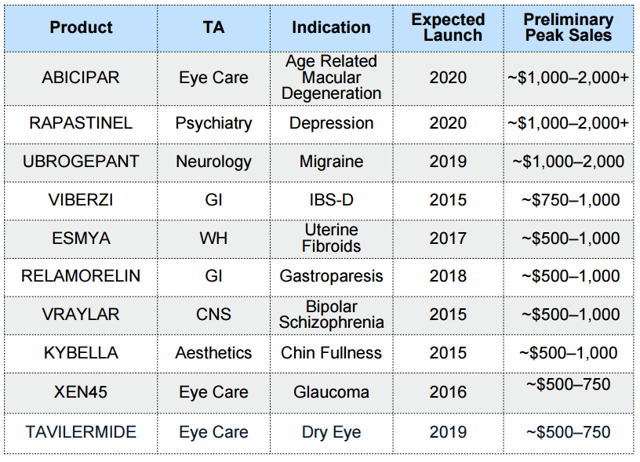 Research & Development
The biggest concern I had with Allergan was their relatively low levels of research and development spending compared to other big pharmaceutical peers. Pfizer and Merck (NYSE:MRK) spend around 16% of revenue on R&D, Lilly (NYSE:LLY) spent 24% last year, and Bristol-Myers (NYSE:BMY) dropped an astonishing 36% of revenue on R&D. Valeant (NYSE:VRX) spends almost zero, instead taking the path of buying approved drugs and jacking up prices astronomically. That leaves them with a major pipeline problem, not to mention accounting woes and way too much debt.
At Allergan, it seems almost too good to be true that R&D is less than 10% of sales. However, excluding their Aesthetics and generic revenue, AGN appears to spend roughly 11% of branded drug sales on R&D. That is closer to other pharma peers.
In addition, management makes a compelling case for developing drugs more efficiently than its peers. The company employs 2000 R&D colleagues, and indeed appears to have developed more drugs than most of the powerhouse pharma companies out there on a smaller budget.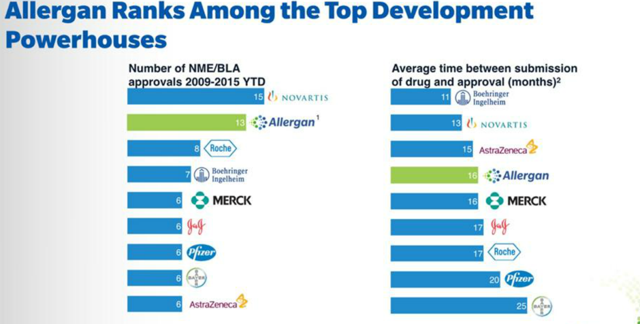 Novartis, the top drug developer, spends $8-9BB in R&D per year, and yet has introduced only 2 more drugs than Allergan, which spends $1.5BB per year. Their time to market from submission to approval is also impressive at 16 months.
Overall, the 70+ mid to late-stage programs should ensure plenty of growth for years to come.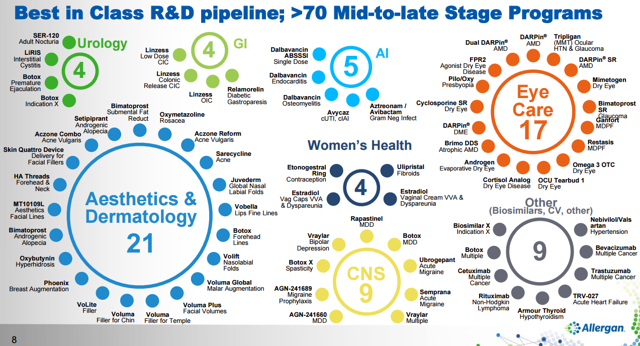 I don't pretend to be a pharmaceutical expert, or an analyst with any clue as to which drugs will get approved and how much in sales they can generate. But with so many call options embedded in the pipeline, and judging on past success, it does not seem a stretch at all that the company will have many new important drug launches. They do after all focus on the obese, the elderly, and the aesthetic categories, areas that are all exhibiting growth.
There is a four-hour R&D presentation from last November that is worth watching; the first hour is particularly informative.
Cash Flow Reconciliation
Since the Valeant disaster, one has to do due diligence on cash flows to ensure that they do "make sense" if you will. In cases like this, I generally like to compare free cash flow per share (FCF/share) to EPS. Free cash flow I define as cash flow from operations, less changes in working capital and less capex.
The numbers seem to jibe generally with reported earnings, despite earnings having tons of add backs and one-time items. Here is the math: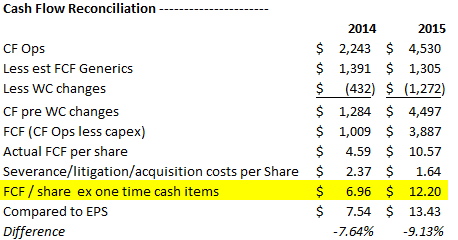 The only leap of faith an investor has to make is to believe that severance, integration, merger and litigation costs were real. Given the fact that Allergan was purchased in 2015, and Forest/Warner/Fureix/Durata were acquired in 2014, it is highly probable that there are not accounting gimmicks going on here as they were at Valeant.
Valuation
Overall, Allergan intends to grow its $15BB in branded revenue by 10% plus per year. The $2BB in generic revenue will fall by $500mm this year. There is a chance that Q1 earnings will miss estimates, and so I am saving some dry powder for that potential. With several drug launches this year, SG&A will be frontloaded and could mean higher costs before revenue starts to flow. In the past, management talked about SG&A at 21-24% of revenue, but now that number has been guided upward to 25% of revenue.
Overall, I assume a higher R&D figure than what management projects. Some of this could be via acquisition or partnering with companies to jointly develop drugs. In any case, I attempted to normalize R&D spending to the level that Merck and Pfizer spend (around 15% of branded revenue). I added $500mm to R&D in 2016, growing that at 10% next year.
Here is a summary of my model: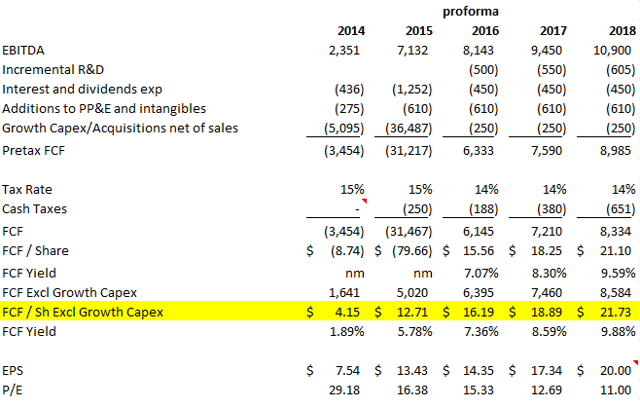 Conclusion
Going forward, proforma the sale of the generics business, management will have tremendous flexibility to buy back stock, and perhaps acquire another pharma company. While there is risk to a roll up, with share count growing from 124mm shares in 2010 to 395mm today, it is worth noting that EPS has grown from $1.48 to $13.43 last year. The Street expects $14.31 in EPS in 2016, and $17.67 next year. Proforma revenue grew 10% last year (excluding divestitures and generics and Namenda IR which lost its patent protection), and with a huge pipeline of 20 new drugs potentially through 2020, this growth rate should be sustainable.
That should imply the company is worth a better than industry multiple, but even at 18x, in two years time, Allergan would be worth $360 per share. I like Brent Saunders the CEO; he says all the right things in terms of acquisitions and allocation of capital. I don't see them taking on a huge deal, but it is admittedly a risk. Shire (NASDAQ:SHPG) has been a rumored target, but hopefully management will focus on more tuck-in type deals and avoid the risk of a large acquisition.
In any case, they will wait until the generic sale is complete before doing anything. With management very clear on keeping an investment grade balance sheet, the overall risk to Allergan's leverage getting out of control is quite small too.
Disclosure: I am/we are long AGN.
I wrote this article myself, and it expresses my own opinions. I am not receiving compensation for it (other than from Seeking Alpha). I have no business relationship with any company whose stock is mentioned in this article.