Nobilis Health (NYSEMKT:HLTH) had an incredible run since bottoming at $2 range in early 2016 rising more than 100% in two months of time. As of April 19, the stock closed at $4.4USD or $5.7CAD. The natural questions for existing and potential shareholders are "are we at the top yet?" or "how much runway is there left for this stock?". I believe the stock still has plenty potential as I will explain further in the following paragraphs. However, cash flows are something we have to watch for.
Wide Valuation Gap
I decided to choose EV/EBITDA method for comparison. I typically use P/E multiple as my go-to valuation method. However, the variation is wide for the amount of leverage used by these peers. P/E tends to favor highly levered companies. Different tax rates further complicate things. As such, EV/EBITDA is a better choice in my opinion.
Here are some assumptions and rules for my valuation:
- Industry peers selected are CRH Medical (NYSEMKT:CRHM), Surgery Partners (NASDAQ:SGRY), Surgical Care Affiliates (NASDAQ:SCAI), and Tenet Healthcare (NYSE:THC)
- Use of Management's 2016 EBITDA guidance from each company. CRH Medical did not provide a guidance and therefore I used a 20% growth rate building onto its 2015 results.
- Fully diluted shares is calculated based on common shares plus all options and warrants outstanding (Not treasury stock method which is popular among Bank Analysts)
- Debt = Debt+ Capital Lease - Cash
- Enterprise Value = Equity Value + Debt Value. I did not add noncontrolling interest to EV because the guidance number does not include minority earnings. One exception is Tenet which I added back NCI.
- All figures are book value from the latest financial statements.
Below are the results:

As we can see from the table above, Nobilis stock is still very much undervalued on enterprise value basis. When using an industry average 11x EBITDA to derive its equity value, we arrive at $9.5USD per share. Surgical Care Facilities pulled the industry average up with 15x EBITDA. So I decided to eliminate this top performer and we ended up with 10x industry EV/EBITDA. This more conservative multiple points to a fair value of $8.4USD per share for Nobilis, representing 50% discount in equity value compared with peers. In other words, Nobilis stock price could double by simply closing the valuation gap. Furthermore, the Company deserves a higher valuation due to its higher growth profile in my opinion.
In addition, we can see that Nobilis is severely under-levered relative to peers. Debt/EBITDA is only at 0.7x vs industry average of 4.6x. The strong balance sheet provides both safety and growth potential for equity holders.
Market sentiment is changing
My personal belief is that the reason for a stock to go higher is because it is going higher. The reason for a stock to go lower is because it is going lower. Fundamentals are important but perception can dictate for a long time. Nobilis could not be a better example of my theory.
Nobilis was faced with numerous short selling allegations over the past half year. As a result, stock crashed. Here are some links for people to catch up on the story.
To make matters worse, the Management fumbled with delays of financials and the CEO resignation. It seemed that no one cared for the internal investigation led by an independent committee given the circumstances. Analysts complained that "they are tired of this Management team". Stock headed lower.
Momentum started to turn when the Management announced Q4 results that met its high guidance expectations. The numbers were verified by a very reputable external accounting firm Crowe Horwath, adding credibility to the Management. I was pleasantly surprised by these great results myself. As much as investors do not like the Management, they love the profits. Nobilis is delivering the results. I think the positive momentum is gaining strength and likely to continue.
Watching cash flows in Q1 earnings
Even though Nobilis delivered a solid year in 2015, the cash flows were still weak relative to its earnings. This is fairly common for hospital operators. Potential patients like to book their appointments before the year end in Q4. This way, they could take advantage of their insurance policy before any changes in the upcoming year. Hospital operators collect their earnings in the following quarter from insurance companies. Nobilis' cash flows followed this pattern in the past two years. I do not expect anything different this year.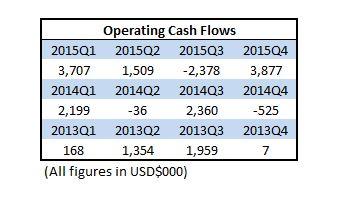 Final words
Despite recent rally, Nobilis stock still has plenty of room to appreciate given its significant discount to its peer group. Low leverage ratio is also very attractive. The Management has taken a number of steps to make its financial reporting more transparent since the short allegations half a year ago. All of these are positives for the company. With that said, Nobilis is still relatively young company and prudence must be applied in this name. I bought a small position based on valuation during the sell off and added to it after earnings came out. As the Company continues to prove out its business model, I will add more shares accordingly. My recommendation would be the same for others.
Disclosure: I am/we are long HLTH.
I wrote this article myself, and it expresses my own opinions. I am not receiving compensation for it (other than from Seeking Alpha). I have no business relationship with any company whose stock is mentioned in this article.