The collective brain trust among its senior brass devised "All Day Breakfast!" Apparently, that's innovation worthy for record high P/E and price. But look beyond that Egg McMuffin hangover and McDonald's (NYSE:MCD) Payout (Dividend/Earnings), P/G, Dividend Yield, and just about every other metric, are equally at all time highs. Such news might be a delight among hungry folk who enjoy Eggs All Day, but for investors, McDonald's is expensive, i.e. a Short Seller's delight!
There are noteworthy opportunities for MCD, which gives those still long hope. Importantly, some may have missed management's move toward converting company stores to franchises overseas. This financial maneuver is something of a real estate play and has been successful for others too who seek to boost near term and one-time financials. For McDonald's, the news reads, "The precise structure of the deal is still to be decided, the sources said. In return, McDonald's will get a one-time franchise payment and ongoing royalty fees, which usually range between 3-5 percent of annual turnover."
Under The Hood: Headwinds are blowing and storm clouds forming.
Long investors who have likely profited mightily from recent gains could/should easily take some profits. Who is next to buy?
Labor costs are about to explode (did you see what happened to Wal-Mart (NYSE:WMT)) and protests forming at the MCD gates.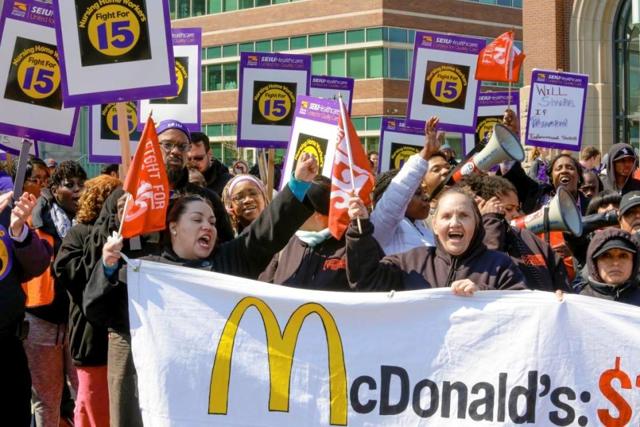 Protesters at the MCD gates!
Earnings are on the decline (eggs are more expensive and deliver lower margin than burgers). Read this:"The lower check average [of breakfast items] doesn't drive the margin as much as higher-priced items like premium burgers," Darren Tristano, an executive vice president at Technomic.
Payout ratio is exploding leaving little room for investors' appetite for increases.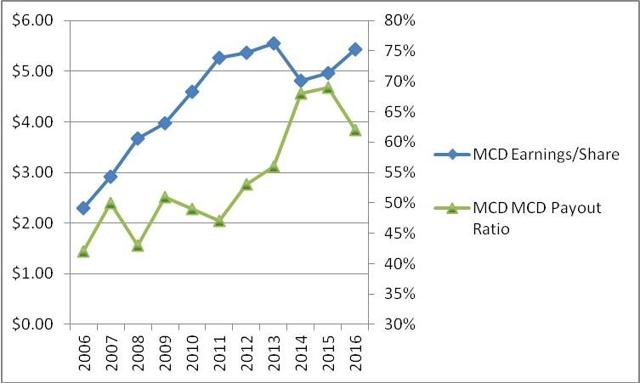 2016 is Estimated based on earnings rising to $5.43/share. If earnings don't materialize watch out below!
Healthy conscious consumers may not prefer MCD fare. The WAR for consumers rages on. For example, Chipotle (NYSE:CMG) offered free burritos to win back customers.
Hang your future & fortunes on All-Day Breakfast, that's got to be the narrowest moat ever. There are many other restaurants that do this.
The Trade and How to Express your $.02
IMPORTANT: Earnings is due 4/22/16 BEFORE the market opens. That could move the needle fast and furious. Be calm as the fundamentals should move MCD lower even in the spin zone.
We all know the Golden Arches is mainstay for American consumers. We know MCD has presence overseas. We know MCD is the largest by number venues and the broadest/best supply line in the industry. But the long thesis rests on new investors looking for large cap safety.
Value Line gives MCD a A++ rating. Others may be addicted to a dividend yield (now 2.7%, $.89 quarterly or $3.56 annualized/$129 price tag) which is worrisomely below the rate investors received in each of the last 10 years and below the average of the last 17 years (3.9% average).
That reduced yield may appear OK compared to the S&P that currently pays 2.06% or the 10-year Treasury that pays 1.845% as of this writing. But given the litany of risk to yield and MCD's earnings, better to leave its equity for others or consider the short opportunities discussed below.
Options: This is usually my 'go to' strategy, waiting for volatility and premiums to rise, so I can sell. But with the VIX @ $13 and implied to historical volatility low, consider the following:
Short (sell) the Call: Limited opportunity regardless of the series (and date) to choose. Selling to receive $3 for the May ATM monthly, doesn't do this opportunity justice.
Long (buy) the Put anticipating that the premium will rise as the stock falls. If we look just to capture the earnings date, then we forego the premium paid against our return on the trade. For example, the May ATM monthly sells for approx $2.50. That means MCD must move almost 2% to the downside before you can expect to make $. That's not exactly stacking your deck to your advantage.
Short MCD outright. As MCD falls penny for penny, that's 100% in your pocket. Now available at $128.55. Arguably, if MCD rises, you're on the hook. And it can be anyone's guess what the market will do around earnings or what will happen in the spin zone!
If you're reluctant, nervous, or just want to sleep well (other than just trading small sizes), then consider a Long Call over your Short Stock position. This would leverage the low volatility to your advantage (A simplified explanation).
Important note: MCD will go Ex Dividend in May (approx the 25th). If you hold your short position to this date, you will pay the dividend (exacerbating your loss). However, remember that MANY long investors will bid up the stock to capture this payment then sell. So time your trades appropriately!
Supporting Documents
Disclosure: I am/we are short MCD.
I wrote this article myself, and it expresses my own opinions. I am not receiving compensation for it (other than from Seeking Alpha). I have no business relationship with any company whose stock is mentioned in this article.
Additional disclosure: The foregoing is not intended to be specific investment advice, but concepts to consider when investing. Consult your Investment Adviser.