Oil (USO, OIL) prices have stayed resilient despite a failed Doha deal and Kuwait oil workers strike ending.

Highlight:
Crude build 2.1 million barrels
Cushing draw -0.248 million barrels
Gasoline draw -1.02 million
Distillate draw -2.539 million
US production - 8.95 million b/d
Imports up 250k b/d over last week to 8.2 million b/d
Refinery utilization up 160k b/d over last week
Imports
This week was once again highlighted by the record import numbers.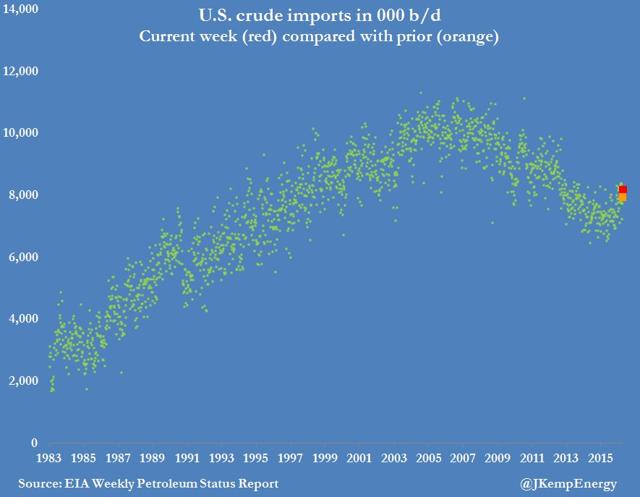 It doesn't look like the trend will stop, and this might be a structural change as US production continues to decrease. Despite oil prices recovering to over $44 for June, US production continues the downward shift as drillers cut back capex to payoff debt. We don't foresee that momentum to stop, and expect US production to decline further. In the meantime, imports will likely remain elevated until there's an actual supply/demand deficit on the market. Once the demand crosses the supply line, imports will drop and lead to big stock draws.
If imports remained around 7.2 million b/d, there would've been an inventory draw of 5 million barrels for last week. This goes to show how fast the drop could be if imports leveled off.
Distillate Strength
There was noticeable strength in distillate.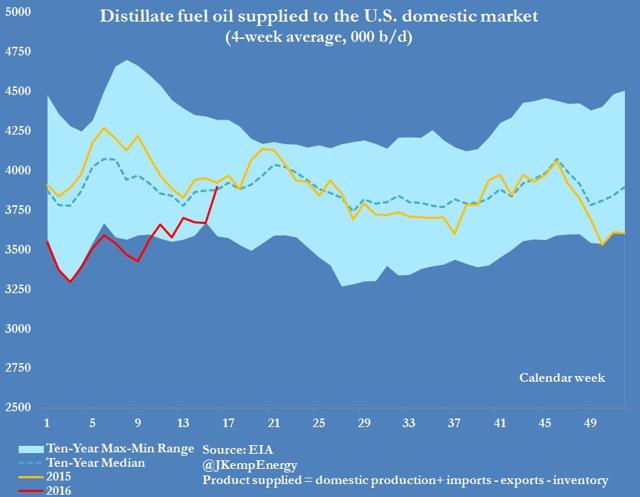 We think the strength in distillate market has more to do with exports. Europe is experiencing some delayed winter weather from the record El Nino last year, and this likely caused stocks to draw.
We don't expect the strength to continue as winter is almost over, and summer is just around the corner.
This winter however might be much colder than normal as a La Nina winter will make the weather colder than normal. This could help alleviate much of the distillate storage.
Gasoline Demand Remains Strong
Gasoline demand remains very strong.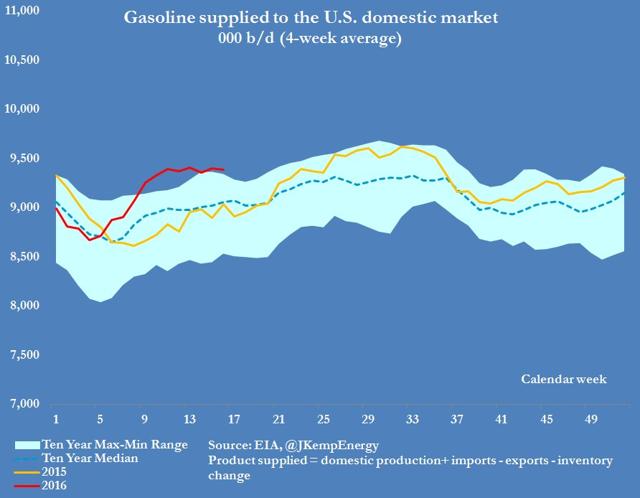 US gasoline consumption averaged 9.4 million b/d the last 4 weeks and remain strong. While gasoline adjusted for consumption is still slightly above average, the record demand set to take place this summer will help drawdown the stock comfortably.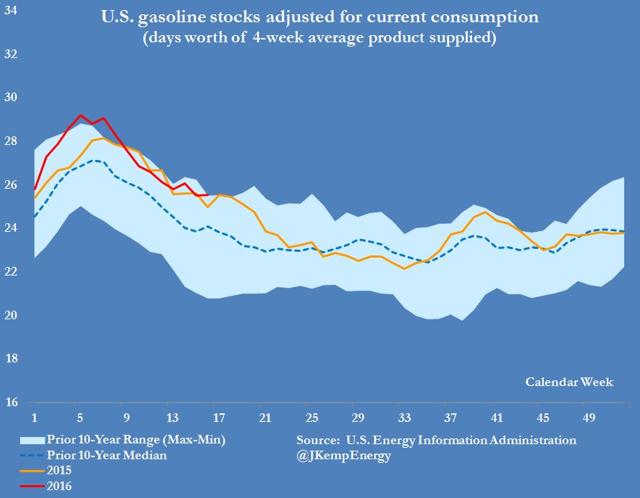 We currently see no signs for this trend not to continue.
Concluding Thoughts
Fundamentals continue to point in the right direction. US production continues to fall, and crude stocks are being held up by high imports. Once the global market begins to balance, imports will start to fall, and the effects on crude stock will be noticeable. Traders who were once bearish will begin to point to signs that global spare capacity is at an all time low, and that the world isn't really "drowning in oil."
Everything comes down to perspective. Just three months ago, things looked doom and gloom, and we share our thoughts on our recent reflection here. But now things look a lot better, and we continue to believe that oil prices will be above $60 by year end.
If you are interested in signing up for our premium service, please click here. We spend a considerable amount of time engaging with our subscribers about idea generation and company analyses. We hope that you can join the wonderful HFI community we built here.
Disclosure: I/we have no positions in any stocks mentioned, and no plans to initiate any positions within the next 72 hours.
I wrote this article myself, and it expresses my own opinions. I am not receiving compensation for it (other than from Seeking Alpha). I have no business relationship with any company whose stock is mentioned in this article.