So far this year, Kandi Technologies (NASDAQ:KNDI) has struggled on the stock market with the stock losing almost 30% of its value. However, the decline in Kandi's stock price so far this year does not add up, especially considering the fact that the company has been gradually improving its business to tap the growth available in the Chinese electric vehicle market, both in the form of components and vehicles.
The following chart clearly indicates that Kandi Technologies has been progressing in the right direction in the past year, though its share price has not tagged along: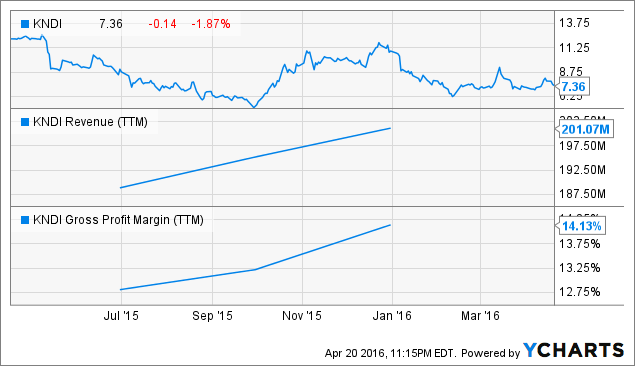 KNDI data by YCharts
But, in my opinion, investors should consider the drop in Kandi's share price as an opportunity to buy more shares as the company is on track to make the most of the opportunity available in the Chinese EV market. Let's see how.
EVs in China are gaining strong traction
China's plug-in electric vehicle market is growing at a faster clip than the U.S. The total production of new electric vehicles in China increased to 37,937, while sales rose to 35,726 for January and February 2016. This was an increase of approximately 170% year over year. These numbers include not only cars, but other vehicles such as buses, commercial trucks, etc. The most important thing is that all-electric vehicles accounted for nearly 73% of total vehicle production and around 70% of total sales in China.
In fact, 2015 was the break-out year for EV sales in China with both production and sales of new energy vehicles growing at a tremendous pace as compared to 2014. This is shown in the chart given below: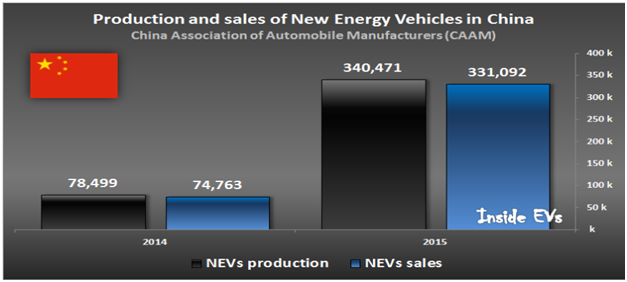 Source: Inside EVs
Looking ahead, China will continue to see strong growth in demand for EVs. According to a forecast by the International Energy Agency, the number of electric vehicles is expected to reach almost 6 million units by 2020. Of these 6 million units, China will account for the highest number of EV sales across the globe at more than 1 million. When compared to EV sales of around 330,000 units last year, this indicates that China's EV market will increase at a tremendous pace going forward.
The following chart illustrates that China will dominate the global EV market going forward.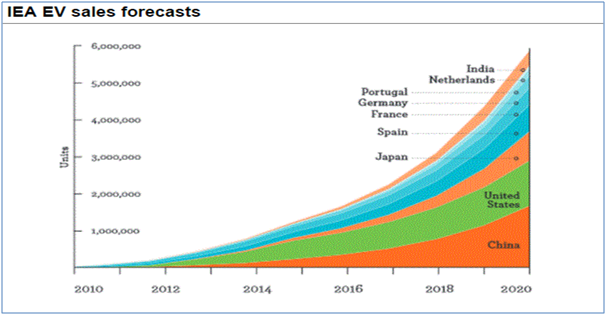 Source: IEA
This rapid growth in China's EV sales looks quite achievable as the country's government is focused on aggressively increasing EV penetration in a bid to cut down on pollution and carbon emissions. According to a forecast by the head of the country's Ministry of Industry and Information Technology, electric vehicle sales and production will double in China in 2016. This means that China is on track to manufacture and sell over 600,000 electric vehicles this year, so a target of 1 million units by 2020 does not look out of place.
To attain the 1 million mark, China is aggressively investing in EV infrastructure. According to a report by Eshare, the government of China has decided to fund as much as $19 billion in order to build electric vehicle charging facilities. With this commitment, the government is expected to build approximately 12,000 EV charging stations and around 4.5 million charging points by 2020. With this move, the ratio of charging points to EVs would be 1:1 from the current level of 1:4 going forward, which will propel EV adoption higher.
Kandi's moves to tap the growth
Kandi Technologies is investing in its manufacturing capacity in order to accelerate sales. For instance, apart from its manufacturing facilities in Changxing, Shanghai, and Jinhua, the company now expects its new Jiangsu Rugao facility to come online in the second quarter of 2016. Additionally, Kandi has two more manufacturing facilities under construction such as Haikou and Hainan. It anticipates the Hainan facility to come online by the second half of 2017 with the capability of producing approximately 100,000 electric vehicle products annually.
More importantly, apart from its focus on increasing manufacturing capacity for EV products, Kandi has also received a shot in the arm from the Chinese government's subsidy program. For instance, Kandi received $59.6 million worth of prepaid national subsidy for pure EV sales in 2015, along with $30.9 million in local subsidy from the Hangzhou government.
In fact, all of Kandi's models are eligible for a 10% sales tax break that's applicable to electric cars, plug-in hybrids and fuel-cell vehicles. These benefits are allowing the company to provide discounts and increase sales volume.
As a result, Kandi had sold its JV cars such as the K10 and the K11 at an average selling price of $15,000 in 2015, which was about $5,000 less than its 2014 average selling price. As a result of this lower price point due to government subsidies, Kandi experienced an increase of 121% in car sales to 24,220 units in 2015.
Conclusion
Kandi Technologies is plying its trade in a favorable environment in China where sales of electric vehicles are growing at a fast pace. As the points mentioned above tell us, the demand for EVs in China will continue to grow in the long run due to the government's support in terms of both infrastructure developments and subsidies. As a result, Kandi Technologies will be able to sustain its impressive growth in the future. This is the reason why I believe that investors should buy the dip in Kandi Technologies since the stock looks set for strong growth in the long run.
Disclosure: I/we have no positions in any stocks mentioned, and no plans to initiate any positions within the next 72 hours.
I wrote this article myself, and it expresses my own opinions. I am not receiving compensation for it (other than from Seeking Alpha). I have no business relationship with any company whose stock is mentioned in this article.