Investors in the precious metals, who have had a rough time over the past five years, have been extremely happy as all the precious metals have jumped in 2016. As we write this piece on 4/21/2016, gold and silver are once again spiking.
As of yesterday's close, GLD is up close to 20%: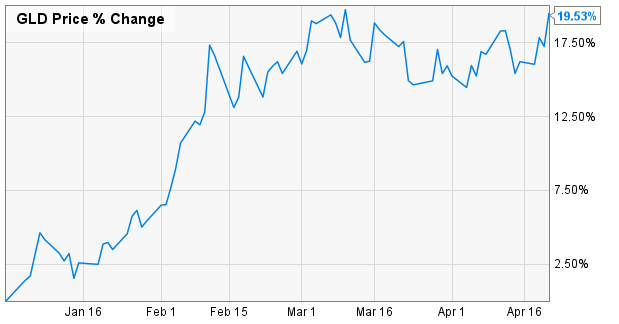 While SLV, which had been significantly lagging gold, is now up close to 30% YTD: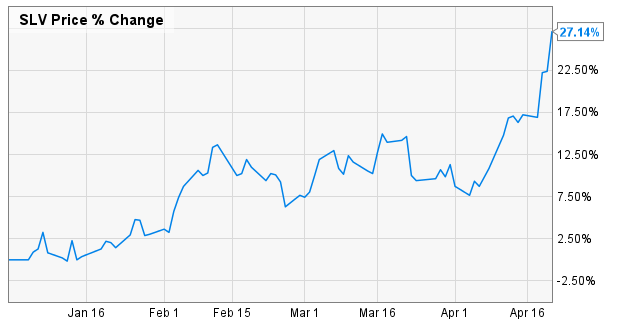 Certainly a tremendous start to 2016!
Though the spiking precious metals have gotten us very nervous because there really has not been any significant financial events to "scare" investors into precious metals, with some of the news from Asia suggesting physical gold demand has been weak. Additionally, speculative gold longs are at extremely high levels which are matching the levels last seen in 2011 - the previous gold peak. Despite all this gold and silver are spiking - so what comes next for gold investors?
An interesting note today from Macquarie also brings up another factor that investors may be overlooking.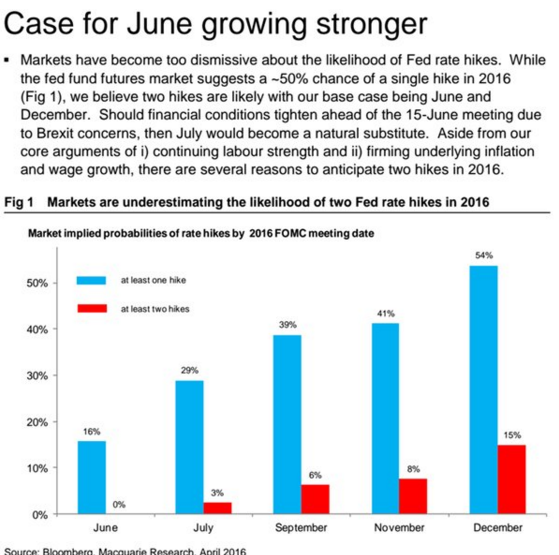 Source: The Daily Shot
That is right - the Fed meets next week to discuss rates and Macquarie thinks that the probability of a rate hike in June is more likely than not. We firmly agree as we believe the Fed is very conscious of markets, and with the Dow approaching all-time highs above 18,000 and employment strong (at least according to the BLS), now is the time to prime markets for hiking rates. While we don't think they will hike in April, we certainly think they will ready markets for a June hike - which means that markets will begin to price it in immediately.
Conclusion for Investors
We do have to stress that despite our belief that interest rates will rise, that may not be bad for the gold market as historically gold has done well in both rising (think 1970's or mid 2000's) or falling interest rate environments. But of course the initial reaction for investors may not be positive because the current story is that rising rates are bad for gold, thus if the upcoming Fed meeting has a raising interest rate bias, that would probably be bearish for gold in the short-term.
Pair that with the fact that much of the gold buying has been speculative, fast-money traders, and you have a very dangerous environment for precious metals in the short-term. As we stated before, this doesn't change our long-term picture on the metals, but investors need to be really careful here.
Disclosure: I am/we are long SGOL, SIVR.
I wrote this article myself, and it expresses my own opinions. I am not receiving compensation for it (other than from Seeking Alpha). I have no business relationship with any company whose stock is mentioned in this article.