Executive Summary
People can and do remark that Facebook's (NASDAQ:FB) trailing P/E, FY+1 P/E or any other market multiple is too elevated compared to the broad market and thus conclude that Facebook is overvalued. On a low level, this type of analysis might be applicable to a domestic manufacturing company late in the maturity cycle that grows 2% per year but, to utilize the same "valuation" methodologies for this hyper-growth technology company is nothing short of myopic and ignorant.
Facebook has grown both by acquisition and organically at a staggering rate since its inception. Although these acquisitions were not immediately accretive, the powerful synergies that are realized between all businesses have and will continue to enhance the value of Facebook immensely through multi-dimensional network effects. The continued integration between all of Facebook's platforms and the way Facebook utilizes user data has been proven to enhance the targeting potential of optimized ads, it increases user engagement and ultimately Facebook becomes a more important part of people's daily lives.
One of the most important aspects of Facebook's growth is their improvement in targeting quality for optimized ads. As the quality of targeting increases, businesses will inherently place higher 'values' on ad impressions. Simply put, the logic behind this lies within the idea that if less impressions have to be made to initiate an event (purchase, follow, sign-up etc.) then the price charged per impression can increase. In this report, we will put the pieces of the puzzle together and explain how the combination of different performance metrics will continue to fuel Facebook's rapid growth into the foreseeable future.
Through our analysis, we will deconstruct our reasoning for a buy rating and $155 price target based on a 10-year DCF. As well, we will ultimately present a case for why Facebook is worth more than the sum of its parts and why it is the Social Standard.
Facebook's Recent Performance
Facebook reported Q4 2015 revenues of $5.84 billion (vs. $5.62 billion est.) representing growth of 51.7% Y/Y and FY 2015 revenues of $17.93 billion (vs. $17.71 billion est.) showing growth of 43.8% Y/Y. Historical quarterly revenue is shown in the figure below.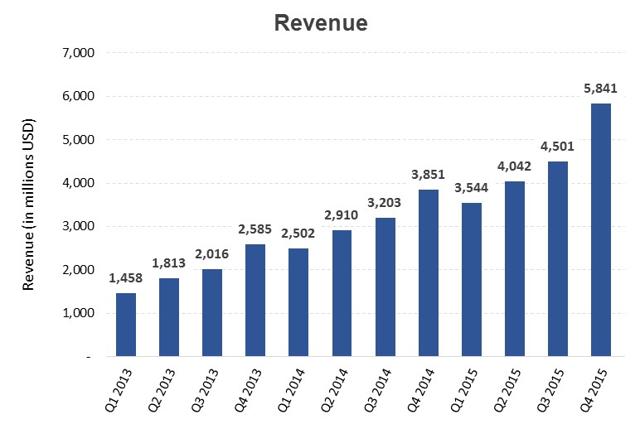 Q4 Non-GAAP EPS was in-line with our estimates at $0.79/sh. Facebook's Q4 2015 Average Revenue Per User (ARPU) calculated using average Monthly Active Users (MAU) also surprised at $3.71 (vs. $3.54 est.) primarily driven by strengthening metrics in the U.S., Canada, Brazil, and India.
Over the past few years, Facebook's growth and profitability metrics have demonstrated extreme yet steady improvements. Ad quality and ultimately revenue growth have been driven by users' switch to mobile which is highlighted by Facebook mobile MAUs representing 90.6% of total Facebook MAUs in December 2015. During that time, Facebook MAUs grew 14.1% Y/Y and mobile MAUs grew 21.3% Y/Y. Another metric to observe is the Mobile DAU/Total DAU which stood at 90.1%. We believe that the Mobile MAU/total MAU and Mobile DAU/total DAU metrics are at levels that if sustained, will allow Facebook to grow into our expectations. Moving forward, the key numbers to focus on in the mobile area is the growth of Mobile DAU/MAU which in December indicated the highest value ever recorded at 64.8%. Both metrics historical values since Q1 2013 are shown in the figures below.
Another important metric combining revenue and user metrics is ARPU - Average Revenue Per User and it indicates the monetizability of the Facebook user base. In Q4 2015, Facebook posted total ARPU of $3.71 (vs. our $3.54 est.). The figure below shows historical total ARPU broken down by geography.
As noted earlier, it is obvious mobile metrics are extremely important to Facebook's growth story. In Q4 2015, Facebook noted that mobile ad revenues were approximately $4.5 billion, up 81% Y/Y and currently represents 80% of total ad revenue. For comparison, Facebook mobile ad revenues were approximately $152 million in Q3 2012 and contributed to 14% of revenues. The figure below visualizes the shift from display-based to mobile-based ad revenues.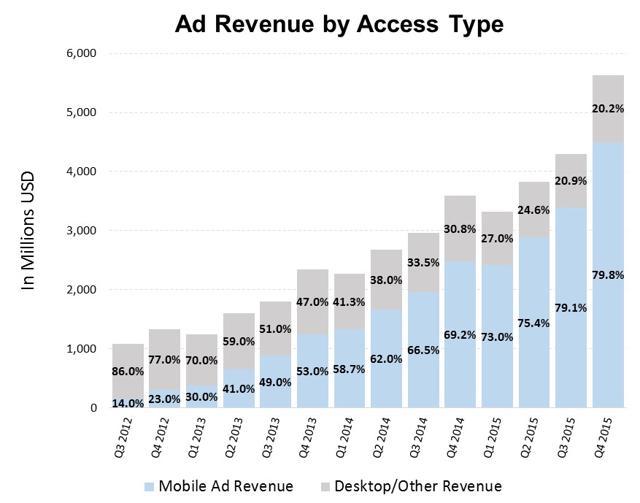 With regards to Facebook's other platforms, all have shown robust growth over the past year as these complementary products are further developed to provide the user with a valuable experience. In 2015, Instagram users ended at approximately 400 million, up ~30% Y/Y, Messenger users were approximately 800 million (currently over 900 million) up ~60% Y/Y, and WhatsApp ended with approximately 1 billion users, up ~40% Y/Y.
The Company
By this point, most people are aware that Facebook monetizes its business through selling and displaying ads to users based on the types of ads that advertisers bid for. The business model is simple on the outside, but it has many inner workings that enable the model to be constantly improved. Facebook utilizes their user's data that they collect through post interaction, common tendencies, message contents, demographics, etc. to predict within a reasonable probability range which users will be most receptive to certain ads based on delivery type, content, time of day and many other factors that we will discuss. In the following sections, we present Facebook's products, both developer and user-based, that we believe are instrumental in improving the targeting and optimization processes.
Facebook itself is the central 'product' that allows the rest of the products that Facebook has created or acquired to work in tandem to realize synergies. With 1.5 billion people using Facebook every month, and an average time spent on Facebook per day of ~40 minutes, the amount of user data that Facebook has access to is beyond comprehension. Facebook has access to data across all of its platforms including messages sent between people in Messenger and interaction with Instagram posts. WhatsApp data collection potential was questioned following the acquisition due to the fact that WhatsApp users only needed their phone number to create an account and use the service thus making it difficult for Facebook to connect user data to unique properties of each WhatsApp user. Many current Facebook users have noticed that their phone number was requested for security reasons in the past, however, this call for data by Facebook serves a double purpose. When Facebook users add unique identifiers such as phone numbers or emails to their profile, their account gained another very valuable identifier tag for Facebook. This allows users to be more easily matched with an advertiser's customer lists to build potential target pools for their ads. This process (as well as Facebook's SSO which is covered separately) heavily aids the 'audience' creation process and expands the value-generating potential of tools that Facebook offers to developers and marketers.
Facebook's Apps
Messenger - Where Facebook users contact each other in real time; the messenger service was separated from the Facebook app itself presumably to boost mobile engagement across Facebook apps. The separation was initially greeted with resistance but since then, with constant additions and modifications of the messenger service, this segment has experienced robust growth and now has over 900 million MAUs and grew by over 250 million in 2015. As presented at F8, Facebook's developer conference, Messenger will attempt to be the single place for people to engage with businesses through AI. Upon successful widespread integration of this AI feature, we believe Facebook will have a robust platform for payments and other related revenues.
WhatsApp - Facebook acquired WhatsApp to gain a sizeable position in the primarily European social media space. Currently, WhatsApp has approximately 1 Billion MAUs. Facebook announced on the last quarterly call that the subscription fee would be removed for WhatsApp ($0.99/year for users after the 1-year trial) in a proactive effort to maintain engagement with the app. WhatsApp itself is very popular among non-North Americans and it will prove integral to Facebook's monetization efforts outside North America. The percentage of the mobile internet users in select countries who use WhatsApp are shown in the following figure: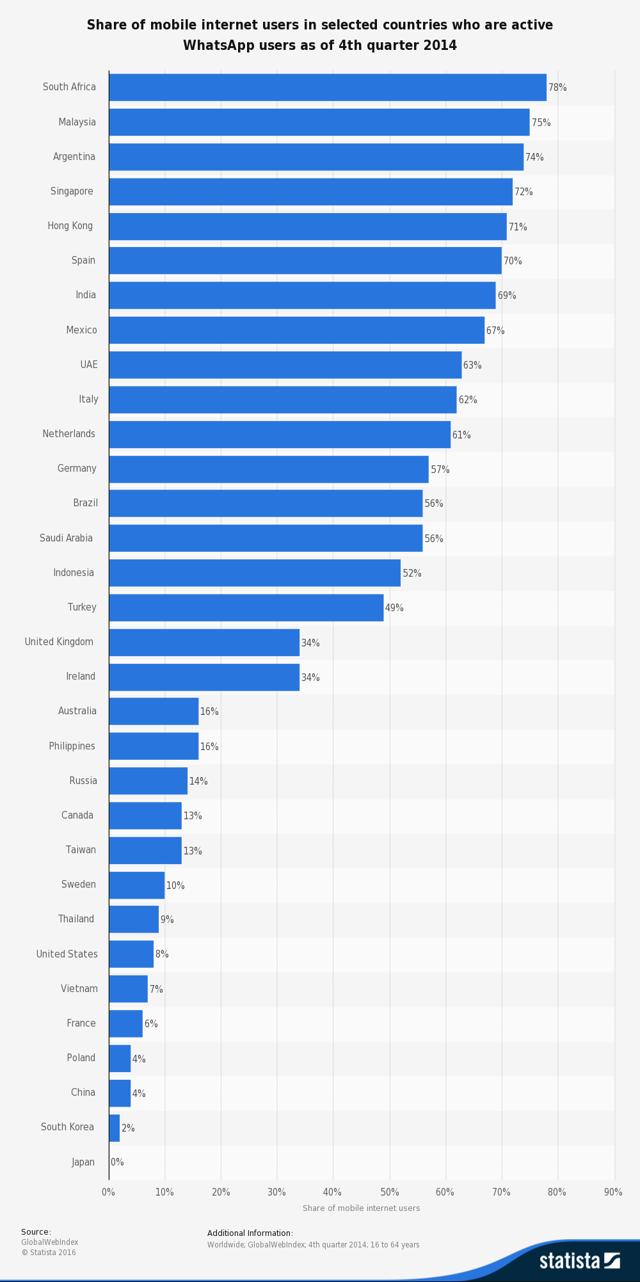 Instagram - Facebook's primary media platform for photos and short videos. Instagram has over 400 Million MAUs and grew by approximately 30% in 2015. Instagram and Facebook are the monetization centers of Facebook and thus, will be monitored the closest of any segment. As Facebook continuously updates Instagram and the average time individuals spend on the platform increases, small businesses will see a growing opportunity to advertise on the platform that experiences the highest content engagement. A large advantage we see from Instagram ads is that the ads are native and flow seamlessly with the app's content. We briefly cover the importance of mobile native advertising later in the report.
Facebook's Single Sign-On
We believe that Facebook's social login does not receive enough attention relative to the information it provides Facebook for monetization. Social logins are options that users and potential users have when prompted to create a profile to access a website or an app. These options to log in using a certain site's pre-created profile (such as a Facebook profile) are common among many sites and apps today. Although social logins are not an extremely new feature that users can utilize, the adoption rates and preferences for social logins have increased dramatically over the past few years as people are increasingly bombarded with different apps and user registration forms. According to a LoginRadius research report, user preferences for their 'identity' while signing up for new sites is skewed at a massive 79%/21% for social profile vs. email sign-up. The simple reason that explains this large difference in preferences is that people don't want to, and sometimes can't, remember multiple passwords (54% of social login users) and the social login method saves them time (70% of social login users). A JanRain research report cites that 92% of consumers are aware of social logins, ~75% utilize them and of the 75%, 94% report having a positive experience. On the website's side, the benefit they derive from utilizing social logins is lower form abandonment rates (people who leave the site during sign-up due to lengthy/seemingly unnecessary forms) and proven higher conversion rates ( between 10-50% higher). In fact, according to the JanRain research, 49% of users who are given the social login option state that they read more articles on sites that offer social logins. The same findings were reported where 57% of customers responded that they would purchase more from a company if SSO eased login processes. In addition to this statistic, 38% of people who utilize social logins report making 38% or more of their purchases online through mobile access.
It shouldn't be a surprise that Facebook dominates the global social login scene. According to the LoginRadius report, 69% of people use Facebook as their main choice of social login profile, followed by Google at 29%, and Twitter at 2%.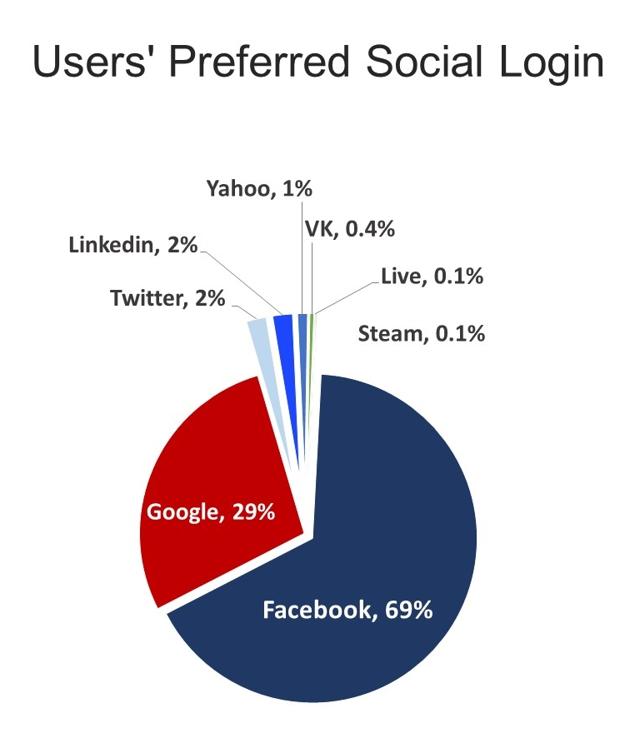 As for the website's preference regarding which social logins to offer, Facebook tops the list by an extremely large margin. Of the websites that offer social logins, 94% include Facebook in their list, followed by Google (44%), Twitter (29%), and LinkedIn (21%). All others contribute from 3-6% of social login options on sites that use them.
After all of this, what benefit does Facebook derive from allowing these sites to use their database of profiles to streamline profile creation? The answer, as indicated in the previous section, revolves around data collection and utilization. Cookies do not work reliably or at all to track data on many mobile devices. As well, the cookies that are utilized are not cross-platform compatible; it is difficult to combine mobile web traffic and desktop web traffic for the same user. As a result, companies realized that the way to track users without cookies were to use social logins which allow these companies to track user data and usage within the site or apps that users engage with. Because people utilize social logins, both mobile and desktop, unique user data can be combined and analyzed with ease. With Facebook dominating the global SSO space, they continue to have a position of superior data collection versus other social media advertising companies. We believe that Facebook's SSO plays a valuable role in providing quality insights through Facebook Analytics for Apps as well as data production for all aspects of Facebook's targeting efforts.
Facebook Analytics for Apps
Facebook Analytics for Apps allows app owners and developers to dive into data surrounding their users; who they are based on descriptive characteristics, how they interact with the app and also the changes in usage patterns and behavioral changes as a result of certain events that occur. A large value adding aspect to Facebook Analytics for Apps is the integration of Facebook App Events where data is collected regarding what happens to usage at certain points in the app; when actions such as installs, app launches, purchases etc. occur. This 'free' tool provides developers and app owners with valuable insights that allow them to change or modify their app in an effort to maximize certain favorable events.
Facebook cites three core ways that app developers can analyze data that is generated through their apps use:
Segments are "A group of people. A segment can be defined by the device they use, their age, their gender or other demographic information, or the events that they have generated in your app." Segments are generally utilized for analyzing demographics although the developers can modify which attributes to display.
Funnels are "A set of steps that someone performs in your app. Each step in the funnel must be logged with an App Event. You build a funnel in [Facebook's] analytics UI, based on the set of events that your app logs." For developers, different events can be logged such as purchases, add-to-carts, or in the case of games - where there may be level bottlenecks or bugs. With this data, user's movement within the app can be tracked and provides valuable insights into the app's UI and where positive changes can be made.
Cohorts are "A group of people who took the same action in the same time period. Cohorts can help you understand how users respond to changes you make in the app or how behavior of your users changes based on when they started using the app." This feature allows developers to see which changes or events have the most impact on user engagement within their app. With an idea of how these people react to certain changes or modifications, the developer has a better idea of how their user base will react.
Overall, with these three broad types of insights, developers are able to filter certain characteristics at each level to develop preferred target user profiles and 'audiences' to which they can cater to. Facebook can benefit at the very minimum in one way from this and in addition, they have the potential to monetize their relationships with these developers. Acting as a high draw product, developers could realize the value that is held in the creation of custom and lookalike audiences through Facebook's marketing API and eventually advertise on Facebook's platforms or through their audience network. As stated earlier, Facebook benefits regardless of whether or not they acquire a developer as a new marketer because the data that they receive in tandem with the developer provides such valuable insights into users that Facebook can use to help other marketers achieve campaign goals.
Audience Management
Using all of the user data that Facebook has acquired over every platform, developers, business owners, page owners and all the like can benefit from Facebook's Audience Management. Facebook creates 'audiences' or sets of people that would be most likely to respond and engage with ads that the marketers provide. Facebook has four main types of audiences that can be created:
Custom audiences are sets of people that a marketer has "already established a relationship with on or off of Facebook". Custom audiences allow marketers to choose a list variable such as phone numbers, emails, app user IDs etc. that the marketer has previously acquired. Alternatively, different characteristics such as date of birth, location or other user data can be used to tailor ads with greater precision.
Lookalike audiences are sets of people that Facebook deems comparable to a current set of customers that a marketer has. The difference between custom audiences and lookalike audiences is that custom audiences are used to target people who are already aware of a marketer's offerings and have interacted with them whereas lookalike audiences are algorithm generated user sets that are likely to engage with the marketer in a similar way that their high valued customers interact with them. Lookalike audiences filter users by characteristics such as existing custom audiences, campaign conversion rate similarities and also data collected through pixels.
Mobile app custom audiences are created using what was discussed earlier - the funnels and cohorts that are selected and analyzed to determine who would create the most favorable events based on the marketer's needs.
Pixel - Website custom audiences are similar to mobile app custom audiences, however, a tool called a pixel is used to track a user's movement through a website that was accessed through Facebook. Similar to the way that mobile app custom audiences are created, Facebook determines who would be the best to market to based on their similarity to people who activated an event that the marketer values (i.e. purchases or sign-ups). Website custom audiences have three main marketing objectives - making sure that a customer who doesn't require marketing material to make purchases isn't shown an ad unnecessarily, using lookalike audiences based on prior recorded pixel data and also re-market to customers who expressed interest in a product or website but did not follow through with the marketer's desired event action. Pixels also offer a valuable resource which is true conversion tracking from customers that were redirected to the site as a result from engaging with an ad on Facebook. We noted earlier that cookies are not a reliable way to measure reach and effectiveness of a marketing campaign and with Pixel's accuracy of conversion tracking, it is clear Facebook is taking steps to move away from dominantly cookie-based ad performance reporting and strives to deliver accurate campaign performance insights to marketers.
Atlas
Atlas is a company that Facebook acquired in 2013 from Microsoft and was a platform that was initially intended to provide existing advertisers with insights to their off-site (non-Facebook integrated) ads that were more accurate than cookies' reporting. On Atlas' website, they note "People today are more connected than ever. Despite this, cookie-based ads are still the norm. They don't work on mobile and they can't measure real results." Because of the extremely fast switch to mobile, advertisers need a way of measuring ad effectiveness across platforms for situations where a user may be exposed to an ad on one platform and initiate an event on another. Atlas will use Facebook's user data and create custom audiences to measure impressions and this effort will further be aided by their social login which is dominant over all other social logins. Atlas will be supporting measurement for all forms of advertising including mobile, display, native and video ads (which are said to have strong potential in mobile and video due to LiveRail and Facebook's already strong mobile performance). The way in which Atlas worked originally is laid out in the figure below: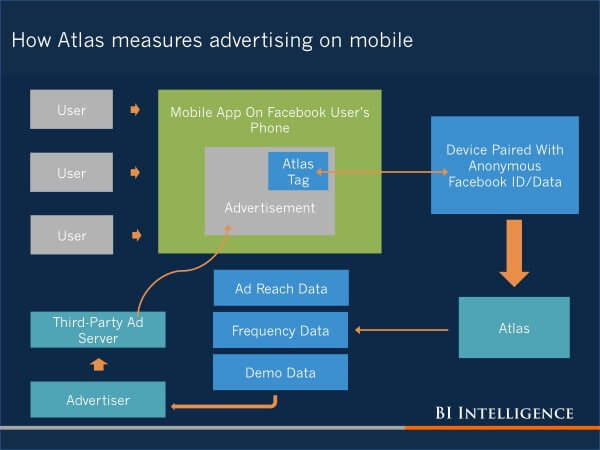 Carolyn Everson remarked at the 43rd Annual UBS Global Media and Telecommunications Conference:
" Atlas right now is being tested and used by a number of marketers. We are pleased with the progress. It's still early days. The industry has been using cookie-based measurement for over 10 years. And it's going to take time to shift to be about people-based and about business-outcome based. So we think it's incredibly important."
The shift towards a higher knowledge of where ad campaign money is going and a greater demand for performance insights puts Atlas in a favorable position due to the scale of Facebook and the user data that it generates on so many levels.
Audience Network
Audience network allows app developers and mobile web owners to earn advertising revenue through targeted ad placement. When utilizing the Audience Network, the app or mobile website owner may choose between 3 types of ads:
320x50 Banners appearing at the top or bottom of an app/site. Full-screen interstitials that appear before or after an event occurs. Native ads that are customized for the app or website so as to continue a broad theme or design that is utilized in the app or website already.
Three examples from Facebook are as follows: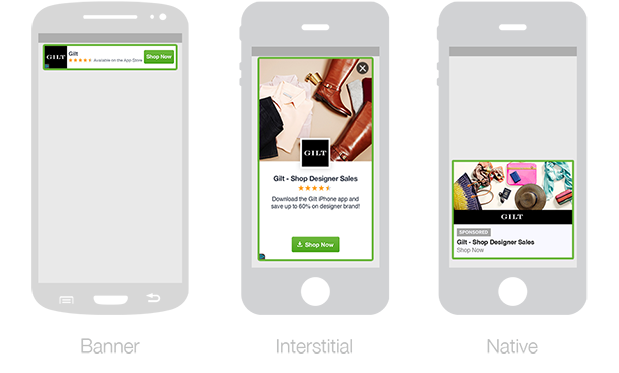 Audience network allows advertisers to reach a greater audience with more precise targeting versus when only NewsFeed ads are utilized. Adding on to this, we put a special emphasis on native ads where they are curated to flow with the app or website design and are more likely to retain visitor/user engagement with the app or site content. According to The Next Ad:
"Majority of mobile app install advertisers that utilized audience network saw cost per installs equal to or better than News Feed" and Audience Network provided "6-10% incremental scale for Facebook campaigns (4% additional unique users, 5% more outcomes)"
Although Facebook publishes limited performance metrics for Audience Network (releasing data that in Q4 2015, ad run-rate reached $1 billion), we can shine some light on the importance of developing Audience Network further. As stated previously, native ads are important to the development of the Audience Network. According to an IHS study released in March 2016 and summarized by Yoav Arnstein:
"63.2% of all mobile display ads will be native by 2020, summoning $53 billion in total advertiser spend."
The researchers do note, however, that the in-app native first party ads such as Facebook News Feed ads and Instagram will continue to dominate the native ad market, but third party mobile display ads such as the ones that are presented through the Audience network will represent 10.6% ($8.9 billion) of the mobile display ad market by 2020. Yoav also states that the percentage of apps on the audience network using native ad formats has increased tenfold (to 50%) since Q1 2015 and currently make up 83% of Facebook's entire network.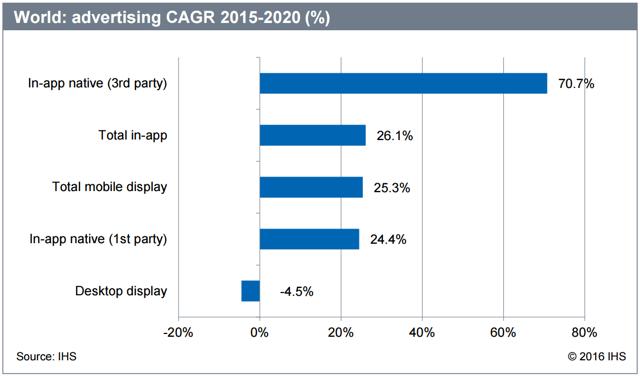 As is shown, in-app native third party will grow the fastest compared to any other electronic advertising means. Although this is a high growth segment, we do realize that the actual expected share is relatively small at 10.6%, of which Facebook is very well positioned to have a significant share in through the Audience Network.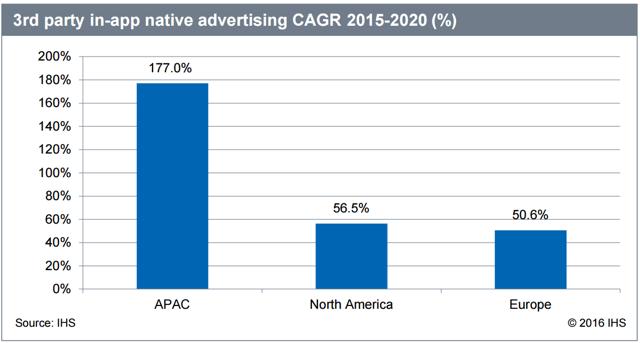 The Three-Way Network Effect
Using everything that was laid out in the above writing, we can present a simple logic for how Facebook creates value for users, advertisers and Facebook itself. To begin, we use Liebowitz and Margolis' definition of a network effect to demonstrate our basic thinking:
" a change in the benefit, or surplus, that an agent derives from a good when the number of other agents consuming the same kind of good changes."
We outline how 3 of the main network participants realize network effects through Facebook:
The user - When people join a community where they can interact and communicate with other users, it is clear and obvious that an increase in the number of other users boosts the value of the experience for the user just because they have more people to engage with in one place. Drawing from the research posted earlier in this report surrounding social logins, we believe that similarly to users' reluctance to create a form and remember passwords for different sites, users do not want to switch between too many independent platforms to interact with each other as this would reduce the value of each separate network (unless they were integrated). On a lower, more questionable level, when the number of advertisers increases, the set of ads that would be relevant to a given user increases in quality. From this, we could hypothesize that a user gains utility through product or service discovery versus a scenario where the user's ad exposure had remained the same.
Advertisers - As the number of users increases, the targeting quality of Facebook's algorithms increases. We have seen that through different methods of targeting optimization and ad delivery, the true value of targeting to an advertiser increases in tandem. On the other side, we could also make an argument for advertisers gaining value through an increased number of other advertisers utilizing Facebook's ad space. The logic behind this is also enhanced targeting where users interact with other ads and create the ability to make quality custom or lookalike audiences for current users. To counter this positive network effect, supply and demand play a role in any auction-based system where all else equal, an increase in the demand for ad space will increase the price charged per ad. Despite this relationship, we have to look at what drives demand for ad space. Given a finite inventory for ads, optimization and targeting would be the best external driver of demand and thus better quality ad targeting will drive up the perceived value of each ad. This value discovery is unlocked in Facebook's bidding process which is a Vickrey-Clarke-Groves Auction where in short, the price an advertiser is charged for an ad is a function of the amount they understate the value of an impression versus other bidders. The optimization and targeting for ads is exemplified by Facebook's historical Y/Y growth of ad impressions vs. the average price charged and the resulting overall growth of ad revenue shown in the following figure.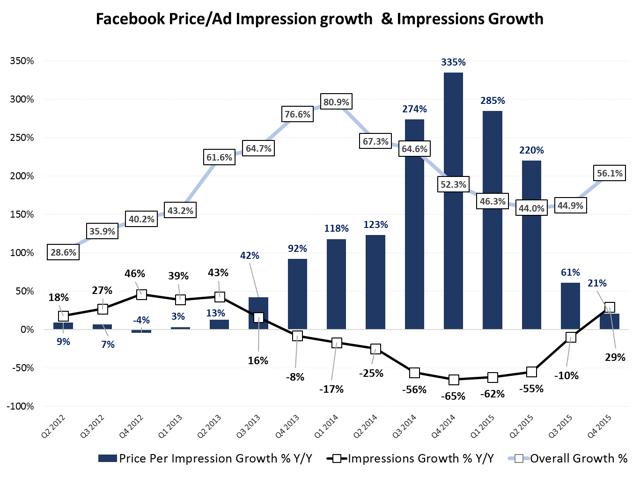 Facebook - It is no question that Facebook's value is a function of the number of users and advertisers that participate within their entire network. On the user side, continued growth of Facebook's SSO, the Audience Network, Atlas and tracking tags such as Facebook Pixel (among other things) will allow Facebook to gather more quality data and dive deeper into its users. As is stated many times in this report. Any incremental user data that is gathered enables Facebook to create more accurate targeting for advertisements. As well, with any incremental increase in the number of users on any given platform that integrates Facebook's marketing tools will increase Facebook's ad inventory. The loop feeds itself with more users resulting in higher quality targeting thus commanding a higher price per impression as well as a larger potential audience for these ads. In the most recent quarter, Facebook demonstrated this principle with both the number of ad impressions and price per impression increasing for the first time since Q3 2013.
Competition
It may seem as though Facebook faces heavy competition but we assert that Facebook's competitive position is unthreatened. The social aspect and the depth of data that Facebook can collect from users is unparalleled and it does not seem as if any other competition can even come close to obtaining data of comparable quality. Below are summaries of who we believe are Facebook's biggest 'competitors'.
Twitter - (NYSE:TWTR)
Everyone knows Twitter as the pioneer of microblogging, however, Twitter is fighting an uphill battle against Facebook. Twitter lacks the UI and capacity for engagement between people and content. Because of this lack of engagement potential, Twitter's growth is slowing rapidly; Q4 2015 MAUs were 320 million and increased 13% Y/Y. Despite this Y/Y increase, sequentially the growth in Twitter's user base was stagnant. Ad pricing and impressions' overall growth is also slowing at a rapid pace as shown in the following figure.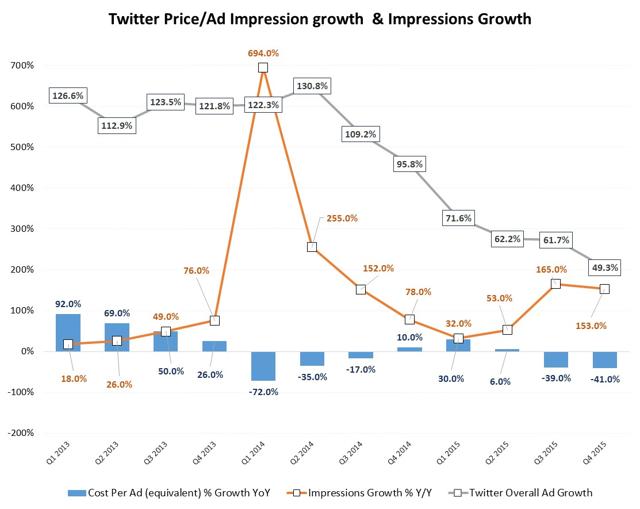 What we take away from this figure is that the cost per ad is falling drastically and may be a signal that advertisers have found better outlets that offer more accurate targeting. As well, as the cost per ad falls, we can infer that Twitter may be increasing its ad inventory per user (153% Y/Y increase in ad engagements/impressions, yet only a 13% Y/Y increase in MAUs) and thus impairing the experience that the user has while on Twitter. When these platforms that offer better targeting are utilized, a higher return on an advertiser's ad spend will be realized. If we compare the overall ad revenue growth with Facebook, we notice a slightly positive correlation between Twitter and Facebook's overall growth changes (i.e. the growth of the growth) that has spikes of negatively correlated periods. Recently, this correlation has gradually shifted to become negative in favor of Facebook's overall growth.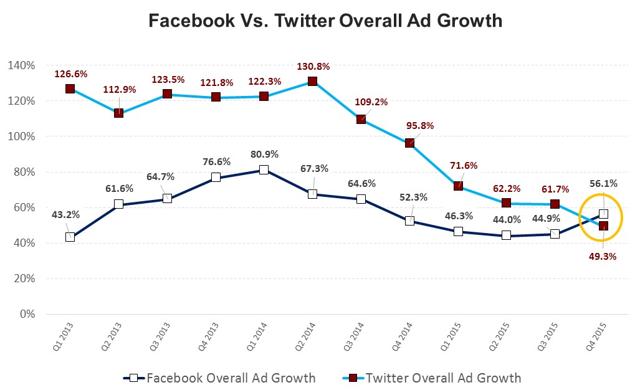 After visualizing overall growth in this manner and combining it with just a low-level analysis of each business, we confirm that Twitter is not a threat to Facebook's advertising market share.
Alphabet - (NASDAQ:GOOG) (NASDAQ:GOOGL)
Although Google (Alphabet) is seen as a major threat to Facebook in the advertising space, we do not believe that their main segments and delivery methods will collide, except in video. Google's cookie-based DSA and measurement platform has been adopted by many marketers and could be the main barrier to entry into third-party cross-platform measurement and ad serving. This is a threat to Atlas, Facebook's DSA and 'people-based' measurement platform and the barrier to entry into a third-party demand-side market is made higher when we consider that YouTube or any Google product will not be compatible with Atlas in the near future. In the long term however, we believe that Google's sub-par targeting (and mistargeting) coupled with forced ads on YouTube will lead to either the adoption of Atlas and people-based advertising, or an effort to create another social network in an attempt to gain deeper data. We do not believe it will be the latter after the failed launch of Google Plus. As the advertising space changes and the shift to native mobile display furthers, we see Facebook maintaining its dominant position in the mobile ad display space.
With Facebook having 80% of its advertising revenue come from mobile ads, they are ahead of the curve with regards to developing mobile ad solutions that are the industry standard.
Snapchat - (CHAT)
Snapchat boasts over 100 million users and reports that users "watch" 8 billion videos per day. This seems to be on par with Facebook's reported 8 billion, however the method by which video views are recorded on Snapchat is much worse and misleading than if the industry standard were employed. The industry standard for recording a video view online is 2 seconds; Facebook uses 3 seconds as the threshold and Snapchat uses the moment a video is rendered on a user's screen even if the video is open for a fraction of a second. This recording methodology paired with recent developments in Snapchat's UI leads us to point out the likelihood of metric inflation.
Recently, Snapchat updated the app so that a user's story would 'roll' meaning that once someone watches another user's story, the story of the user that posted their story earlier in the sequence is automatically loaded and played. This video 'view', even if it is not intentional, effectively forces a user to watch another story and as a result, Snapchat logs another video view. In our view, there could be two different motives for the aspect of this update and the method by which video views are calculated by Snapchat.
Forced monetization - not providing users the option to leave another user's story unwatched could be a signal that Snapchat plans to place ads in-between a user's story and have users leave an impression on the ads that they are served. This theory does seem far fetched due to the fact that users will most likely respond very negatively to such an approach to monetization. If Snapchat decides to use this method, we believe that the motive is ill-intentioned because of the inflated engagement metrics that Snapchat would report to advertisers and the inherent lack of quality impressions they would provide due to poor targeting capabilities.
Gaining advertiser commitments - building on the last point, typically heightened engagement metrics will attract advertisers to advertise on that platform. Because Snapchat has limited user data, without an API to gain a deeper understanding of their users and target them, they would be shooting fish in a barrel with their advertisements without the use of an external API.
To possibly remedy the above ill-mannered tactics, we believe that Snapchat will have to resort to either a solicitation of a sale to a company (i.e. Facebook) that has the capacity to target efficiently in a cross-platform manner or engage in a partnership with a DSA such as Atlas due to Snapchat's mobile-only characteristic. We do not believe that Snapchat will IPO in the near future due to the dampened IPO market as of late.
Virtual Reality
Facebook acquired Oculus, a Virtual reality software and hardware company, in 2014 for approximately $2 billion consisting of $400 million in cash and 23 million Facebook shares. Oculus develops physical headsets and peripheral accessories in addition to providing a platform for which developers can integrate Oculus' Virtual Reality technology into their products. Recent commentary indicates VR will first be introduced as a new way to play video games and will eventually move into broader categories where enhanced visuals are able to add value to a product or service and will also be used as a connectivity medium. As VR is a segment where no widespread adoption has ever been present, we can only guess what VR technology will be applied to, but at the moment it seems like its potential applications are extremely wide reaching.
On January 6th, Oculus opened pre-orders of the Oculus Rift VR headset and the opening demand was extremely high. Buyers were given estimated shipping dates with their orders that spanned out to June due to the higher than expected influx. Shown below is a graph visualizing unique and total US monthly visits to Oculus.com since September 2014. Growing visits throughout the development stage indicate outside consumer interest in the product and during December and January, visits indicate potential and actual buying customers for the pre-orders. This web traffic tapered off in February and recovered to January levels in March. We expect flat-down metrics through Q3 2016 and expansion in late Q3 2016 through the holiday season. Website metrics were sourced from Sentieo and the data is pulled from compete.com.
In addition to positive traffic data, I note that according to Easycounter, shop.oculus.com accounts for the highest proportion of total page visits (19.32%) when compared to any sub-domain on the site. In combination with Mark Zuckerberg's optimistic words regarding the launch success, using estimated order number data it would not be unrealistic to assume that Oculus has received approximately 1.1 million pre-orders for Oculus Rift with approximately 350,000 shipping through the end of March 2016. At a static price point of $599 USD, revenue realized in Q1 2016 will be in the range of $200-220 million and deferred revenue will increase by approximately $450 million. For FY 2016, I expect 1.4-1.6 Million units to be sold and revenue earned will be in the range of $800 - $900 million. It is worth adding that in addition to the shop.oculus.com sub-domain popularity, the developer site holds the second most popularity with regard to page views at 8.06% of all website traffic.
Financials and Projections
We base our estimates primarily on user growth and increasing ARPU based on increased mobile usage and growing DAU/MAU metrics.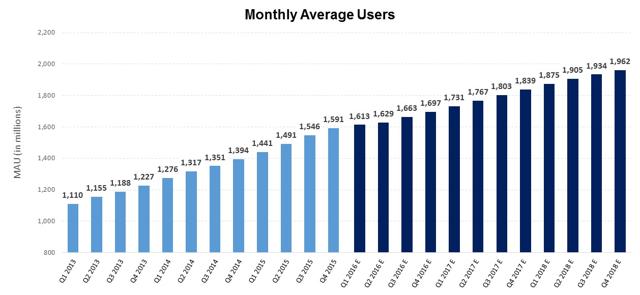 Overall MAU and DAU projections and regional projected metrics are shown in the figure below.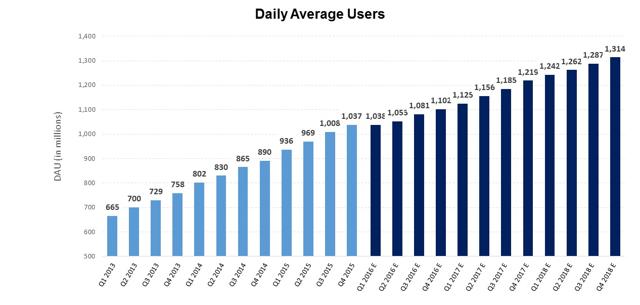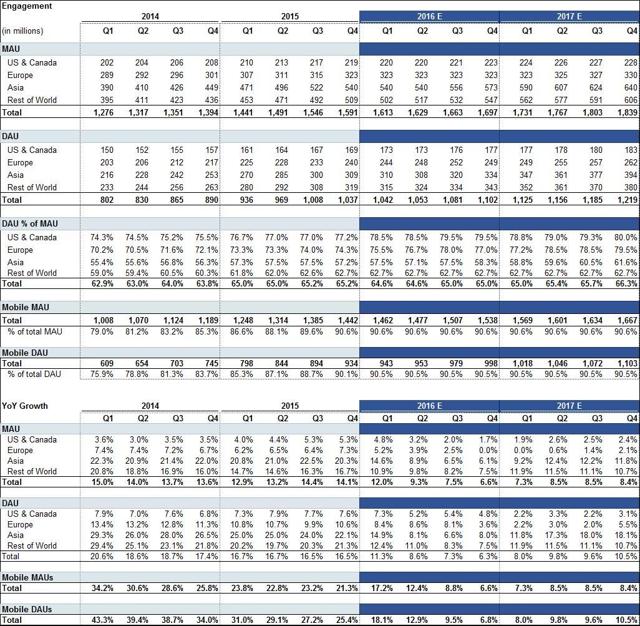 Using our projected DAU and MAU, we regress regional DAU/MAU% to the LN of regional ARPU for each quarter (to account for the seasonality that exists in Facebook's revenue). Using the DAU/MAU% as the dependent variable, we are left with the LN of the ARPU for that region. With the resulting regional ARPU, we use the associated MAU and determine the revenue (excluding Oculus) that would make the ARPU equal to our estimate.
Our overall quarterly revenue projections for the next three years and resulting ARPU are shown in the figures below.

In creating pro forma financial statements, we typically used historical percent of a relevant benchmark where the volatility of the % metric is historically low. On the income statement, we created adjusted line items for various operating expenses, that when deconstructed, show evidence that Facebook's operations are extremely scalable. For all operating expenses, Facebook allocates share-based compensation across them depending on which area of their business the share-based compensation is applicable. We removed share-based compensation for all accounts to generate a raw baseline for a % growth for each item and its resulting beta vs. sales growth. For cost of revenue, depreciation and amortization are included to reflect the usage of server equipment that must be invested in to support higher user levels across all platforms. We used % of sales, and maintenance and growth capex to determine whether the resulting depreciation would be similar. When raw cost of revenue was regressed against sales, we noted that cost of revenue exhibited a favorable relationship vs. sales since it increased at a slower rate than sales increased. Interest expense/income is noted to be immaterial as Facebook's line of credit is not drawn down and only the administration fees are included. These fees will be offset primarily by cash yield.
The following figure shows our projected income statement both quarterly for two years and yearly for 5 years.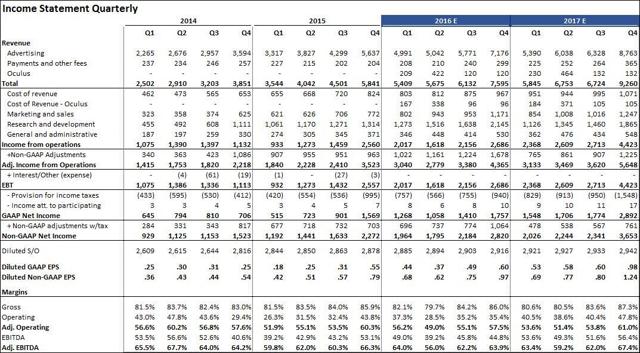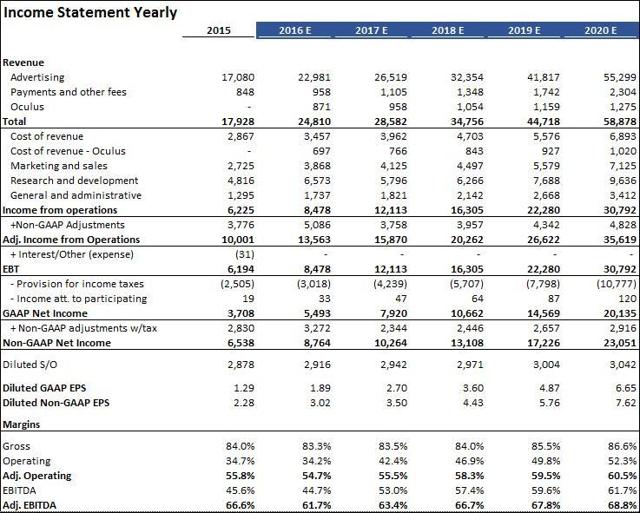 For our valuation, we used a 10-year DCF and a perpetuity growth method. We chose a 10-year over a 5-year to avoid having a large jump from FY growth rates in 2025 to a long-term perpetuity growth of 2%. We understand that forecasting is less accurate the farther out the forecast, however, if we use a 5-year DCF and apply a heightened perpetuity growth rate of ~6%, we arrive at a similar valuation. For cost of equity, we used the 10-year treasury as a benchmark for the risk-free rate and 6.7% for ERP. The Beta we decided to use was an average of the 3-year, 2-year and 1-year weekly betas for Facebook. Since Facebook has no interest-bearing long-term debt, their WACC is equal to their cost of equity which we figured was ~8.5%. We used a conservative terminal growth rate of 2% to reflect expected levels of target inflation. The figure below shows the sensitivities to our valuation.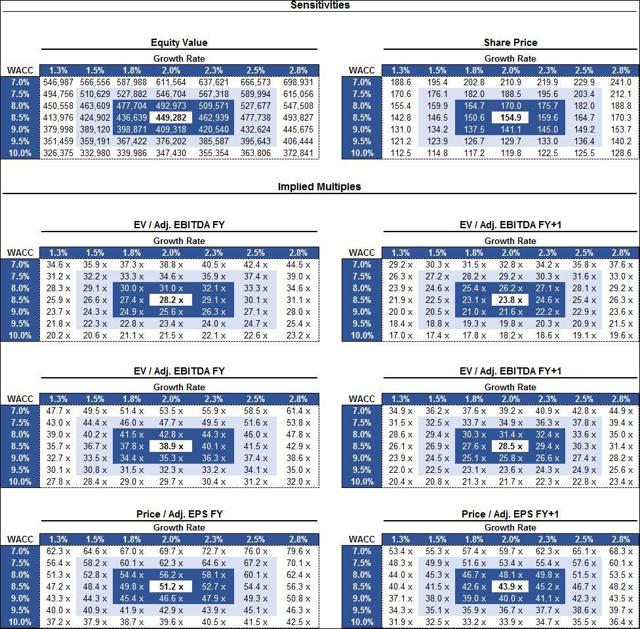 Conclusion
Through this report we outline what we believed were fundamentally key facets of Facebook's business that will enable further rapid growth in monetization. Through every platform that is used by either advertisers or users, Facebook allows three-way network effects to be realized that are unparalleled by any other social network due to the richness of data that Facebook poses. These three-way network effects are what we believe to be the largest synergies that have been realized from prior acquisitions and thus, had these acquisitions not been made or integrated into Facebook, the growth potential of Facebook would almost certainly not be where it is currently. Through a 10-year DCF, we conclude that Facebook is undervalued and initiate coverage with a $155 price target. Some opponents to a 10-year DCF should realize that a 5-year DCF with heightened perpetuity growth assumptions yield a similar result, albeit the range of valuations becomes larger under a 5-year model.
This article was written in collaboration with Alex Preobrazenski, an Altum Research contributor.
Disclosure: I/we have no positions in any stocks mentioned, and no plans to initiate any positions within the next 72 hours.
I wrote this article myself, and it expresses my own opinions. I am not receiving compensation for it (other than from Seeking Alpha). I have no business relationship with any company whose stock is mentioned in this article.