'Big 4' Advertising Agencies, Part 1: Introducing The Companies And Industry
Summary
The advertising world is dominated by the 'Big Four' agencies: WPP, Omnicom, Publicis Groupe, and Interpublic Group of Companies.
In this series I compare and contrast them.
Both the industry as a whole and these companies specifically look set for strong secular growth going forward.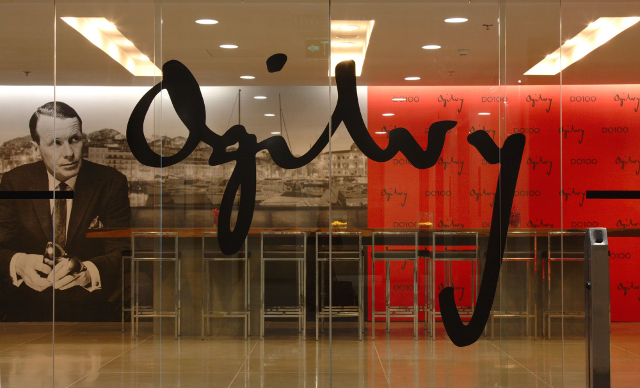 We are immersed in advertising. I doubt few of us are able to travel more than a few minutes into a day before we are hit by one piece of advertising or another. Of course, behind every advert an individual or business which has designed and arranged the advert. Dominant in this space are the "Big Four" advertising agencies.
These four advertising behemoths are equally spread between the US and Europe. The US-listed ones are Omnicom (OMC) and Interpublic Group (IPG). The Europe-listed ones are London-listed WPP (WPPGY) and Paris-listed Publicis (OTCQX:PUBGY).
Growing ubiquity of advertising in emerging markets alongside growing complexity of the advertising landscape in developed markets have made these advertising giants increasingly well-placed for growth. Yet which are more attractive today?
I plan to compare the big four alongside one another. Don't worry, I am not going to load all this up into one article. Instead, I am going to provide this comparison over a series of articles. Here we will start with a general introduction leaving us with a better understanding of the attractions of the sector.
Later installments will look more fully at their relative performances across a number of metrics. Revenue, earnings and margins will be compared alongside cash flow and debt strength. Shareholders' return will also be compared before we take a look at their relative valuations. So, let's get started.
Who Are the Big Four?
The big four are made up of a complex of smaller businesses. Niche operators ranging from pure-play advertising or public relations agencies to data businesses. The sheer complexity of this network of smaller businesses can be seen from this excellent graphic I have adjusted (data from R3):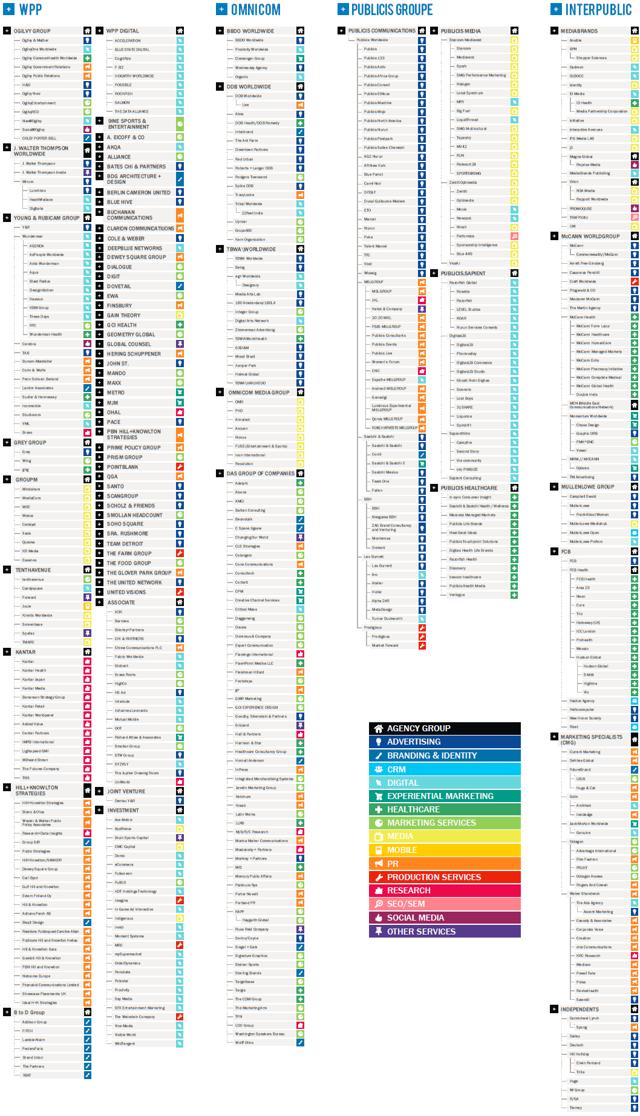 How Big are the Big Four?
Naturally, the big four advertising agencies are big. Yet it is clear that WPP and Omnicom are noticeably larger than the other two. Both Omnicom and WPP are about 50% larger from a revenue perspective than their next biggest rival. Yet it is British peer WPP which tops the revenue pile right now even with the strong USD: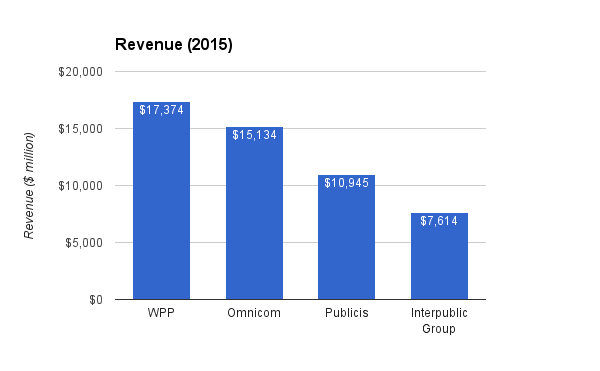 If we take revenue figures in 2006 it is clear that the European companies have grown most rapidly (note I have used the 10-year average exchange rates here). Whilst the US companies-Omnicom and Interpublic Group-have hardly seen no growth, it is clear that WPP and Publicis have significantly outgrown their US peers: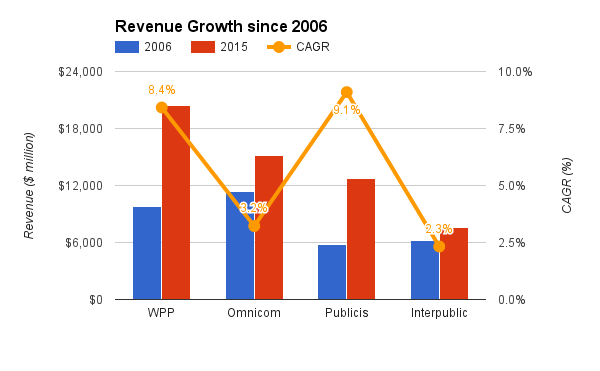 Indeed, as a result of this, Omnicom and Interpublic have gone from first and third position to second and fourth in the last decade. It should be noted that, although all rely on acquisitions to boost growth, Publicis has done this to a much larger extent with its Sapient acquisition.
Is Advertising and PR Really Attractive?
Advertising spending is expected to continue to grow at a healthy pace over the next few years: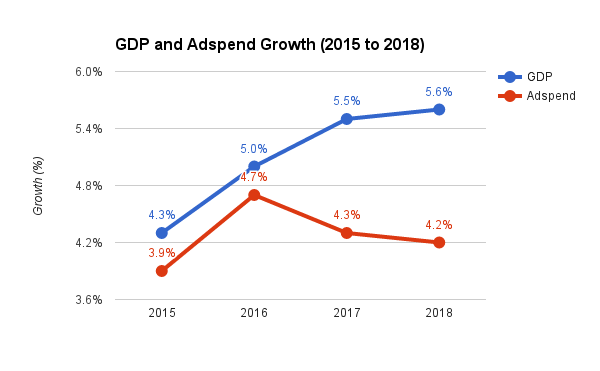 2016 is set to be helped by a series of advertising heavy events (the Olympics, US Presidential Elections, UEFA Champions League etc) hence the particularly strong performance. Nonetheless, there is reason to believe that the companies at hand will continue to grow ahead of the adspend market generally and GDP growth. Certainly, in recent years this has been the case: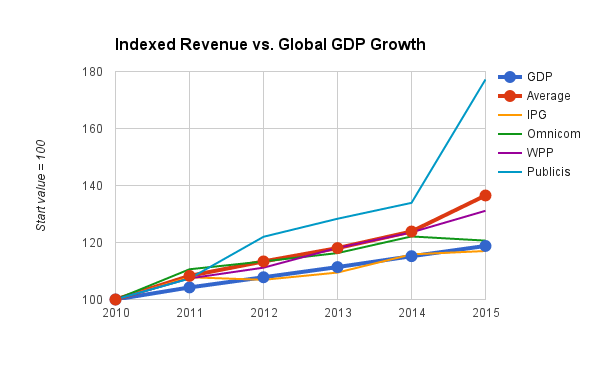 I strongly expect the future will see a similar growth outperformance by the big four over GDP.
So what about ranking the companies here. Well, I think that ranking them by their size is fairest:
WPP
Omnicom
Publicis
Interpublic
Publicis may well have seen faster revenue growth in the last decade than Omnicom. Yet this very heavily relied upon the massive Sapient acquisition. The impact of this will become more apparent in later parts of this series. For now, this seems a fair ranking.
Where is the Growth Coming From?
Yet adspend growth is not expected to be equally spread across the globe. Indeed, some regions are anticipated to experience adspend declines:
Yet not all advertising giants are equally spread geographically. In fact, when it comes to geographical spread WPP wins hands down: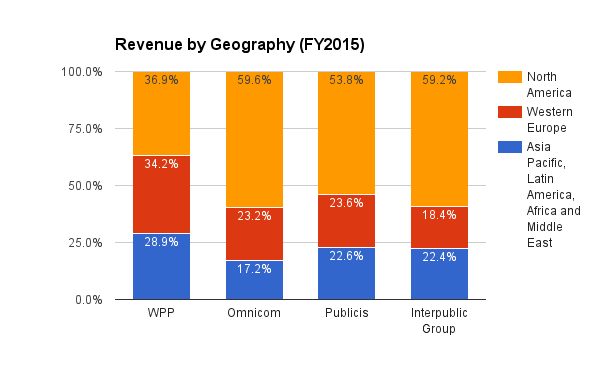 WPP is understood to have $1.2 billion in revenues from mainland China. With Taiwan and Hong Kong added to that they derive $1.65 billion from the region.
As it happens, it is hard to argue against WPP's attractions here. According to ZenithOptimedia data, the three biggest contributors to adspend in USD amounts will be the US, China and the UK: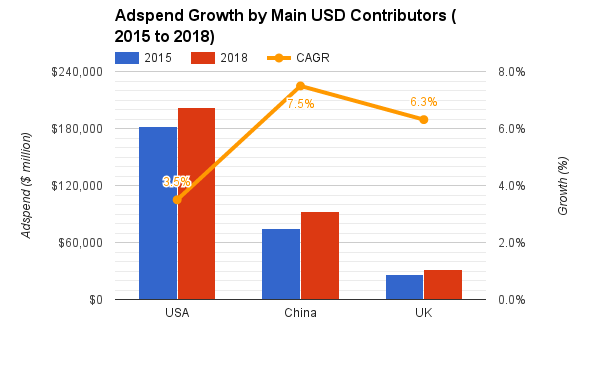 This plays, rather perfectly, into WPPs revenue strengths. Its three largest markets are set to also be the three biggest growers in terms of USD spend. China is particularly interesting. It is already a fairly sizeable market. Yet rapid growth means that in USD terms, its expected to contribute new adspend in line with the US. It is clear WPP benefits here courtesy of its dominant position in China amongst the "Big Four" (R3 data):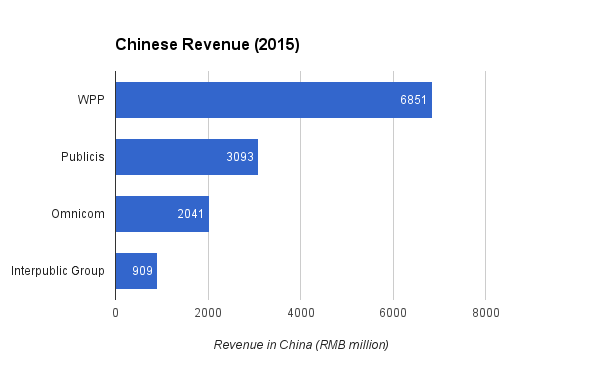 WPPs Asian dominance amongst the "Big Four" is also reflected throughout the broader Asia Pacific region: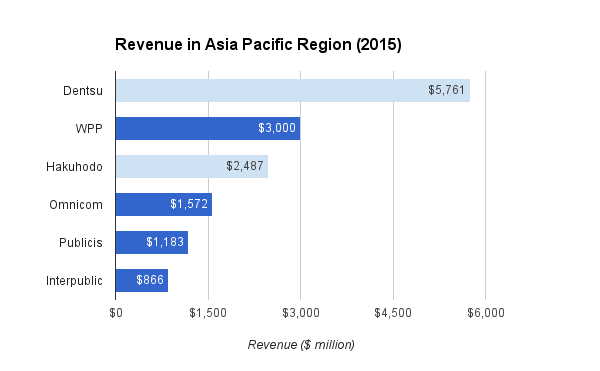 It should be noted, about 49% of Dentsu's revenues are from Japan where growth is expected to be much slower in coming years. The rest of the Asia Pacific region composes just 14% of revenues. WPP, in contrast, has extensive operations in a number of emerging growth countries. Historically this has helped them drive higher than Omnicom, this looks likely to be the same going forward.
Without more detailed knowledge of individual countries revenue contributions we are unable to see exactly how they fit together. Yet it is clear that WPP, in particular, has positioned itself strongly to be a chief beneficiary of growth catalysts in the sector.
So what about some rankings here? In terms of diversity, I think we need to rank them like this:
WPP
Publicis
Omnicom and Interpublic Group
My reasoning here is simple. Clearly WPP has the most compellingly diversified revenue stream and is well-placed in core ad spend growth markets. Publicis also has an attractively diverse revenue stream which edges it a little ahead of its US-listed rivals. Yet I find it hard to separate Omnicom and Interpublic leaving them in joint third.
Conclusion
This article merely set out to introduce aspects of the sector we will be covering in time. Nonetheless, what becomes clear is that all four companies have had solid growth histories and the industry (and its big four leaders) look set to continue to benefit from robust growth in future years.
Yet right now WPP appears to have shown itself to be the strongest performer in recent years which has led it to become the largest agency in the world by revenues. With it currently the best placed of the big four in key growth markets this seems set to remain in coming years.
If you would like to read the next parts of this series when they come out, please do consider following me. They will come out in due course.
Note: Unless otherwise stated, all graphs and tables, and the calculations they contain, were created by the author. Image reproduced from Curated by Kiki.
Editor's Note: This article discusses one or more securities that do not trade on a major U.S. exchange. Please be aware of the risks associated with these stocks.
This article was written by
A UK-based investor focusing on analysing and investing in attractive high quality, cash-generative businesses with strong dividend growth prospects.
Analyst's Disclosure: I am/we are long WPPGY. I wrote this article myself, and it expresses my own opinions. I am not receiving compensation for it (other than from Seeking Alpha). I have no business relationship with any company whose stock is mentioned in this article.
Seeking Alpha's Disclosure: Past performance is no guarantee of future results. No recommendation or advice is being given as to whether any investment is suitable for a particular investor. Any views or opinions expressed above may not reflect those of Seeking Alpha as a whole. Seeking Alpha is not a licensed securities dealer, broker or US investment adviser or investment bank. Our analysts are third party authors that include both professional investors and individual investors who may not be licensed or certified by any institute or regulatory body.