AltaGas (OTCPK:ATGFF) is a stock I have been watching closely. It is one of the most diversified Canadian midstream companies. The Annual General Meeting was held yesterday April 20th, 2016 in Calgary, Alberta, Canada and the Q1 Earnings Conference call was held this morning at 9

a.m. MT. As I have a full holding in AltaGas at approximately 3.5% of the portfolio, and have purchased recently, I was listening in on the AGM and the call.
From the news release: AltaGas "reported first quarter 2016 normalized EBITDA of $178 million, consistent with the same quarter of 2015. Normalized funds from operations were $132 million ($0.90 per share) for the first quarter 2016, compared to $140 million ($1.05 per share) in the same period 2015. Normalized net income was $38 million ($0.26 per share) for the first quarter 2016, compared to $57 million ($0.43 per share) in the same period of 2015."
Analysts expected EPS of $0.33 and results were $0.26, a substantial miss. ALA has missed quarterly expectations for the last two years. Whose fault is this? Is ALA not meeting their guidance and poorly executing or are analysts not forecasting correctly? I found it interesting to note that there was only 1 analyst weighing in for this quarter. There were 3 analysts predicting the annual earnings. Maybe that is the reason. On a much larger company, the average of a dozen analysts is likely to be more accurate than one individual. I am not really able to answer that question, of either why, or how much weighting should be given to one person's estimates, so, for now, I will set aside expectations and look at the growth picture of ALA. I want to be able to confidently say I am investing in a growing company with great possibilities for the future. Otherwise, I will move on to another company.
"Our first quarter results keep us on track to deliver approximately 20 percent growth in normalized EBITDA and up to approximately 15 percent growth in normalized funds from operations for 2016." says CEO David Harris.
This is not the comment of someone who has regrets about their performance, nor did I hear anything that could be construed as such.
New Projects
A number of new projects are contributing to growing earnings this year. This is the first full year that the three San Joaquin gas-fired electricity facilities, purchased November 30th 2015, will be contributing to earnings. This is the also first full year that the Mclymont Creek hydroelectric facility AltaGas built is running. The Townsend gas processing facility being built is 85% complete, and is expected to be completed under budget. It will also contribute to earnings this year. On the utilities side, a strong rate-base growth of 4-7% is expected for this year. I found it interesting to hear that most meters are read by airplane now, avoiding the issue of dog bites.
Headwinds
EBITDA of $178M was in line with Q1 last year. For this quarter, EPS was impacted by higher depreciation and amortization expense mainly due to new assets placed into service. The strong US dollar also had an impact. Net income was also affected by higher interest expense for the first quarter of 2016 compared to 2015 mainly due to the higher average debt outstanding and lower capitalized interest, and the impact of higher preferred share dividends. This was partially offset by lower interest rates. AltaGas has had a strong hedging program most of which expired last year, but only 1% of 2016 forecast is based on commodity price. They are not counting on material near term increase in gas prices to drive growth.
We have had an unbelievably gorgeous spring here in Alberta. It was actually 27 degrees the other day in Calgary. Snow has been comparatively sparse this year. I have been thinking about the water tables and snow pack and wondering about the hydroelectric facilities. The unusually warm, dry weather has been a bonus for building the Townsend facility, but is generally a substantial headwind for the company in terms of sales and revenue and is considered the biggest headwind facing the company for the quarter.
Other projects in the works: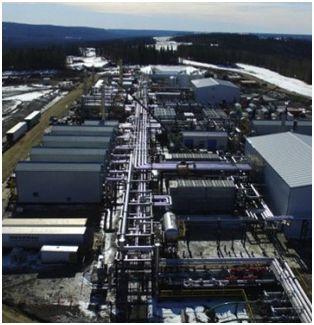 North Pine liquids separation facility is being planned near Fort St. John, British Columbia, Canada. The engineering and design study has been completed. Decisions are expected to be finalized in 2016 with operations beginning in 2018. This facility will connect with the Ridley Island Terminal. The environmental review process has begun for the Ridley Island Propane Export Terminal near Prince Rupert, B.C. Preliminary engineering is complete.
In the early stages is another liquids separation facility in the Deep Basin area of Alberta.
Changes in the works at the San Joaquin facilities and they are expanding beyond California into Nevada, Arizona, and New Mexico. Five years ago there was no presence in the US, now 50% of EBITDA comes from the States.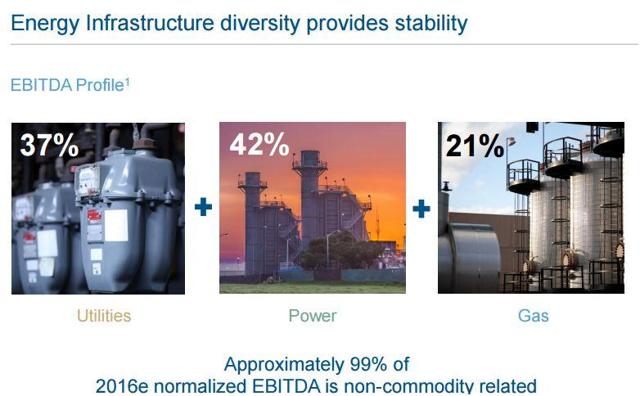 All projects present and future are fully contracted. At the AGM, management stated that this is expected to drive 50% growth by 2020 relative to 2015. How many companies are saying anything close to doubling earnings over the next five years?
"AltaGas maintains financial strength and flexibility, investment grade credit ratings, and ready access to capital markets. AltaGas has solid cash flow and is fully funded and well positioned for 2016." AltaGas' has 48% debt to total capital in line with historical levels. I am not seeing any balance sheet issues.
Management talked about their vision and strategy and that investors should not expect any change. They are looking at future growth and looking to buy into the current commodity weakness: "We will be active in taking advantage of market opportunities."
"As we start out 2016, we have a strong diversified base business coupled with a healthy balance sheet. We also have a lot of exciting opportunities in front of us that we expect to come to fruition, but as always we will be disciplined in pursuing them." David Harris
AltaGas expects capital expenditures in the range of $550 to $650 million for 2016.
"Safety and environmental stewardship is the price of entry in this business." This topic was discussed more at the AGM than the conference call. AltaGas has an excellent record and is looking to be best in class in this area. One of AltaGas' other goals to be the lowest-cost provider. Construction has been in-house and it was stated that this has provided significant cost savings.
One of the growth areas is the need for the gas-fired facilities in California. During peak electricity use hours - before and after work - green energy has trouble fulfilling the needs. The sun may not be up yet, and the wind may not be blowing. In the past nuclear generated the necessary power, but those facilities are being taken offline. Natural Gas and AltaGas are positioned to meet the need. At the AGM they showed a pie chart with California's power source changing. I found it quite interesting, but cannot find it to share. If I remember correctly nat gas use has gone up about 20% yoy mostly due to the demise of nuclear.
At every meeting there are questions about the stability of AltaGas' clients in the current energy environment. Counterparties are 90% investment grade which they state will help them weather the storm. No material allowances have been taken or are expected for 2016. AltaGas has low risk, long-life assets and long-life clients. Cost of service contracts average 10 years and take or pay average 17 years.
The dividend was held steady at $0.165 monthly. The discount for reinvestment will be reduced from 5% to 3% for the May dividend. Today is an ex-dividend date and the next is May 20, 2016. Next earnings report will be July 30, 2016.
I did not find anything in the AGM, earnings report, or conference call to make me lose confidence in the company, its assets, or the execution of the management team. In many ways this earnings session seemed to be simply 'business as usual'. Management seems to have no problem with their earnings report and were very positive about the upcoming projects and the execution that has happened so far.
"2016 looks to be a very promising and busy year for AltaGas where we expect strong shareholder returns....we're moving a lot of exciting growth opportunities forward."
Disclosure: I am/we are long ATGFF.
I wrote this article myself, and it expresses my own opinions. I am not receiving compensation for it (other than from Seeking Alpha). I have no business relationship with any company whose stock is mentioned in this article.
Editor's Note: This article discusses one or more securities that do not trade on a major U.S. exchange. Please be aware of the risks associated with these stocks.