In this article, I want to discuss an interesting trade. The trade is based on the important leading indicator: ISM. The ISM industry analysis showed that the information industry is doing extremely well while computer and electronics are suffering since quite a while.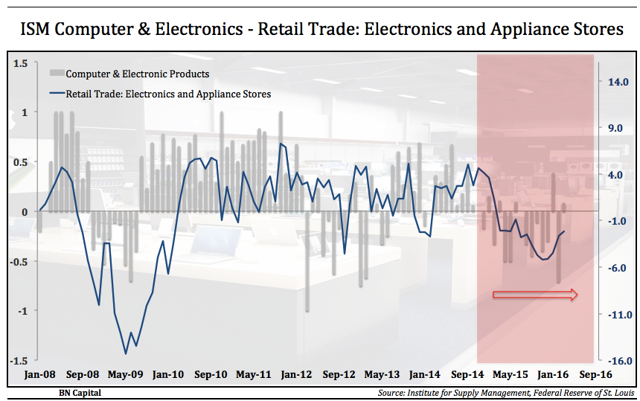 ISM computer and electronics are indeed leading as shown above. Official retail data shows that electronic sales are contracting after growth slowing started. Moreover, it doesn't look like there is any significant growth on the mid-term.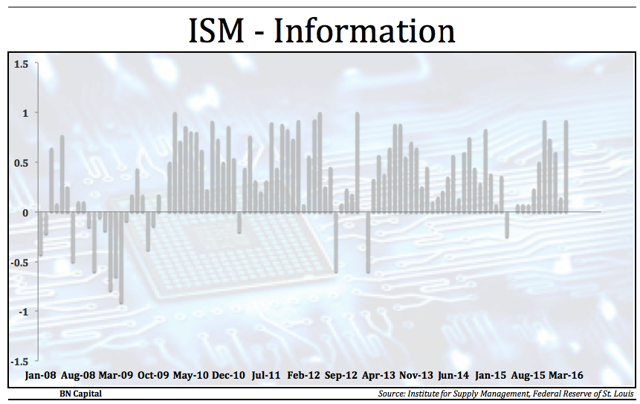 Information is doing incredible well. After some struggles in early 2015, we see that the industry is one of the strongest non-manufacturing industries at the moment (index is close or at 1.00).
The difference between those two industries looks is displayed in the graph below. The difference is calculated really simple. Information sentiment index minus computer and electronics sentiment.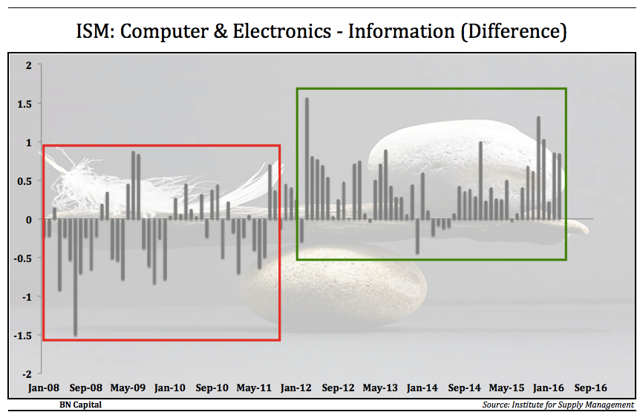 Information has been the stronger industry since 2012 with a dip in mid-2014.
In order to benefit from this sentiment, it is important to trade stocks that do their business in these industries. On the long side, a strong information stock and on the short side, a company that sells or produces computer electronics.
On the long side, I chose the company that was formerly known as Google and has changed its name in 2015. Everyone knows what I am talking about: Alphabet (NASDAQ:GOOGL) (NASDAQ:GOOG).
The company has a high correlation with the information sentiment indicator. That is the most important thing of all. Furthermore, the company is not extremely overvalued. Alphabet is trading at 34 times earnings while growth is expected to be 15.6% on average over the next five years.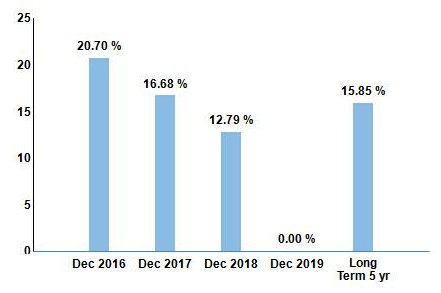 Source: Nasdaq
The PEG ratio is at 2.18. Not too much if you consider where the average technology stock is trading at. On top of that, 27 out of 32 analysts give the stock a strong buy recommendation. I completely agree with them. Alphabet is rock solid and one of the most innovative companies in the world. The amount of unsystematic risk on the long side of this trade is extremely small.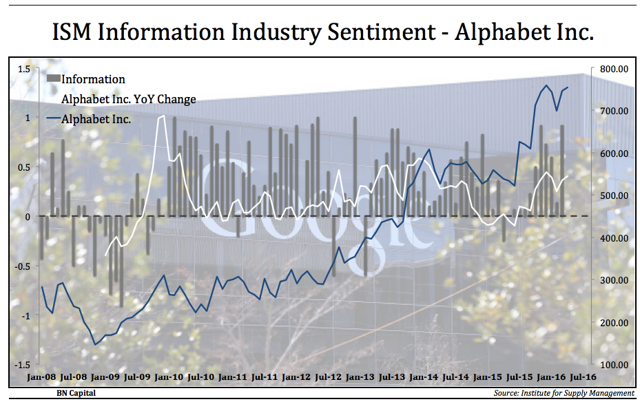 On the short side, I chose HP (NYSE:HPQ). Although HP is offering a broad range of business solutions, the company is still extremely dependent on the consumer. 61% of its revenue comes from personal systems. Slightly down from 62% one year earlier.

Source: SEC, HPQ 10-K
HP is currently trading at 5.77 times earnings. And there is a reason for that. Not only have earnings been decreasing 7.8% during the last five years, future outlook is that the company is going to see EPS down another 1.3% over the next five years.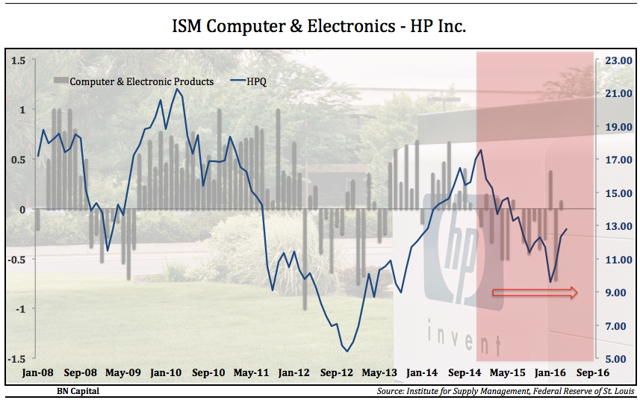 The stock price of HP has been suffering too. The rally that started in 2012 ended when computer and electronics sales declined. The stock price rallied recently because of short covering and a global market rally.
I believe that Alphabet is going to outperform HP during the next few months. Leading indicators strongly indicate such a scenario and have been proven right. Moreover, the trade is market neutral. I personally don't like outright bets under these market circumstances and don't advise my clients to do so either.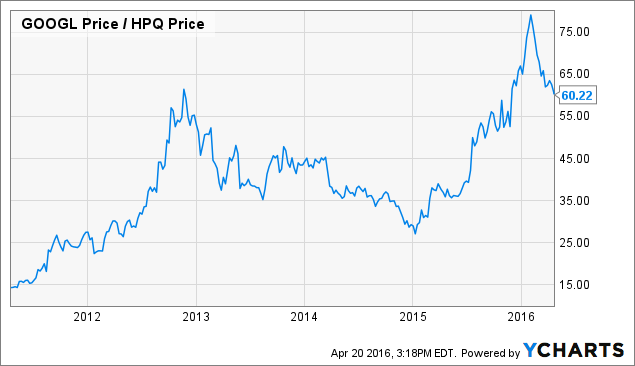 Fundamental Chart data by YCharts
I have not given a buy signal for this trade because I think the ratio spread will fall towards 55.00. At these levels, the trade will be a great addition to everyone's portfolio who is interested in hedging and trading macro themes rather than going outright long or short.
Please note that this trade is an intra-sector, cross-industry trade. This trade is purely based on the fact that Alphabet is going to outperform HP (cross-industry). Since both companies are in the same sector (technology), we are neutral technology and make money if information technology is outperforming computer and electronics.
To me, the trade is clear. Indicators are backed by fundamentals. Alphabet is not too expensive and offers a good amount of growth while HP reflects the computer and electronics' struggles.
Disclosure: I/we have no positions in any stocks mentioned, and no plans to initiate any positions within the next 72 hours.
I wrote this article myself, and it expresses my own opinions. I am not receiving compensation for it (other than from Seeking Alpha). I have no business relationship with any company whose stock is mentioned in this article.