In the last 12 months the S&P 500 (NYSEARCA:SPY) has been largely flat, putting on a gain of just 0.1%. While this is disappointing, spare a thought for shareholders of Waddell & Reed Financial (NYSE:WDR) who have had to endure a 52% decline in share price during the same period. This has left the stock at a very tempting entry price in our opinion, with a trailing dividend yield of 7.75%.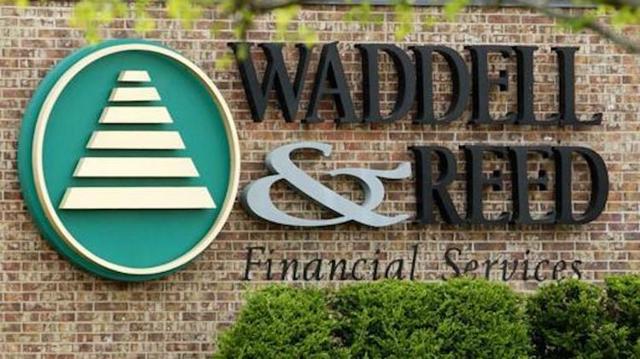 The company is engaged in providing investment management, product underwriting and distribution and shareholder services administration to mutual funds and institutional and separately managed accounts.
The rise of ETFs has seemingly been a big problem for Waddell & Reed, with many speculating that it will suffer from large fund outflows. We must not forget about the emergence of robo-advisers as well. These are growing in popularity and could be seen as very attractive ways of managing money for younger generations.
Its issues with junk bonds were a big negative that rattled shareholders, and it really didn't help matters when it was announced that marquee portfolio manager Michael L. Avery will be retiring on June 30, 2016. He is the portfolio manager of its largest mutual fund, the Ivy Strategy Fund. It has seen assets under management drop dramatically in the last two years from a peak of $36 billion two years ago to around $15 billion today. The fund's performance recently has been a little disappointing, though, following bets on China and gold that didn't work out too well. So this is largely to be expected.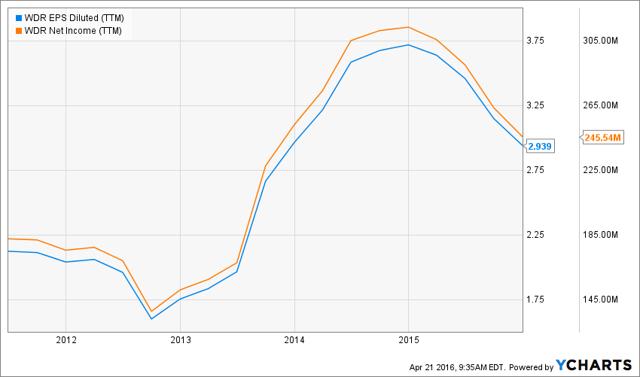 This led to earnings in the fourth quarter dropping by 22% year-over-year. That isn't at all what shareholders needed to hear after watching the share price trend downwards for the whole year. A real kick in the teeth. But at least the company is still incredibly profitable. There's no reason to panic just yet, and with the company stepping up its cost-cutting program, we could see a nice climb in margins in the next couple of years.
It hasn't all been bad news though. The company got a boost recently when it became apparent that the new fiduciary rule regarding management of retirement accounts was not as broker-unfriendly as first feared. The shares rose over 6% on the news, but still look like a great value in our opinion.
We still feel that when it comes to investments, there are a lot of people that like to put a face to the name. Robo-advisers and ETFs are brilliant, but they are faceless entities. Waddell and Reed has a strong presence throughout the United States with offices and advisors spread out across the country. This should limit outflows of funds in our opinion, helping to keep the company's bottom line pumping and dividend growing again from next year.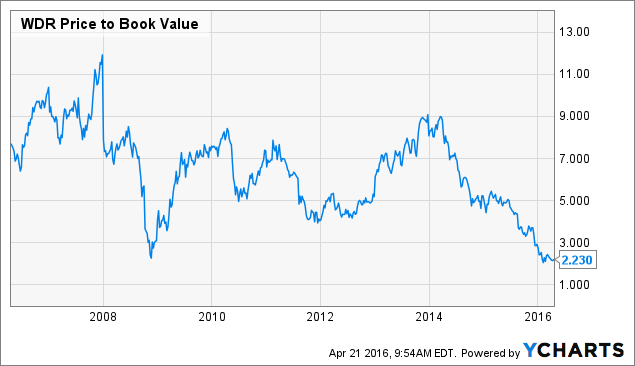 Shown above, you can see the stock is trading on the lowest price to book ratio in the last 10 years. For it to be trading lower than during the global financial crisis really does scream undervalued to us. Yes, things are not great and earnings will almost certainly be down this year, but the company is still generating positive free cash flow and thankfully we do see a turnaround coming.
The markets have begun to calm again now, following the market turmoil at the start of the year. Although flight-to-safety assets such as gold and the yen are flying high and being interpreted by some as a sign of a return of the market turmoil soon, we feel the state of the market now should be encouraging good fund inflows.
With this in mind we have a $25.00 price target on its head today. Its earnings are just around the corner and we believe a good result or just encouraging guidance could push the share price above this mark, giving shareholders a return of around 8%. It is worth noting that RBC Capital Markets recently reiterated an outperform rating and placed a $32.00 price target on the stock.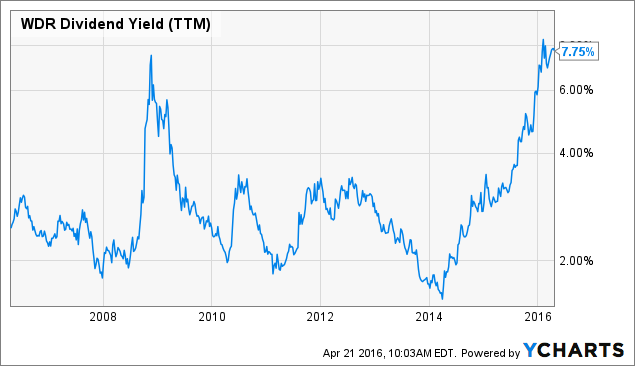 But ultimately, we are here for the fantastic dividend. The yield at the moment is just too good to turn down. Thankfully also, it is the result of a 59% payout ratio and has a dividend cover ratio of 1.7. So even with an expected drop in profits we feel it is entirely sustainable.
For us, this is a no-brainer. Buying in ahead of earnings does come with an element of risk though. Those with low risk tolerance might be better waiting until after the release on April 26. However, we feel there is limited downside from this point due to the battering the share price has taken in the last 12 months.
Disclosure: I am/we are long WDR.
I wrote this article myself, and it expresses my own opinions. I am not receiving compensation for it (other than from Seeking Alpha). I have no business relationship with any company whose stock is mentioned in this article.