Pimco Dynamic Credit Income Fund (NYSE:PCI) is currently my top Pimco closed-end fund pick. Of all the CEFs on the market right now, I find its risk/reward profile the most attractive for four primary reasons.
Material Change to Investment Strategy
In the past, PCI has been a diversified bond fund that invests at least 50% of its assets in corporate bonds, as its mandate stated:
"The Fund will normally invest at least 50% of its net assets in corporate income-producing securities of varying maturities issued by U.S. or foreign (non-U.S.) corporations or other business entities, including emerging market issuers."
On April 22nd, this policy will be fully rescinded. Pimco explains why:
"The Fund's investment manager, Pacific Investment Management Company LLC ("PIMCO"), recommended the investment policy change because PIMCO believes it will allow the Fund to be more tactical and have greater flexibility to allocate to non-corporate credit related assets, where PIMCO believes such assets may, from time to time, present more attractive relative value."
The change in strategy is just a confirmation of what the fund has been doing for quite some time. Back in December, 61.4% of the fund's assets were in mortgage-backed securities; and now it's more like 61.6%. Why all the MBSs, especially when one remembers their toxicity during the 2008 meltdown?
The reason is simple; mortgage defaults are in a secular decline, thanks to credit tightening throughout the market post-2008: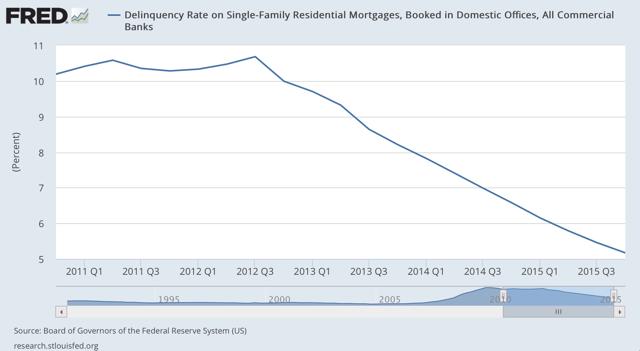 Nonetheless, there is clearly room for defaults to fall further, as they remain far above their historic norm: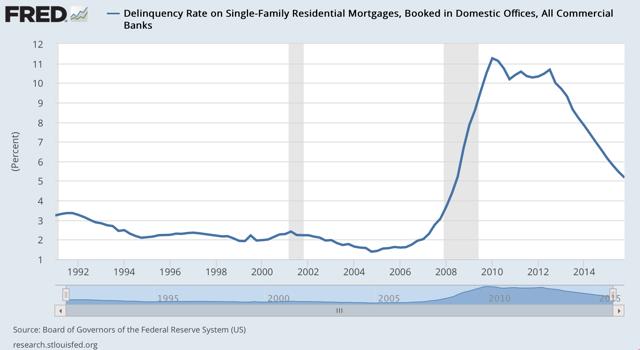 Thus a heavy bet on these derivatives seems like easy money, whereas high yield bonds are expected to see more defaults. In such a scenario, it makes perfect sense to move away from junk bonds, as PCI is doing.
Dividend Coverage History and Dividend Growth Potential
For the fund's fiscal year (beginning July 1st), PCI has had a 103.45% distribution coverage. While that's good, the new investment strategy will also make it easier for the fund to cover dividends, because the premium it needs over high yield corporate bond yields is one of the smallest on the market, and easily covered by its leverage capacity.
The fund's dividend yield is 11%, which represents a 3.3% premium on the BofA Merrill Lynch US High Yield Master II Effective Yield, an index of interest payments that high yield bonds pay to bondholders. That's higher than sister-fund Pimco Dynamic Income Fund, and on the upper end of Pimco's broader taxable corporate bond fund universe:

A more important metric for CEFs is its dividend-to-NAV ratio. For PCI, that is 9.37%, thanks to the 10% discount that has remained stubbornly persistent for the fund-while the dividend-to-NAV. Looking at that number, we see that PCI is actually better positioned than all other Pimco taxable income funds to cover dividends:

Also note that PCI's discount to NAV (last row above) is higher than its sibling funds.
Yet 9.37% is still higher than the 7.7% average coupon payment that corporate bonds pay, meaning PCI must get an extra 1.67% yield to maintain payouts. Since the fund currently has a 46% leverage, that means it can earn about 10.7% post-interest cost payouts by buying high yield bonds. That's 1.33 percentage points higher than it has to pay out, meaning that the fund can instead go for higher quality issues while still maintaining its dividend.
An Improving NAV But Stubborn Discount
One of the best parts of PCI is the fact that its NAV is finally improving. After a 16.5% drop from a year ago to its 52-week low in February, the broader bond market recovery has helped PCI's NAV crawl back up to over $20, meaning its NAV has fallen just 2% year-to-date. While any decline is worse than no decline, the weakness in NAV is due to lower mark-to-market valuations in the portfolio due to lower bond liquidity causing prices to drop.
This would be bad for PCI if it had to sell its issues to cover dividends; as discussed above, this hasn't been necessary, meaning managers can churn the portfolio by choice and not by necessity. This also means they have the freedom to be strategic about what bonds they can sell, keeping the fund from facing a downward spiral of NAV depletion by selling off assets to maintain distributions. This has been an issue for Pimco High Income Fund (NYSE:PHK) in the past, as well as other high yield funds, and is a stress that CEF investors should try to avoid.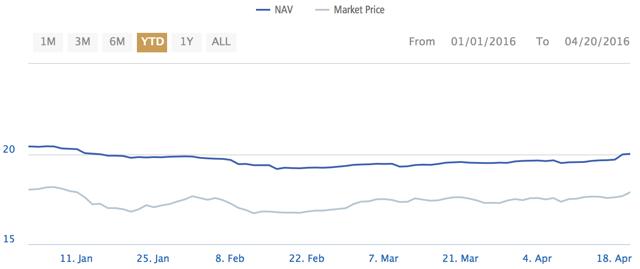 Although the fund's NAV has shown signs of resilience, the large discount to NAV that the fund currently trades at has not improved.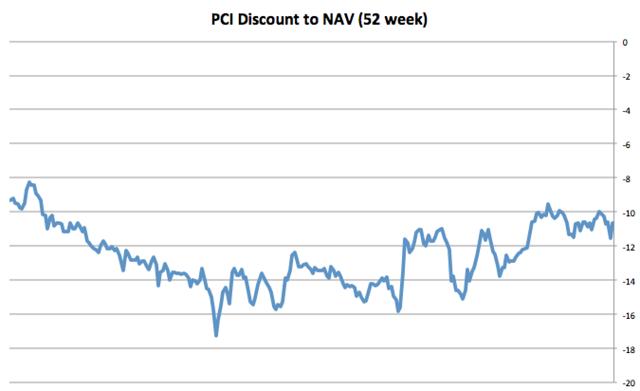 As you can see from the chart above, the fund's discount is still lower than it was a year ago. While there has been some improvement, it has not reached the single-digit discounts that it saw in the first year after its IPO. This is irrational, given the fund's performance, dividend coverage, and new market access given its change in strategy.
Underperformance relative to other high yield options
Beyond just PCI, the bond CEF world is better positioned to perform than other high yield asset classes, whose recent run up gives less room for further appreciation. This applies to both REITs and BDCs, which are outperforming high yield bond funds significantly:

Source:

Closed End Fund Advisors
PCI's unique position in buying both MBS and corporate bond instruments makes it an attractive addendum to a high yield portfolio, while its limited exposure to energy also gives piece of mind as the volatility in energy seems set to continue.
Conclusion
PCI is not the only bond fund that an investor should hold, but it is definitely one of them. With a strong high yield that is significantly covered by NII, enough leverage to continue payouts without reaching for high risk issues, and a new strategy that gives managers greater flexibility, PCI is a strong buy for me. While I wait for discounts to increase for other Pimco funds, I will be buying more PCI and enjoying the reliable income stream.

Disclosure: I am/we are long PCI, PTY, PKO, PCK, PDI, PFL, PFN.
I wrote this article myself, and it expresses my own opinions. I am not receiving compensation for it (other than from Seeking Alpha). I have no business relationship with any company whose stock is mentioned in this article.