SolarCity (NASDAQ:SCTY) has appreciated 101% since its February low of $16.31. The first thoughts that came to my mind linked this rapid rebound to "Elon-hype" and the bounce in oil prices. However, these factors hardly seemed significant enough to warrant such a leap in share price. Clearly, further research was needed - what I found surprised me.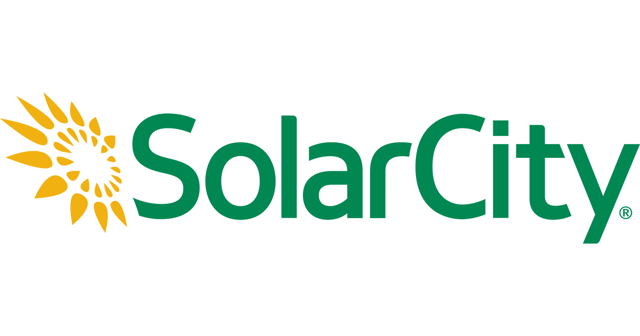 The Solar Industry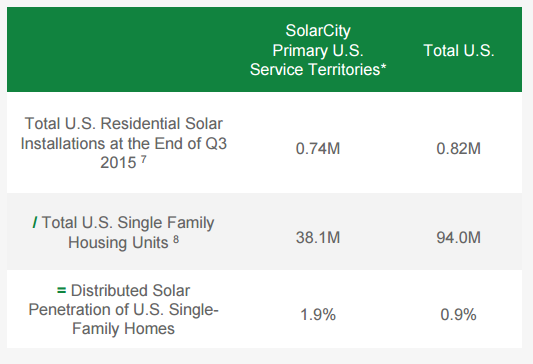 The solar industry represents a high growth opportunity leveraging increasing global energy needs, environmental concerns, stricter EPA regulations and beneficial government incentives. Regardless of these catalysts, solar penetration remains below 1% of residential and commercial buildings. For SolarCity, this represents roughly 2% of its serviceable residential single family homes. In my opinion, this is an incredible opportunity - there aren't many industries with this level of untapped potential.
Not only is SolarCity well positioned in the current solar market, but the market is rapidly growing. According to a study from the Solar Energy Industries Association, the U.S. installed 7,260 MW of solar PV in 2015 - the largest annual total ever and 16% above the 2014 figure. Of the total installed MW in the U.S., residential PV represented the fastest-growing sector at 66% y/y growth. In fact, solar actually added more electric generating capacity than natural gas did throughout 2015 - 29.4% of all new electric generating capacity brought online was due to solar installations.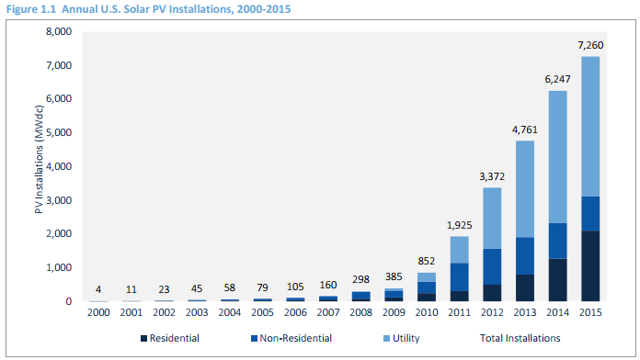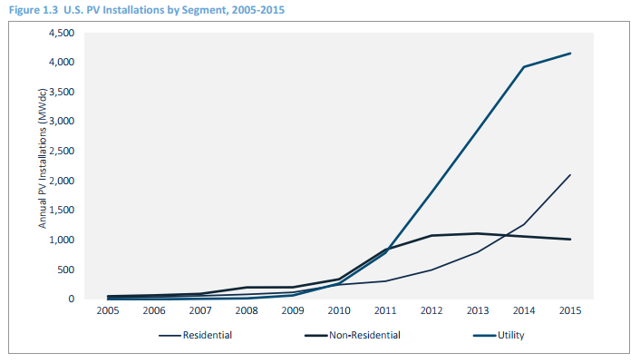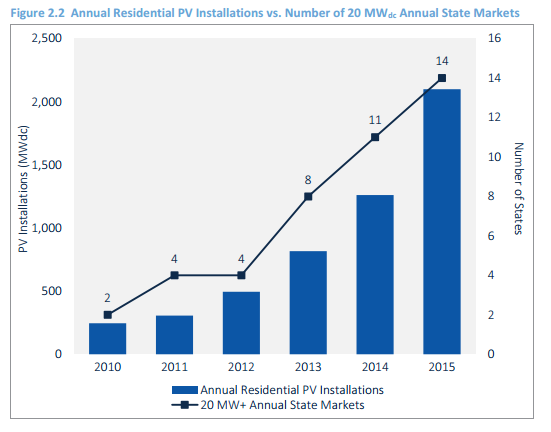 Sources:SEIA Solar Market Insight 2015 Q4
As a potential SolarCity investor, this caught my attention. As of its most recent investor presentation in February 2016, SolarCity is the largest U.S. residential and commercial solar installer and absolutely dominates the residential market.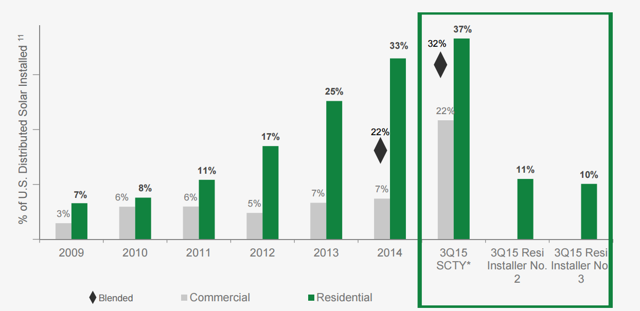 Internally, SolarCity showed solid y/y revenue growth, increasing by $144.6 million or 57%. This is broken into two segments: (1) Operating leases and solar energy systems incentives and (2) solar energy systems and components. I attribute this to a very healthy growth metric (rather than creative accounting) - SolarCity installed 870MW in 2015 which represents a 73% increase y/y, establishing them as the most dominant domestic solar company.
Two big takeaways for me are: (1) SolarCity is the most established solar company and (2) it is extremely well positioned for growth in the infant solar industry.
Its Competitors
Although I'm convinced that SolarCity is probably the best solar company over the long term, I still tend to err on the side of caution.
On a broad level valuation and financial perspective, SolarCity appears to be a bit overpriced compared to some of its competitors. I still think this is partially related to the Elon Musk and Tesla Motors (NASDAQ:TSLA) hype train surrounding the Model 3 unveiling. While this might be great fun, it does not speak to SolarCity's intrinsic value.
For instance, let's compare SolarCity to a few of its competitors:
SolarCity - P/S = 8.25; D/E = 164.65
SunPower (NASDAQ:SPWR) - P/S = 1.88; D/E = 112.44
Vivint Solar (NYSE:VSLR) - P/S = 5.70; D/E = 34.33
Sunrun (NASDAQ:RUN) - P/S = 2.86; D/E = 74.90
From this perspective, SolarCity is not cheap compared to its peers. With the highest price/sales ratio in the industry and a debt/equity ratio well above its direct competitors, one might argue that SolarCity is an overpriced and risky investment.
However, I would argue otherwise. Its high price/sales is a direct result of its market domination and future growth prospects - I believe it will do a fine job of "filling out" this valuation metric as the solar market continues to expand. Its peers are priced more conservatively because they do not have nearly the same stronghold on the domestic solar market. Credit Suisse agrees with this logic, as SA News reported a couple of weeks ago, and has a price target of $89, implying incredible upside.
Similarly, SolarCity's debt is of little concern to me. In a high-growth energy industry, debt is necessary. In fact, I see its debt as a direct testament to its fantastic job of capturing market share, thus accelerating debt and equity fueled growth. Truly, I consider this to be "responsible" debt directly tied to growing revenues and earnings. This can be directly contrasted to SunEdison, Inc. (NYSE:SUNE) which continued to take on more and more debt even as its project portfolio and revenue streams were evaporating.
Conclusion
To conclude my thoughts, I see SolarCity as the dominant force in the solar industry. Not only does it control the largest portion of the solar market, but it also shows the highest historical and future growth potential. Although it appears overpriced when compared to competitors, I simply see this as Mr. Market agreeing with the high growth potential for this company. Frankly, I would be quite surprised if we do not see SolarCity quickly regain its $60/share mark boasted toward the end of 2015.
Disclosure: I/we have no positions in any stocks mentioned, but may initiate a long position in SCTY over the next 72 hours.
I wrote this article myself, and it expresses my own opinions. I am not receiving compensation for it (other than from Seeking Alpha). I have no business relationship with any company whose stock is mentioned in this article.
Editor's Note: This article covers one or more stocks trading at less than $1 per share and/or with less than a $100 million market cap. Please be aware of the risks associated with these stocks.