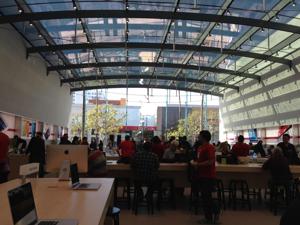 China Mobile (NYSE:CHL) had its second strongest quarter, adding new 4G users just shy of its record December quarter. For the March quarter, it reported 64.2 million new 4G users compared to 64.7 million last quarter. It now has 376.5 million 4G users, an increase of 163% year over year, which is 45% of its 833.9 million users. However, the 16.1 million that it added in March was the lowest monthly total since 10.1 million in April 2015.
When looking at a combination of 47.4 million 3G and 4G users for the March quarter, China Mobile had its best quarter since the December 2014 quarter's 50.4 million user growth. Its 3G and 4G user base is now 529 million or 63.4% of its 833.9 million users. I have developed a Google Doc with monthly data for China Mobile, China Unicom (NYSE:CHU) and China Telecom (NYSE:CHA) available via this link going back to June 2009.
China accounts for the bulk of Apple's revenue growth
China accounted for 23%, 41% and 53% of Apple's (NASDAQ:AAPL) total revenue growth the past three fiscal years, respectively, and 70% of the company's revenue growth in the December quarter year over year, so keeping an eye on what is happening in China is important to estimating Apple's results.
China Unicom changed how it reports its mobile subscribers starting with January 2016. It is now reporting 4G users by itself and not adding 3G users to the total. For the March quarter, the company added 15.1 million new 4G users for a total of 59.3 million of its 258.9 million total subscribers or 23%.
China has the second highest operating margins
If you need another reason to keep an eye on Apple's China business, it is due to its having the second highest operating margin after Japan (41.2% vs. 46.7%) for Apple and it generates the second highest operating margin dollars at $7.6 vs. $10 billion in North America in the December quarter. Tim Cook said that China will become Apple's largest market, and if current trends hold up, it will be its largest operating profit contributor before it captures the revenue title. For a deep dive into each geography's operating margins, this is a note I wrote on them.
This chart from Apple shows the reported and constant currency revenues for its various geographies in the December quarter: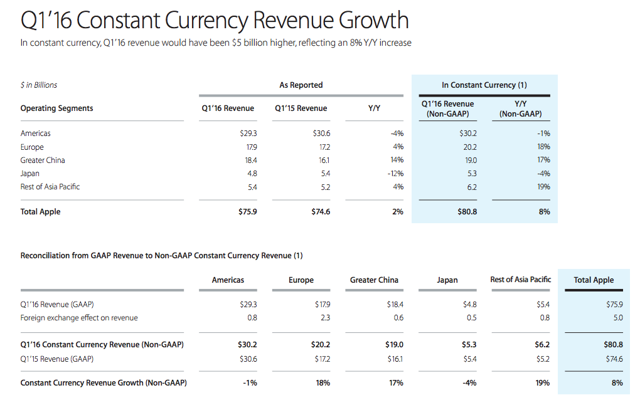 China could contribute more than forecast for the March quarter
When I estimate Apple's total March quarter revenue of $51.5 billion, the mid-point of its $50 to $53 billion guidance, by projecting each of its five geographies revenue, I come up with negative quarter-to-quarter revenue growth in the March quarter for China. At $16 billion vs. $18.4 billion in the December quarter, this would be the first quarter-to-quarter revenue decline in China since the March 2011 quarter. This could occur since there was pent-up demand for the iPhone 6 and 6 Plus a year ago falling into the March 2015 quarter.
iPhone SE impact could help June-quarter guidance
Apple's iPhone SE could do very well in China from sales to new smartphone customers and Android switchers. Lead times in the US and China for the SE lengthened over the first two weeks and DigiTimes reported that:
"The launch of relatively low-priced iPhone SE in China has squeezed market share from local brands, including Huawei, Xiaomi Technology, Vivo and Oppo, affecting the earning performance of these brands, said the sources."
I expect the iPhone SE to have a slow and gradual uptake in the US (see Fiksu graph below), but that could make a material difference in developing countries such as China due to its $399 entry price point. This could lead to better-than-expected guidance for the June quarter.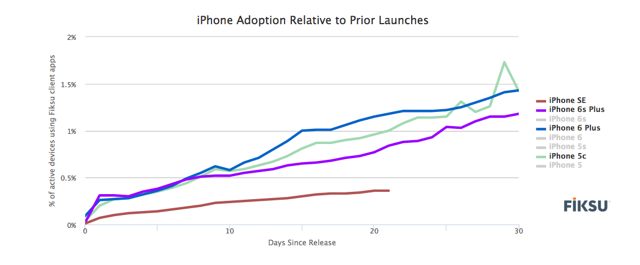 Disclosure: I am/we are long AAPL.
I wrote this article myself, and it expresses my own opinions. I am not receiving compensation for it (other than from Seeking Alpha). I have no business relationship with any company whose stock is mentioned in this article.
Additional disclosure: Sand Hill Insights and Chuck Jones is not a registered investment advisor or broker/dealer. Readers are advised that the material contained herein should be used solely for informational purposes. Sand Hill Insights/Chuck Jones does not purport to tell or suggest which investment securities readers should buy or sell. Readers should conduct their own research and due diligence and obtain professional advice before making investment decision. Sand Hill Insights/Chuck Jones will not be liable for any loss or damage caused by information obtained in our materials. Readers are solely responsible for their own investment decisions.