Although yields on shorter-term TIPS began climbing last year after the Federal Reserve's small uptick in interest rates, today's auction of a new 5-year Treasury Inflation-Protected Security brought back a dreaded sight from the recent past: Negative real returns.
The auction of CUSIP 912828Q60 went off with a coupon rate of 0.125% - the lowest the Treasury will allow - and a real yield to maturity of -0.195%. A negative number means this TIPS is guaranteed to underperform inflation over the next five years.
Just last December, a 4-year, 4-month TIPS auctioned with a real yield of 0.472%, about 66 basis points higher.
The combination of a 0.125% coupon rate and a negative real yield means buyers at today's auction had to pay up: about $101.63 for $100 of par value. That adjusted price also included an inflation index of 1.00038 on the settlement date of April 29.
For a small investor - one who doesn't run a hedge fund or a European Central Bank - a negative real yield makes a 5-year TIPS pretty undesirable. After all, you can buy a US Series I Savings Bond today paying 0.1% above inflation. That's a swing of 29 basis points.
Inflation break-even rate. A nominal 5-year Treasury is paying 1.34%, setting up an inflation break-even rate of 1.53% for this new TIPS. That means if inflation averages more than 1.53% over 5 years, it will outperform a nominal Treasury. I'd say that's a decent bet, and might appeal to a hedge fund or foreign central bank.
But inflation break-even rates have been inching up in recent weeks, making TIPS less of a 'steal' against nominals, as this chart shows: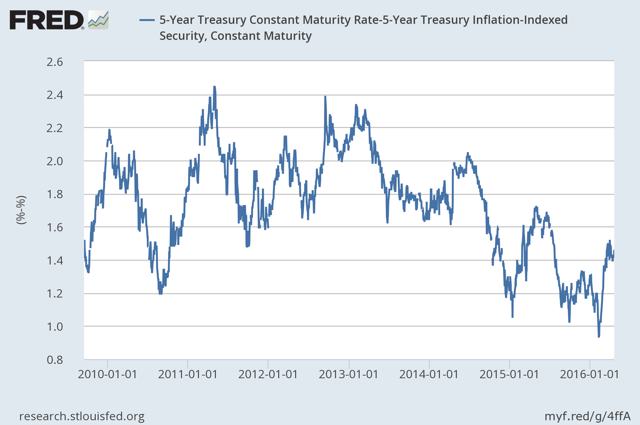 Reaction to the auction.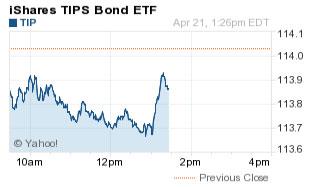 Checking the TIP ETF in the minutes after the auction closes can give you a pretty good idea of how the market is reacting. The chart at the right shows an uptick in the TIP value, indicating slightly lower yields. This looks like a positive reaction.
A very short Reuters report posted a few minutes ago noted that results "were solid, analysts said, with the ratio of bids to the amount offered at 2.42, which was higher than 2.38 at the prior auction in December."
Here's an updated chart of all 4- to 5-year TIPS auctions since 2007: