Quick Introduction
For those who are not familiar with Stericycle (NASDAQ: NASDAQ:SRCL), the company was founded in 1989 and specializes in disposing of regulated waste substances; including medical and hazardous waste. Stericycle also provides services for recalled and expired goods.
The Issue
September 2013, North Salt Lake, Utah: Erin Brockovich, an environmental activist and legal clerk who was influential in building the case against Pacific Gas and Electric (NYSE: PCG) that ended in a $333M settlement in 1996, had a bone to pick with Stericycle. Incited by a Utah Division of Air Quality violation notice asserting that Stericycle manipulated their reporting of Mercury, Dioxins, and other incinerator byproducts, she built a constituency of residents aiming to uproot Stericycle's local operations. When California's Soil Water Air Protection Enterprise (SWAPE) got wind, they conducted an investigation that revealed Dioxin levels in homes near the incinerator at 16 times higher than "safe levels."
Erin is vocal about the issue on her website:
"Near-by houses are consumed by the plume, particularly those homes built on the Stericycle's property line."

"There's an elementary school just up the street, for crying out loud," said Erin Brockovich's Environmental Investigator, Bob Bowcock. "I wouldn't let the dog pound move next door."

"This company is a notorious polluter in multiple states. We will help the community with their investigation and help the regulators stay on task, and we will investigate any pattern of wrongdoing at the facility."
The Utah Division of Air Quality reached an agreement with Stericycle that required them to move 40 miles outside of North Salt Lake, in addition to paying a $2.3M fine. Half of the fine; however, was forgivable if the company made the move by December 1, 2017. So they did.
Before the settlement was reached, several families within miles of the incinerator's original location chose to move due to the dangerous pollution levels. One resident, Gina Cooley, was advised by her four-year-old son's pediatrician that the excessive Dioxin levels may have been the cause of his frequent headaches. She decided to relocate to Tooele County, 30 miles west.
That same year, Stericycle also decided to move to Tooele County.
Now, residents of Tooele County are raising the same concerns that Brockovich brought up 3 years ago.
At a public hearing on Monday, 4/18, Stericycle announced its plans to double its facility's capacity, which would make them eligible for increased emissions permissions. Those involved in the 2014 litigation are left scratching their heads.
Magnifying the problem is the fact that Stericycle is the only medical waste incineration facility in the West. The company handles shipments from 8 states, and despite the dangerous nature of their business, incineration has proven to be the safest way to dispose of hazardous waste.

Bearish on Stericycle
With the recent events in mind and an expansion ruling looming large, Stericycle will report earnings on April 28th. Financial information up to the company's last earnings report is presented below.
The good news first:
Positive EPS, revenue, and BV/share growth over the past 5 years.
5-year ROE at 17.77% (...but more on this later).
Positive 10-year average cash flow at $281.25M.
The company has a tremendous market share, and a monopoly in 8 states in the west.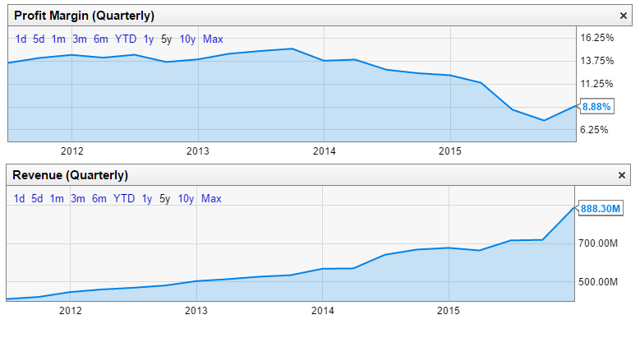 Now the bad news:
Read "The Issue" section.
Stericycle has allegedly repeatedly lied to law enforcement about emissions levels
Stericycle's long-term debt is 6.774 times average net income. I would like to see that below 5x before considering buying this stock.
While an ROE of 17.77% would normally to be a great sign in this industry, it seems as though Stericycle's recently green (pun intended) income statement coupled with high leverage is inflating the ratio.
Earnings and assets are low compared to the stock price. Earnings yield is in the 20th percentile in the market.
The company does not pay any dividends.
P/E of 28.49 is above the industry average (despite being 6.84% below Stericycle's historical multiple).
Conclusion
While I am long-term bearish on Stericycle, we may continue to see revenue growth and an acceleration in EPS growth that will spur an upward movement in the stock price (barring any major surprises in next Thursday's earnings report).
Recent Analyst Estimates: Northcoast Research lowered their EPS forecast to $1.38 (down from $1.39) today. Goldman Sachs cut their price target on Stericycle from $128 to $124 and set a "neutral" rating for the stock. RBC also lowered their price target from $120 to $119 and set a "sector perform" rating for the company. With a consensus price target of $133.11, Stericycle has an average rating of "hold." The NASDAQ consensus 12-month price target is $140, with optimism based on Stericycle's earnings growth (38% higher than the average in the waste removal industry).
Despite the general sentiment of this article, I must admit that Stericycle's financials are solid. Earnings are expected to increase 19% YOY. However, the company's track record of non-compliance is alarming, and ironically, they are by definition a compliance company! The question is, when, if ever, will the business crash and burn?