Biotech and other drug plays are starting to claw there way back from its longest and deepest bear market since the financial crisis. The sector is up some 15% from its lows in February but still some 30% below its peak levels in July. The rebound started, as it almost does after a bear market ends within the large caps in the sector with stalwarts like AbbVie (NYSE:ABBV), Amgen (NASDAQ:AMGN), Celgene (NASDAQ:CELG) and Gilead Sciences (GILD) making nice moves over the past month. All of these large caps will report earnings next week.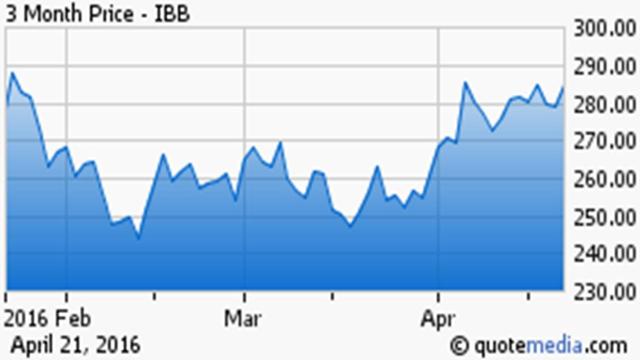 Then we started to see some moves in the mid-caps and small caps some of which are moving up on consistent buyout rumors such as Medivation (NASDAQ:MDVN), Relypsa (NASDAQ:RLYP) and Synergy Pharmaceuticals (NASDAQ:SGYP). If this rebound follows the course of most rallies off bear markets I have seen in over two decades of investing in this lucrative but volatile part of the market; this could be just a start of a major rebound as the sector digs itself out of the heavy declines suffered in the recent bear market.
Given this I offer up two attractive but speculative small cap stocks I own and think could be big movers if things fall their way in coming quarters. Both have several attractive traits and upcoming and potentially positive catalysts. I offer them up for consideration for aggressive growth investors as their best fit is within a well-diversified and optimized biotech portfolio like the one on the Biotech Forum.
Let's start off with pSivida Corp (NASDAQ:PSDV). This is a small drug maker with a market capitalization of just north of $100 million. pSivida is a provider of miniaturized, sustained-release drug delivery products.
Their lead development product is a compound named Iluvien and is licensed to Alimera Sciences, Inc. (ALMN). The FDA has approved Iluvien for the treatment of Diabetic Macular Edema for patients treated with a course of corticosteroids and did not have a significant rise in intraocular pressure. The company has developed three of the only four products approved by either the United States or EU for the long-term, sustained-released delivery of drug to treat chronic eye disease. Global sales of Iluvien were just over $22 million in 2015 and it should continue to grow as it's applied to new indications and rolled out in new countries.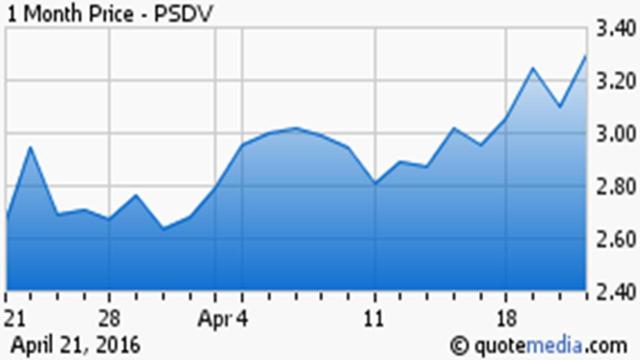 The stock has quietly moved up some 20% in the past month. The company should file a New Drug Application (NDA) with the FDA for Medidur™ for the treatment of chronic noninfectious uveitis affecting the posterior of the eye sometime in the first half of 2017. It should file for approval in Europe by the end of the year. The company reported successful Phase III trial results for this treatment late in 2015. The company provided solid six month safety results in mid-March. Submission of the NDA could be a positive catalyst for the stock when it occurs in the near future.
Medidur is the first fully owned product by pSivida. This product provides treatment of posterior-uveitis, for 36 months from a single administration. The company also has an interesting compound to treat Osteoarthritis in Phase II and other pre-clinical drugs as well.
The company ended 2015 with some $21 million in net cash on its balance and raised a little more than $16 million in a secondary offering in January. At its last conference call, management guided to an average quarterly burn rate of $5 million this year to fund operations and development. This means the company is well funded until late 2017 when recurring revenue should be established with Medidur.
Posterior-uveitis affects just under 200,000 individuals in the United States and results in blindness in about 30,000. This obviously is a large addressable market. Only three analyst firms cover this small cap concern. Their price targets from $6.00 to $12.50 a share. PSDV currently trades just above $3.25 a share even with its recent rally.
Next up is TG Therapeutics (NASDAQ:TGTX). This company is an interesting developmental concern with several "shots on goal" in the oncology space. The stock currently has a market capitalization of approximately $550 million and trades at just over $10.00 a share. The company focuses on the acquisition, development and commercialization of novel treatments for B-cell malignancies and autoimmune diseases. TG Therapeutics also has several important mid and late stage trial milestones coming up in 2016 and is well-funded.
Currently, the company is developing two therapies targeting hematological malignancies. TG-1101 (ublituximab) is a novel, glycoengineered monoclonal antibody that targets a specific and unique epitope on the CD20 antigen found on mature B-lymphocytes. TG Therapeutics is also developing TGR-1202, an orally available PI3K delta inhibitor. The delta isoform of PI3K is strongly expressed in cells of hematopoietic origin and is believed to be important in the proliferation and survival of B-lymphocytes. Both TG-1101 and TGR-1202 are in clinical development for patients with hematologic malignancies. The Company also has pre-clinical programs to develop IRAK4 inhibitors, and anti-PD-L1 and anti-GITR antibodies.
Late in 2015 the company managed to hit some important milestones. First, it obtained a Special Protocol Assessment ('SPA') for their UNITY-CLL trial, in patients with front-line as well as relapsed/refractory CLL (chronic lymphocytic leukemia). This marks TG Therapeutics first pivotal trial for the combination of TG-1101 plus TGR-1202 which is called TG-1303.
If successful, this trial should provide TG-1303 with a broad approval in CLL offering patients in both front-line and relapsed/refractory setting, a novel, chemo free treatment option. It also will allow the company to use TG-1303 as a base for future triple and possibly quad combination therapies.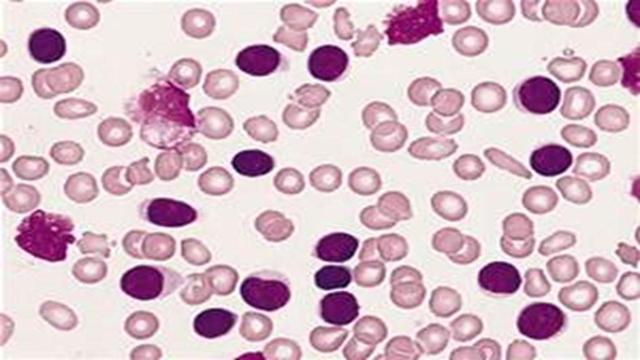 Chronic lymphocytic leukemia (CLL) is a type of cancer of the blood and bone marrow - the spongy tissue inside bones where blood cells are made. The term "chronic" in chronic lymphocytic leukemia comes from the fact that it typically progresses more slowly than other types of leukemia. Chronic lymphocytic leukemia most commonly affects older adults. Current treatments for CLL can include radiation therapy, chemotherapy, stem cell transplant and/or immunotherapy. CLL accounts for roughly one third of all leukemia cases in the United States where approximately 15,000 new cases are diagnosed each year and some 4,000 to 5,000 people here die annually of this form of leukemia.
TG Therapeutics also initiated a Phase 1/2 study evaluating the use of TG-1101 plus TGR-1202, plus pembrolizumab, the anti-PD-1 immune checkpoint inhibitor, in relapsed/refractory CLL patients. This study marks the first clinical trial evaluating the safety and tolerability of combining a PI3K delta, an anti-CD20 monoclonal antibody and an anti-PD-1 checkpoint inhibitor.
B-cell targeted therapies have started to become an increasingly focused area of drug development. The company plans to launch its first trial in this area for Multiple Sclerosis in the near-term. Based on management comments, this might be one area where they could enter into a collaboration deal with a larger player which would ameliorate funding needs and provide a greater pool of expertise.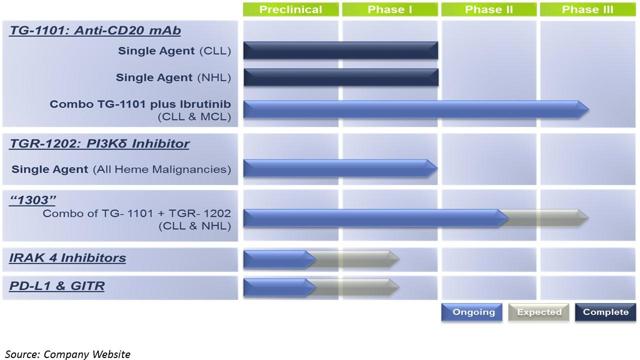 There will be two much watched trials for TG Therapeutics in 2016. One will be around TG - 1101 in a phase III trial called GENUINE. This is assessing TG-1101 in combination with ibrutinib, in patients with high risk chronic lymphocytic leukemia (CLL), which now has nearly 140 sites participating in the study. Enrolment in the trial is moving along on pace and the company is targeting to complete enrolment into this study and analyze the overall response end point by the end of 2016.
The other will be a recently announced UNITY-CLL study, this is a phase III clinical trial of the TG-1303 combination in front-line and previously treated patients with CLL. The basis study design is a randomized controlled clinical trial that includes two key objectives. First, to demonstrate the contribution in each agent in the 1303 regimen and second to demonstrate superiority in progression free survival over the standard care to support for submission for full approval of the combination.
Again if this trial is successful, this trial should lead to a very broad label in the treatment of CLL and position 1303 as a backbone for further proprietary combination therapies as it continues to drive for better patient outcomes.
Analyst Commentary & Outlook:
The Analyst community is very positive on TG Therapeutics and its upcoming milestones. On March 8th, Brean Capital reiterated its Buy rating and $28 price target on TGTX. The next day H.C. Wainwright reissued its Buy rating and $22 price target on the stock. The analyst firm is modeling over $3.50 a share in earnings for FY2023. This week FBR Capital reiterated its Buy rating and Roth Capital chimed in TG Therapeutics remained a Focus Pick at the firm with a $33 price target.
While all developmental concerns are inherently risky, TG Therapeutics has many of the traits I look for before making a small investment in this sort of small biotech stock. The company has several shots on goal, over $100 million in net cash to fund development, upcoming milestones and strong analyst support.
If the rally in the biotech and pharma sectors continues, these two selections could have substantial upside should they delivered on their milestones.
Disclosure: I am/we are long ABBV, AMGN, CELG, PSDV, RLYP,SGYP, TGTX.
I wrote this article myself, and it expresses my own opinions. I am not receiving compensation for it (other than from Seeking Alpha). I have no business relationship with any company whose stock is mentioned in this article.