For younger investors the discussion of risk comes up a lot. We own a very unique and irreplaceable advantage but one that erodes steadily - time. Whether its a horrible nuclear spill or a poor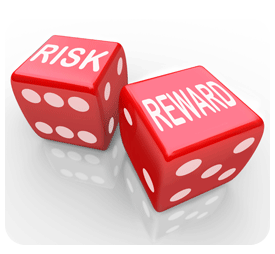 investment, time eventually erases the evidence that either happened. This leads many to feel that younger investors must assume more risk in order to really maximize their gains.
I recently published an article on purchasing Realty Income (NYSE:O) at record highs and outlined my thought process on that. My decision to buy was preceded by a myriad of internal struggles on my own appetite for risk. The discussion in the comments was great, but one comment in particular stood out and is a great start to the conversation here.
Some portfolio managers say a good stock is always a good stock, regardless of the valuation. However, given your long investment period, you could've used time in your favor and risked more. Just to understand better, why not invest in growth stocks, as opposed to an overvalued, lower yielding reit stock?
That comment couldn't have been more timely. I like it more for what it says between the lines. Steering an investor away from a stable dividend paying company because it appears overvalued toward a sector of investments (growth stocks) with more inherent risk is interesting to me. First I had to decide what I would view as a "growth stock."
Growth stocks mean different things to different people. I consulted Google (NASDAQ:GOOG) (NASDAQ:GOOGL) University and got a good list of companies considered growth stocks. There were lots of winners, lots of losers and lots the jury hasn't let out on. One thing for sure - growth companies usually carry an insane P/E, if at all, because often times they don't have earnings to report. Hindsight is usually a little better than 20/20, especially considering the access to information we enjoy. For the sake of the argument I'm assuming that investors would have bought shares at any point in the trading history and held them to today. Let's take a look at three growth stocks.
Winner
First we will take a look at a clear win - Google. The company went public in August of 2004 at a price of $85 a share. While hindsight allows us to look back and declare the company a runaway success that only shortsighted idiots would have avoided it wasn't always so easy to declare victory. This 2004 article from CNN is an interesting trip back in time and showcases the doubt investors had about the company. The article is littered with reasons not to invest in Google. CNN even conducted a poll off that article and the results are very telling.

Looking at the chart below, given enough time, it would have been hard to make a bad investment in Google. It has steadily risen since its IPO and only recently has started showing any signs of slowing.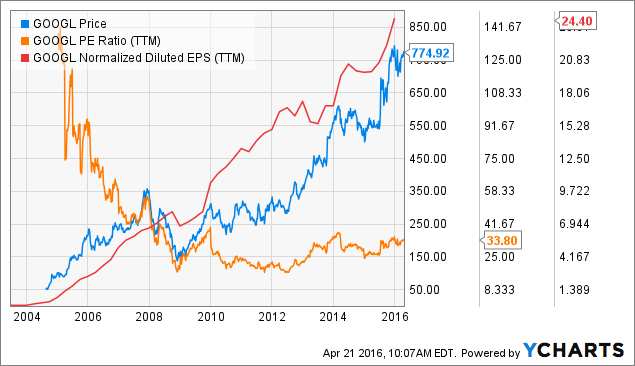 GOOGL data by YCharts
With the exception of a few spikes in price that few investors probably took part in you would have made money. Taking part in an IPO at $85, back in 2004, just years after the big dot.com bust, was a huge risk at the time. I doubt many retirees, or those close to becoming retirees, would have participated in this IPO. Had a younger individual decided to risk it almost anywhere along the company's history they would have done very well for themselves with plenty of time left to keep making money off this company. The future of Google also looks very promising, which makes it even easier to keep those shares from a psychological standpoint.
Loser
Growth companies rarely work out like Google has, and some have even been crushed by the company. Enter Research in Motion, the company now trading as BlackBerry (NASDAQ:BBRY). I'm not declaring the company a failure, but things aren't looking all that great compared to where they were. This company was once the fastest growing company in 2009, and even hit highs of $138-plus in 2008. The future was bright and I'm sure hundreds of investors, both young and old, were encouraged to jump aboard.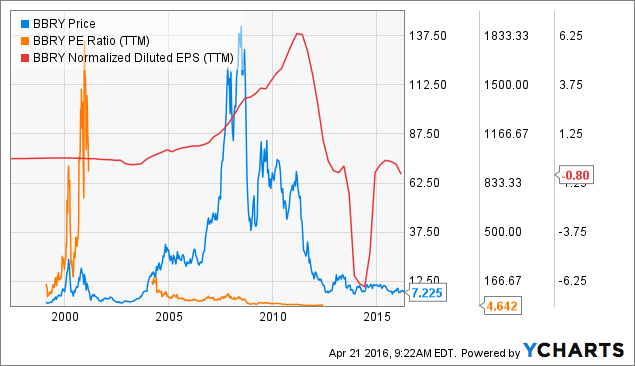 BBRY data by YCharts
I'm using BlackBerry because at the time it seemed like it wasn't a risk at all. It was not just a growth company, but the growth company. In 2008 and 2009 you couldn't walk 10 feet without somebody raving about their BlackBerry Curve phone, they were even affectionately called "Crackberries" because of the amount of time people spent on them. The new President of The United States, Mr. Barack Obama, was even very fond of his BlackBerry. They were that prolific.
The risk seemed minimal and the return seemed exceptional. I'm sure that even some of you reading this may have invested at $50 or higher. Unfortunately short of a truly remarkable turnaround I doubt we see anything near that level for quite some time, if ever again. There isn't even a dividend to at least pay you something to wait. What once seemed like a sure thing and darling growth stock is now the butt of many jokes. There are very few places in this company's history that would have turned a profit for you if you held onto your shares to today. This is a failed growth story and most importantly would be psychologically destructive for a younger investor.
To Be Determined
For this I will be turning to Fitbit (NYSE:FIT), the maker of fitness wearable devices that is a fairly young company but one easily fitting into the growth category.
The company kicked off its IPO in June 2015 at $20 a share and is trading hands slightly below that level right now. The early days of trading were fast and furious, with incredible doubt-digit gains daily. It seemed that if you didn't buy shares you were going to miss everything. The company had a great product in a very rapidly growing market and it seemed the only direction the shares could go were up. Early analysis on Seeking Alpha was mixed, with great submissions from the bulls and the bears.

The early success of the company, both on and off the stock market, was encouraging and likely drove many investors to the company.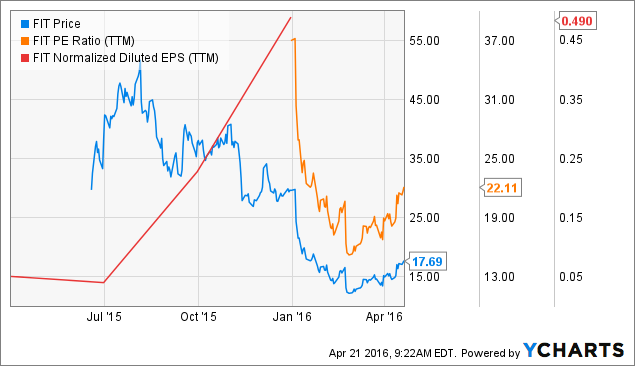 FIT data by YCharts
Unfortunately there aren't many places in the limited trading history where investors could have purchased shares and been above water. The company is still very much alive and could quickly begin trading above its IPO price, but for investors who may have bought their shares at $40 this could be very discouraging.
We must remember that this article is geared toward younger investors. Younger investors are mostly inexperienced, are likely new to the markets, and probably don't research their purchases like other investors might. If I had purchased shares at $40 because of all the positive headlines in the mainstream media and then watched that investment deteriorate into the low teens I'd probably pull my money out and swear off investing as a rigged endeavor for rich people to make money off little guys like me.
Conclusion
To finish let's take a look at one of those overvalued dividend paying companies that many investors are now avoiding. For an easy home run I could just choose Altri Group (NYSE:MO), which has arguably never been a poor investment and has allowed faithful investors to build incredible amounts of wealth over time. I decided to go with Automatic Data Processing Inc (NASDAQ:ADP) because they've been paying dividends for years and are wildly overvalued right now.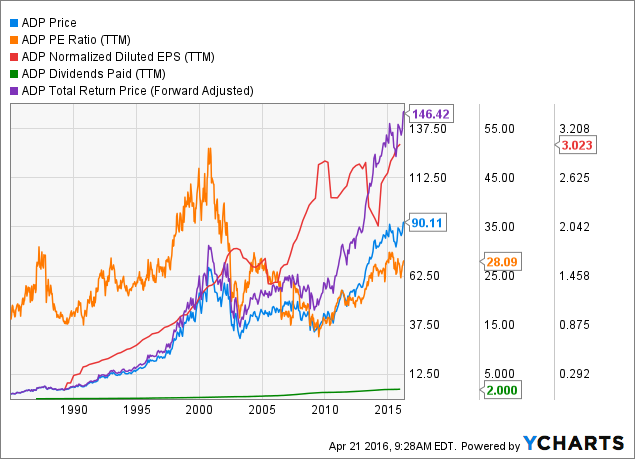 ADP data by YCharts
ADP has had its ups and downs through the years, but one thing has remained constant no matter what the market was doing. It has consistently raised dividends for 41 years no matter what was happening. There were plenty of times the company was overvalued, reaching as high as 50 times earnings at one point. It would still be tough to find a time where buying shares was a bad idea. The most important metric on that chart is Total Return, that tells most of the story for investors.
The vast majority of these dividend-paying companies have long and stable histories to rely on as well. They often have wide moats that get wider with each passing year. I'm not too worried that I'm going to wake up tomorrow and see that AT&T (NYSE:T) has gone out of business and is currently being sold for scraps like some growth companies have ended (Pets.com).
I choose to invest in dividend-paying companies. They provide a great margin of safety with the dividend and are much easier to invest in from a psychological standpoint. Even if the market crashed terribly like it did in 2008 there is that dividend to keep you at least somewhat sane. All investments are risky - growth companies seem more risky than most. Even at a young age is that risk worth it? Sure you could pick a winner like Google and be the best investor ever, or you could pick a loser (sorry BBRY longs, nothing personal) like BlackBerry and take that blow to your psyche. There's still time for Fitbit and BlackBerry to prove a great investment and Google a terrible one - we just never really know.
At this point the risk isn't worth it for me. Even overvalued dividend companies seem to work out better than growth stocks. I have some confidence that in 30 years my investment in AT&T will be there to pay me in my retirement. I don't have that same confidence in Fitbit. Everybody has a different investment style and risk tolerance. I invest to retire, why not invest like I already am at least to some degree?
Disclosure: I am/we are long T, MO, O.
I wrote this article myself, and it expresses my own opinions. I am not receiving compensation for it (other than from Seeking Alpha). I have no business relationship with any company whose stock is mentioned in this article.