SunEdison (SUNE) has finally filed a petition for reorganization under Chapter 11 bankruptcy protection. In the press release, SunEdison notes:
SunEdison has secured commitments for new capital totaling up to $300 million in debtor-in-possession (DIP) financing from a consortium of first and second lien lenders. Subject to Court approval, these financial resources will be made available to the Company to support its continuing business operations, minimize disruption to its worldwide projects and partnerships, and make necessary operational changes.
Based on the news today, there are a few points that investors need to consider.
First and foremost is exactly how this bankruptcy will play out. As long as SunEdison is able to get bankruptcy protection, then one of the three possible scenarios that SunEdison recently disclosed will play out. One scenario would be that SunEdison would retain its shares in both TerraForm Global (NASDAQ:GLBL) and TerraForm Power (NASDAQ:TERP) while continuing to operate under bankruptcy protection. In the other two scenarios, SunEdison would "monetize" its shares in its yieldcos and sell them off to a third party.
But given that SUNE will receive $300 million in financing during this restructuring, it appears that the scenario where they retain their holdings in the yieldcos is now taking place. The details of this scenario were provided in a filing last week.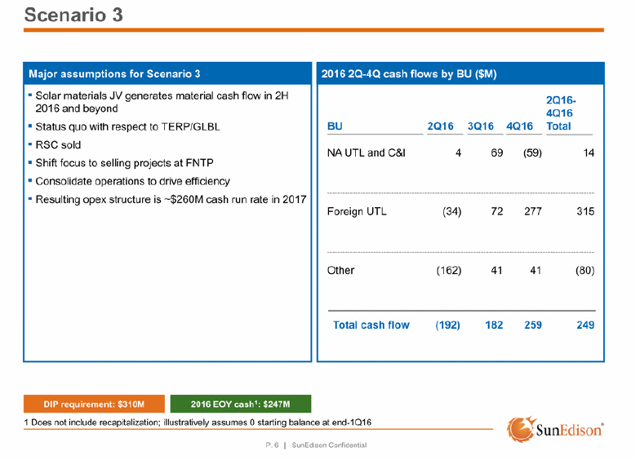 Source: SunEdison 8-K
Here SUNE provides an explanation about how it would work towards improving its cash flow and opex structure. Based on its estimates, total cash flow would be roughly $249 million for the last three quarters of this year.
But what is more important now is what will happen to its yieldcos. It appears that SUNE will continue to maintain its shares of both TERP and GLBL. However, neither will be brought into bankruptcy proceedings.
This means that SUNE will likely be able to continue to provide support for its yieldcos. For GLBL investors, this would mean that SUNE will be obligated to complete ongoing projects. Overall, investors in TERP and GLBL reacted positively to the news and shares in both companies have jumped.
Yet investors in the yieldcos should tamper their enthusiasm. As long as SunEdison continues to hold shares in both companies, any problems with SUNE could have a significant impact on its yieldcos. Furthermore, this will not bring the much needed independence from SunEdison that investors have been looking for.
The most surprising part from all of this is that SUNE only needed $300 million to continue its operations this year. This relatively small sum indicates that SunEdison was in a significantly more precarious financial position than it had led investors to believe. Given that common equity holders are now likely going to be completely wiped out, this is a particularly disconcerting development.
The bottom line is that there will be a lot of fallout from SunEdison's bankruptcy. But the fact that it will continue to hold its stake in both TERP and GLBL will be an ongoing concern for investors in both companies. As this saga reaches its final stage, investors should continue to tread carefully with both of its yieldcos until more is revealed about how all of this will play out.
Disclosure: I am/we are long SUNE, GLBL.
I wrote this article myself, and it expresses my own opinions. I am not receiving compensation for it (other than from Seeking Alpha). I have no business relationship with any company whose stock is mentioned in this article.
Additional disclosure: I am long SUNE through call options. I fully expect to see the call options expire worthless in January 2017. I intend to use them as a tax write-off next year. Positions may change at any time and investors are reminded to complete their own DD before investing.
Editor's Note: This article covers one or more stocks trading at less than $1 per share and/or with less than a $100 million market cap. Please be aware of the risks associated with these stocks.