Breitburn Energy Partners LP (NASDAQ:BBEP) (or the Partnership) recently chose to enter the 30-day interest payment grace period with respect to interest payments on its outstanding unsecured 7.875% Senior Notes due 4/15/22 (CUSIP 106777AD7) and its 8.625% Senior Notes due 10/15/20 (CUSIP 106777AB1) (collectively, the Unsecured Notes) and also suspended the payments of dividends with respect to its redeemable and convertible preferred units. While typically such actions are the prelude to a bankruptcy filing, BBEP indicated that it was using the time available under the grace period to explore strategic alternatives to strengthen its balance sheet and maximize the value of the Partnership. Alongside this process, BBEP also initiated discussions with its secured creditors with respect to alternatives to improve BBEP's long-term capital structure.
The question is whether these hardball actions are necessary or whether management is simply being opportunistic. Consider the guidance that the Partnership provided in its fourth quarter and full year 2015 results press release. At the time, BBEP indicated that it expected 2016 Adjusted EBITDA to range between $490 million and $525 million based on $30/Bbl WTI and Brent crude oils and $2.30/MMBtu natural gas. Using an updated price deck incorporating positive crude oil price movements and negative natural gas price movements along with BBEP's other assumptions, I generated a forecast for BBEP's 2016 adjusted EBITDA of $502.3 million and expected "free cash flow" of over $220 million.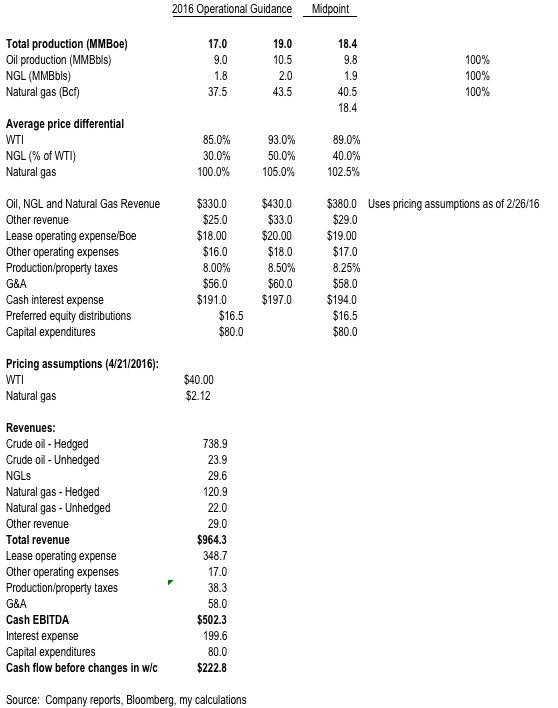 This forecast suggests that BBEP could reduce the $1,229 million outstanding under its secured revolving credit facility by over $200 million by year-end and would lead to the following capital structure: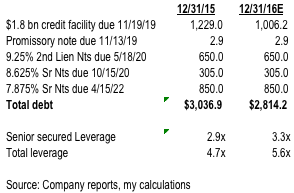 While total leverage increases significantly due to the year-over-year decline in adjusted EBITDA, senior secured leverage increases less dramatically due to the reduction in debt. In fact, this analysis suggests that the Partnership's secured lenders have little if any motivation to modify the terms of their respective instruments at this juncture.
More interesting is the case of the unsecured lenders. With BBEP's unsecured notes trading in the 8 range, it is possible that noteholders could be induced to accept a package of securities in exchange for some measure of relief. One potential guide for such a transaction is that recently completed by Rex Energy (NASDAQ:REXX) wherein REXX exchanged a package of a new series of second lien debt and stock for its existing unsecured notes. In the case of BBEP, such an exchange could involve a new series of third lien debt securities and partnership units, thereby providing debt investors with the prospect of equity upside should commodity pricing environment improve. In the case of REXX, it received an 18-month interest holiday. A comparable deal for BBEP would save it some $122.8 million in cash interest payments over a comparable 18-month period. The cash flow savings could either be used for capital expenditures or to further reduce amounts outstanding under the revolving credit facility. Perhaps improving the odds of such a transaction occurring is the fact that there exists significant overlap between the investors involved in the REXX transaction and current BBEP noteholders, most notably Franklin Resources or related entities.
The question is whether or not a trade of this nature makes sense for investors in the Partnership's unsecured debt? I have taken two approaches to this question. The first employs imputed values from a number of recent transactions. The second utilizes the SEC-defined standardized measure of future cash flows. While there are shortcomings associated with both methodologies, I think these provide reasonable bookends when thinking about the Partnership's unsecured debt. Using these two methods, I generate the following valuations: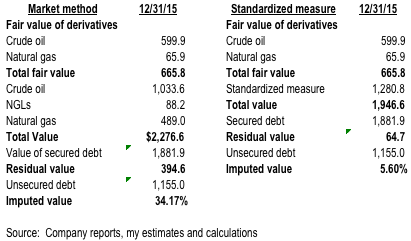 These two valuation approaches result in wildly different results. That said, they do suggest that the Partnership's unsecured noteholders should engage with the Partnership to develop a REXX-like solution as any reduction in the amount of the unsecured debt would redound to their benefit. The repayment of $200 million in unsecured debt is the equivalent of over 17 points of additional value for the unsecured noteholders all other things being equal.
However, there are some issues that need to be addressed by BBEP, its creditors and other stakeholders. Some of these are as follows:
Operational. In recent years, BBEP's ability to replace reserves through the drillbit or acquisitions has been lackluster to say the least. The reserve replacement ratio in 2014 and 2015 was 0.7x. A reserve replacement ratio less than 1x implies that the Partnership's operations are not sustainable in the long run.
Exchange notes and security. The provision of security should BBEP engage in a REXX-like exchange offer would require the consent of existing secured lenders. While I think that the secured lenders would ultimately agree to the provision of such security interests if the inter-creditor agreement provided for a strict payment waterfall, actually achieving the consent of existing secured lenders could prove burdensome.
Exchange offer participation. If BBEP were to launch an exchange offer, it is likely that non-QIBs will be precluded from participating. Any Unsecured Notes remaining after the completion of such an exchange offer would likely suffer from reduced liquidity. The offset to this reduced liquidity is a potentially higher valuation if BBEP is able to use any interest savings to further reduce secured indebtedness.
CODI. In all likelihood, any transaction that reduces or modifies the terms of the Partnership's debt, including the one I suggested above,could give rise to cancellation of debt income or CODI for tax purposes as the Unsecured Notes have been registered and are publicly traded. This is a potential negative for holders of the Partnership units. Such determination will depend on what the applicable federal rate or AFR is at the time. The short time (three years or less) AFR for May 2016 is 0.67% for semi-annual compounding. This is perhaps why the REXX template employed a 1% rate for the first 18-months before increasing to a much higher rate.
Borrowing base re-determination. It is widely expected that the Spring borrowing base re-determination will result in a $1.4 billion borrowing base. If this is the case, BBEP will have a modest amount of availability given the $1.2 billion currently outstanding under its revolving credit facility. Successful resolution of the Spring re-determination will then heighten the focus on prospects for the Fall re-determination.
The Trades
At this point, absent a bankruptcy filing, there appear to be two potential outcomes. The first is that the Partnership effects an exchange offer. This is likely to have a negative impact on the units in the short-term, largely due to the potential CODI issue. Post transaction, though, it is likely that the units will realize some benefit. On the other hand, any remaining Unsecured Notes would likely experience a modest improvement in value due to the prospect of a longer liquidity runway.
The alternative to this is that the Partnership is unable to execute a deal. In this case, the upside/downside with respect to the Unsecured Notes remains attractive. At current levels in the 8 range, two or three coupons would reflect a return-of-capital and then some. As for the units, it is not clear to me that dodging the CODI bullet should be a catalyst for price improvement especially in light of the Partnership's debt burden.
In terms of trades, I think that the potential upside/downside for the Unsecured Notes is intriguing, especially if the Partnership is able to maintain a liquidity cushion and to repay secured indebtedness in the amounts suggested by its guidance and the model we developed based on such guidance. With respect to the units, the prospect of a CODI issue is for me a daunting one and so I would not be a buyer before a transaction is announced and executed.
Disclosure: I/we have no positions in any stocks mentioned, and no plans to initiate any positions within the next 72 hours.
I wrote this article myself, and it expresses my own opinions. I am not receiving compensation for it (other than from Seeking Alpha). I have no business relationship with any company whose stock is mentioned in this article.
Editor's Note: This article covers one or more stocks trading at less than $1 per share and/or with less than a $100 million market cap. Please be aware of the risks associated with these stocks.