By Contributing Analyst Kevin Caldwell
Altria Information
Altria (NYSE:MO) is a company which sells and markets smokable tobacco, smokeless tobacco, and wine products. A few of the companies Altria operates are John Middleton, Philip Morris USA, and Ste. Michelle Wine Estates. Last year, a deal was announced with SABMiller (SBMRY), a beer company. Altria has a 27% stake in SBMRY, and received $2.5 billion in cash in the fall of 2015 in this deal. Although the traditional tobacco industry has been diminishing, MO has found ways to diversify its business. This stock could be coined as "old reliable" as in the past two years alone it has risen about $20 per share. Specifically, in the past year, it has surged around 20%.
Tobacco Industry
The tobacco industry, which is one of the oldest industries in America's history, has been declining for decades. In a declining industry, MO has been able to grow its market share of traditional tobacco, as well as its business by diversifying its products. Even with all of its headwinds, it has been able to please the shareholders. US regulations have made it very difficult for new companies to enter the traditional tobacco industry. Recently, the U.S government passed laws, raising the barriers of entry for the e-cig industry as well. Reynolds (NYSE:RAI) is Altria's biggest U.S. competitor. However, MO faces strong international competition from international firms such as Lorillard (NYSE:LO) as well. E-cigs currently occupy about 1% of the tobacco industry. Potential modifications to the e-cig industry include varying amounts of nicotine released per smoke, battery life, and types/flavors of tobacco.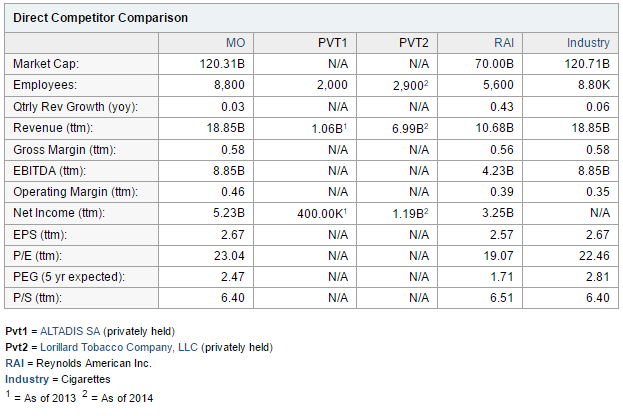 This industry is relatively new, which means that companies are still experimenting with what is going to sell. Customer loyalty is extremely prevalent in the tobacco industry. Tobacco-related stocks can be considered "recession proof" because when times are tough, people are going to be more likely to drink and smoke. The graph below illustrates that. Between 2007 and 2008, more Americans smoked cigarettes. This boosts sales and helps stabilize the company through tough times. Tobacco is also addictive, allowing companies to raise prices without losing much business. MO's prices are relatively inelastic. Its profit margin is 28.18%, which is in line with its peers. Altria's stellar marketing has also allowed it to increase revenue. Between 2008 and 2015, it was able to increase its retail sales from 41.9% to 44%.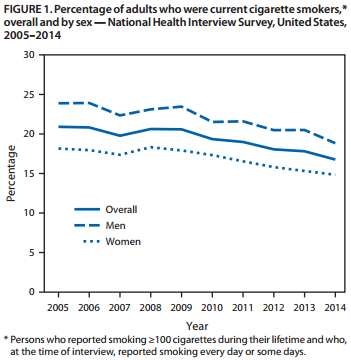 Stock Overview
Since the Great Recession, MO has managed to grow earnings 8-9% per year despite a shrinking market. Share buybacks and increased profit margins have allowed MO to increase profits. Altria's P/E proves that it has more room to grow compared to competitors. Its forward P/E is at 18.46x earnings. Altria's RSI is currently slightly below the average of 50, which means it's slightly underbought. Between its RSI, sales growth, and consistent dividend payments, this is a promising security to buy.

Per stockta.com (4/21/16)
Altria's management generates over half a million dollars of income per employee. Its decision making is stellar. What's extremely impressive is its ROE index, which is at 177.5%. Its past earnings growth of 22.28% is extremely strong. Below is a graph of its EPS for the future: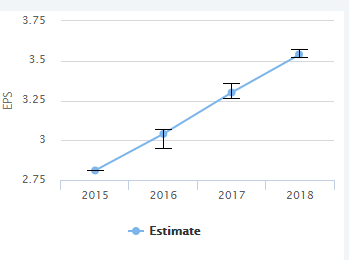 Per barrons.com
Dividends
This company has increased dividends 49 times over the past 46 years. Through the company's history when it was still Philip Morris, it never reduced payouts to shareholders. This graph illustrates its spectacular dividend history:

Per Dividend.com
It has an 80.1 payout, which is stellar. The company also has the opportunity to cut dividends to pay off debt whenever necessary. This will lower its D/E ratio which is 4.5. However, the majority of its debt is long term, which isn't anything to worry about.
Risks
The primary risk with MO is the uncertainty of the tobacco industry. The U.S government is always looking at ways to decrease tobacco use around the country. Although there is an upside to E-cigs, they haven't proven to be able to drive business within a company yet. There are also new laws in proposal looking to decrease the advertising for tobacco products even more. For example, Australia has removed all branding from cigarette packs trying to create a "scary label". If the U.S were to do something along these lines, Altria's marketing advantage would be gone. Also, typically stock prices and dividend payments are inversely related. Although Altria has a proven track record with dividend payments, there's no guarantee it will continue its stellar record of dividend payments.
Disclosure: I/we have no positions in any stocks mentioned, but may initiate a long position in RAI, MO over the next 72 hours.
I wrote this article myself, and it expresses my own opinions. I am not receiving compensation for it (other than from Seeking Alpha). I have no business relationship with any company whose stock is mentioned in this article.