Summary
A recent study dated March 2016 with findings presented by Edward Kamonjoh, vice president and head of U.S. strategic research and analysis, Institutional Shareholder Services Inc., provides an analysis of "Controlled Companies" a significant cohort of American stocks. Included in the group of 105 one finds investment stalwarts Alphabet,(NASDAQ:GOOG) (NASDAQ:GOOGL). Berkshire Hathaway (NYSE:BRK.A) (NYSE:BRK.B), Facebook (NASDAQ:FB) and Wal-Mart (NYSE:WMT), among others.
The study's conclusions as noted by numerous commentators attribute a veritable checklist of undesirable corporate attributes to this cohort of companies. For example, one articles notes:
"Controlled companies generally underperformed non-controlled firms over all periods reviewed in terms of total shareholder returns, revenue growth, and return on equity, according to a new study. ... In addition, director tenure typically runs longer, board refreshment is generally slower, and boardrooms are less diverse at controlled companies."
The study conclusions seem very counterintuitive when one considers that the above listed four corporations with jumbo sized market capitalization are included in it. They do not seem to have undergone any of the hard luck that one expect of controlled companies. A closer look seems merited.
Alphabet
Alphabet is included as a "controlled company" by reason of the following attribute of its capital structure: "Co-founders control 54.3 percent of the voting power." The founders are set to maintain their position even though they actually control less than a majority share of the company's overall stock. The company's stock was initially divided into two classes of shares and subsequently divided into three classes as follows:
"Google's founders Larry Page and Sergey Brin no longer have majority ownership of their company's stock, but maintain control through a three-class share structure. Google's Class A shares are held by regular investors, while Class B super-voting shares carry 10 times as many votes for the founders. Class C shares have no voting rights, typically held by employees granted stock and Class A stockholders."
In this respect Alphabet's share structure has been widely compared and contrasted to that of Berkshire Hathaway. Alphabet is currently a hot growth stock, as can be seen from the F.A.S.T. Graph below.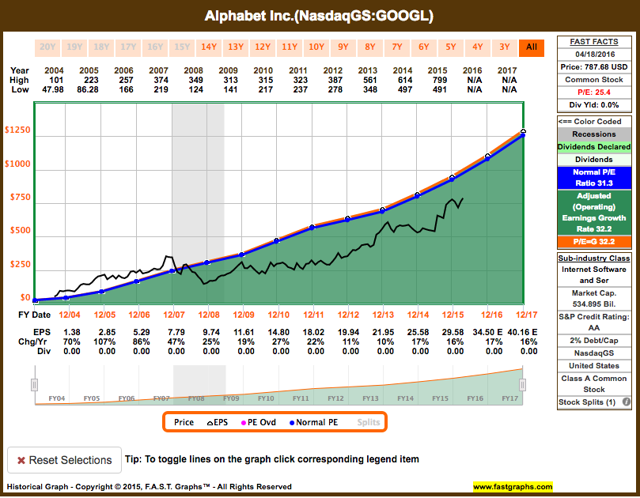 The stock currently gives every indication that it will continue on its growth trajectory for the next foreseeable future period. It has multiple value drivers which are widely recognized and account for its exceptional market capitalization. Yet its founders also have a creative genius which compels them to push the boundaries of ordinary organizations. They repeatedly pursue expensive ventures (moonshots) which seem fanciful to those who lack such creative genius. The share structure of the company assures that such activities will not cause a successful shareholder revolt jeopardizing their control over the company.
The F.A.S.T. Graph showing the last 12-year plus lifetime performance for Alphabet shows an adjusted (operating) earnings growth rate of 32 and a market cap of 534.8 billion. These figures place Alphabet alone at the peak of the pantheon of corporate excellence.
Berkshire Hathaway
Berkshire Hathaway has a dual class share structure.
"The B shares, which were added to the S&P 500 in 2010 following the split, now have the rights of 1/1,500th of a share of Class A common stock (except when it comes to voting rights, where the Bs have 1/10,000th of the voting rights of a Class A share)."
Warren Buffett has expressly opined that the class B shares are worth 1/1500th of the Class A shares without considering the difference in voting rights. He goes on to say that the voting right differential should not cause an additional price discount of greater than 1%.
When one throws the phrase "world's best investor" into the Google search engine a cheery picture of Berkshire's controlling shareholder, Warren Buffett, appears beaming back at you. Accordingly, it seems reasonable to disregard the manifest conflict of interest in his opinion as to the appropriate valuation differential between the two share classes. It seems very unlikely that a more credible expert will come to the fore who can effectively challenge Mr. Buffett's opinion on this score.
The F.A.S.T. Graph showing the last 20 years performance for Berkshire stock shows an adjusted (operating) earnings growth rate of 9 and a market cap of 359.6 billion.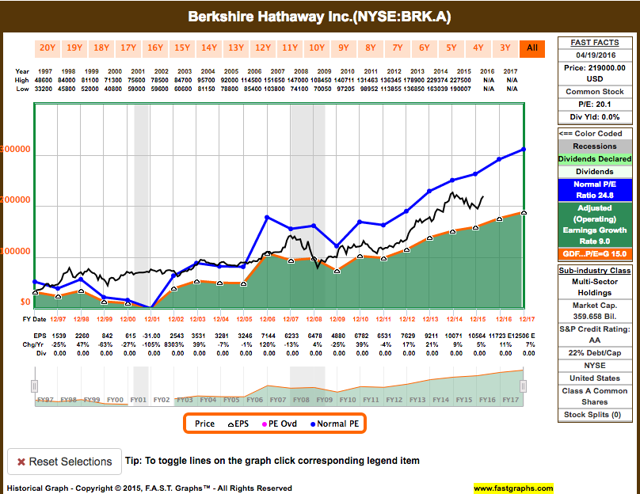 Berkshire's figures in this regard are not as impressive over the 20 years shown as are Alphabet's. Nonetheless Berkshire is by all accounts a successful company and hardly one that has been unduly hobbled by a serious structural defect.
Facebook
Facebook came late to the dual share public markets. However, in terms of valuation it is catching up quickly. Its F.A.S.T. chart below compares favorably to its slightly elder brother Alphabet. In its nearly four years as a two share class company, with founder shares carrying 10 times the voting power of other shares, Facebook has upped its market cap to a staggering $329 billion. It boasts an adjusted (operating) earnings growth rate of 30.9.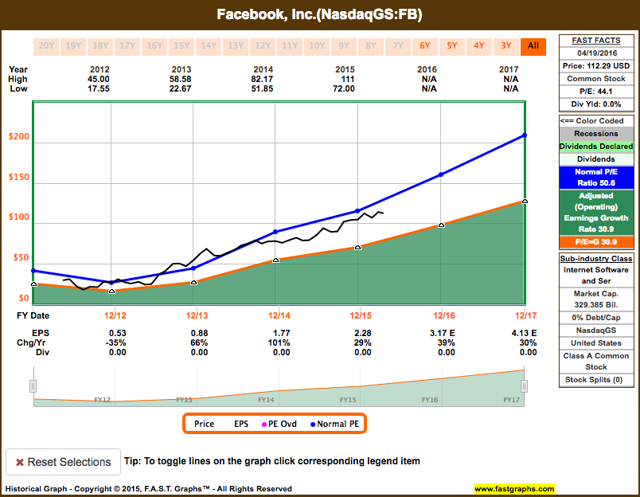 When Facebook was reeling during the period immediately following its famously botched first public offering, one heard complaints about its dual class structure. One commentator opined:
"For all the huffing and puffing and blown around houses associated with Facebook's ugly IPO, there's a looming problem associated with the company that's getting lost. That's a pity, because over the next few years it promises to have a more profound influence over the fortunes of Facebook investors than anything else.

I'm not talking about mobile, or advertising or regulation. I'm talking about the company's dual-class share structure."
The writer backs up his concerns with impressive references. He closes his article with the statement that ISS complaints about the affect of the dual structure on corporate governance fail to capture the true problem. instead the author notes the true problem is that Facebook investors: "aren't betting on his (Zuckerberg's) business when … (they) buy FB. …(They're) really just betting on him."
Zuckerberg appears to be young and vigorous. He is obviously a genius when it comes to his business acumen so this is a bet that doesn't seem to trouble anyone at the current moment. Warren Buffett on the other hand is in his mid eighties. His age has created times of stress for Berkshire Hathaway. (here) At the moment he is exceptionally adept at deflecting such concerns with humor, as he does in a Fortune article which focuses on his politically incorrect diet, asking him to explain the high-sugar, high-salt diet that has somehow enabled him to remain seemingly healthy, Buffett replies:
"I checked the actuarial tables, and the lowest death rate is among six-year-olds. So I decided to eat like a six-year-old."
The octogenarian adds, "It's the safest course I can take."
Wal-Mart
Wal-Mart comes to the "controlled corporation" party with a good old fashioned single voting class stock. In years past it was a high growth phenomenon. Now it is a staid divided aristocrat, the only one of the 105 stocks in the study which carries that distinction. It qualifies as a controlled stock under the study's definition because the founding Walton family still controls over 50% of the stock.
Wal-Mart's F.A.S.T. chart lists its market cap as a mere $219 billion, the lowest of the four stocks we discuss. It carries an adjusted (operating) earnings growth rate of 8.5, also the lowest of the four but only slightly lower than that of Berkshire Hathaway.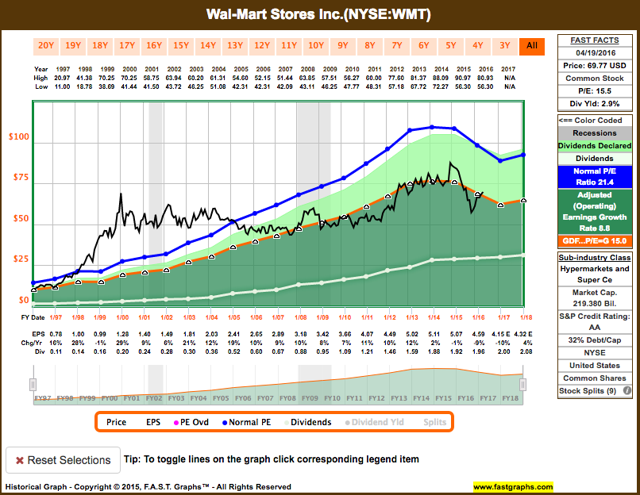 Certainly, the Walton family's share of this company is a titanic fortune. We need weep no tears by reason of it having the smallest market capitalization in the group.
The Trillion-Dollar Quartet
The study addresses the disparity in size of the three largest of these four included companies at page 23 as follows:
"The median market capitalization for controlled companies in the study almost doubled from 2005 to 2015. The average controlled company market capitalization jumped even more from $8.3 billion in 2005 to $20.6 billion in 2015 - compared with an increase from $4.6 billion in 2002 to $10.7 billion in 2012. This strong growth is largely attributable to the remarkable growth in market capitalization at Alphabet (formerly Google) and Berkshire Hathaway - $361.9 billion and $370 billion respectively, as of their most recent fiscal year end (2014) - and the addition of Facebook's capitalization of $218.2 billion to the mix. Alphabet's market capitalization has grown by 72.5 percent from $209.8 billion in 2012. Berkshire's market capitalization has almost doubled in value from $189.2 billion in 2012."
These above three companies, plus Wal-Mart, included among the 105 controlled companies in the survey have a combined net worth of $1.4 trillion. On page 9, the study notes the average market capitalization for all the companies in the study was $20.6 billion. This means that the total market capitalization for the 105 companies was $2.16 trillion, slightly less than half of the aggregate value of just the four selected stocks.
Insofar as the four selected stocks performed quite well as a group, it is unfortunate that they were not sequestered for purposes of the study. Had they been sequestered, perhaps with other outliers such as dual class controlled corporations Nike (NYSE:NKE) and Comcast (NASDAQ:CMCSA) we would have a better picture of the impact of controlled status on ordinary corporations.
Summary
The conclusion I draw from this is that a corporation's status as a controlled corporation is highly detrimental to its performance for non-controlling shareholders. However, there is an exception applicable to a small class of outlier corporations that are able to avoid the underperformance that can follow so easily where governance risks predominate. The four named outliers benefit from exceptional pioneering business models in the case of Alphabet, Facebook and Walmart. In Berkshire's case the special sauce lies in the reputation, knowledge and ability of its founders at the time it elected controlled status.
Accordingly, those who choose to invest in controlled companies should be forewarned that such companies pose a particular risk of underperformance. I have called out four specific exceptions. Those who comb through the names of the 105 companies covered by the study will be sure to find other controlled companies that have been quite successful. I have noted that Comcast and Nike, two widely held and admired companies with outsized market capitalizations, are included as controlled companies by reason of multi-class shares. Surely one might add them to the four, showing underperformance from governance risk at those not so favored as particularly fraught.
Supporting Documents
Disclosure: I am/we are long GOOGL, FB.
I wrote this article myself, and it expresses my own opinions. I am not receiving compensation for it (other than from Seeking Alpha). I have no business relationship with any company whose stock is mentioned in this article.